Andrew Cuomo's Approval Rating Gets Slight Ding Amid Nursing Home Scandal
New York Governor Andrew Cuomo's approval rating took a slight dip in recent weeks following his administration's nursing home scandal, according to a Morning Consult poll.
The poll, published Monday, found that 57 percent of the 3,203 registered New York voters surveyed between February 12 and February 21 approve of Cuomo's job performance, while 38 percent disapprove.
The survey followed the February 11 publication of a New York Post story addressing the Cuomo administration's decision to withhold data about COVID-19 deaths in nursing homes.
The undisclosed nursing home data came to light earlier this month when one of Cuomo's top aides, Melissa DeRosa, admitted the administration's mistake on a Zoom call with state lawmakers.
The data was requested by former President Donald Trump's Department of Justice. DeRosa said in a statement on February 10 that Cuomo's administration "froze" when the DOJ asked for the information, fearing retaliation from the Trump administration.
Cuomo has since faced criticism for his administration's decision as Democratic state lawmakers introduced a resolution to censure the governor.
Ron Kim, a Democratic New York State Assemblymember, went further and called for the governor to be impeached.
Cuomo's approval rating, however, only dropped by six points compared to an earlier Morning Consult survey conducted between February 2 and February 11, which found that 63 percent of voters supported the governor and 33 percent disapproved.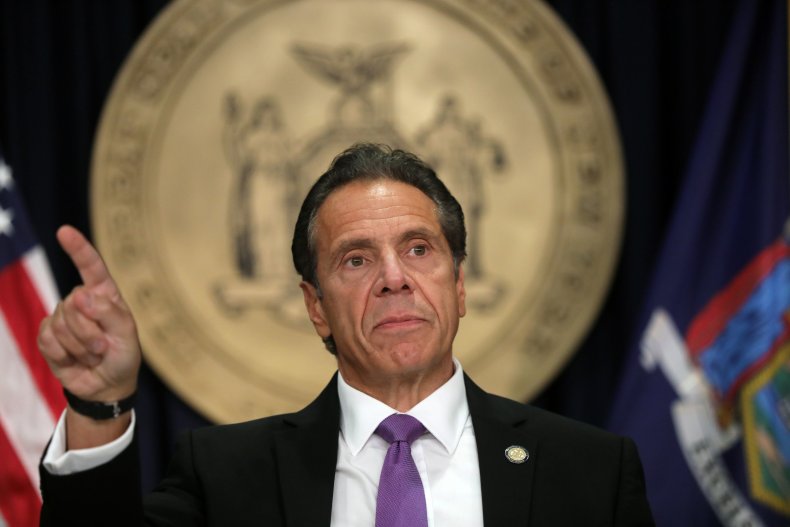 Among Democratic voters, the governor's rating was even stronger. Eighty-one percent of New York voters said they either strongly or somewhat approve of Cuomo's job performance, according to Monday's poll.
The number of Democratic voters who strongly approve of Cuomo, however, took a nine-point dip compared to the poll from earlier this month.
Thirty-three percent of Democratic voters said they strongly approve of the governor's performance in Monday's poll, while 42 percent strongly supported Cuomo earlier this month prior to his nursing home scandal.
Despite his approval rating's slight decrease in recent weeks, Cuomo is still more popular now than he was before the coronavirus pandemic began in early 2020. The New York governor polled a 47 percent approval rating at the end of 2019, according to Morning Consult's data.
The polls have a margin of error of two points.
Cuomo has been New York governor since 2011. Cuomo is seeking a fourth term in 2022.
Newsweek reached out to Cuomo's office, but didn't hear back in time for publication.