'We Gotta Know More': NYC Mayor Responds After Cuomo's Office Accused of Withholding Nursing Home Data
New York City Mayor Bill de Blasio has called for a "full account of what happened," following revelations that the office of New York Governor Andrew Cuomo withheld data on COVID-19-related deaths in the state's nursing homes.
"We gotta know more," de Blasio said on WNYC's The Brian Lehrer Show on Friday. He added that the announcement of the hidden data is "very troubling."
A top Cuomo aide recently admitted week that the governor's administration "froze" when a Department of Justice letter sent on August 26 requested state information on COVID-19-related nursing home deaths.
Now de Blasio, who has reportedly been at odds with Cuomo in the past, is looking for an explanation of how the "disturbing" report of the missing numbers was ever possible.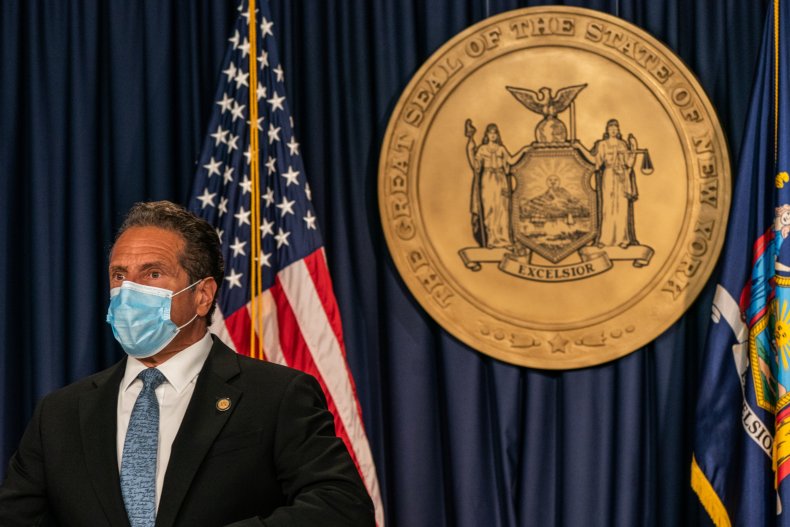 "Think about seniors...their lives were in the balance and their families just desperate to get them the help they needed," De Blasio said. "We need to know exactly what happened here. We need to make sure nothing like this ever happens again."
In the WNYC interview, De Blasio did not detail the steps he would take to demand accountability from Cuomo.
The revelations of the data came when the governor's top aide, Melissa DeRosa, addressed state Democrats in a Zoom meeting on Wednesday. She said Cuomo's team "froze" when they were asked by the DOJ to share numbers on nursing home deaths. They reportedly withheld the information to prevent a rebuke from former President Trump that would turn their actions into a "giant political football."
"When we received the [Department of Justice] inquiry, we needed to temporarily set aside the Legislature's request to deal with the federal request first," DeRosa explained in a statement on Friday. She added a complete transcript of her conversation with the lawmakers, in which she asked for "appreciation of the context" and apologized on behalf of the governor for the "unfair" position Democrats were put in regard to state Republicans.
DeRosa justified why the information wasn't put forward right away:
"We were scrambling on a daily basis to make sure that hospitals weren't overwhelmed and collapsing, when we were trying to make sure that people were getting the care that they needed, when we were still making major decisions about what sectors of the economy would be safe to reopen or close, when there was still massive PPE shortages and while we were being shot at on a daily basis from Donald Trump - that we needed to go through these reams of data. It's 14,000 people. Then it wasn't 14,000, it was like 6,000 or whatever the number was," DeRosa said in the meeting with the legislators.
White House Press Secretary Jen Psaki said President Joe Biden met with Cuomo and other state leaders on Friday to discuss passage of the American Rescue Plan. When asked about the recent allegations against Cuomo, Psaki told reporters Biden was not looking to "give anyone a stamp of approval or seek their stamp of approval."
Cuomo was awarded emergency powers last March to administer the state's pandemic response. He has used his emergency powers to issue 65 executive orders and suspend over 250 laws since the start of the pandemic, State Senator Alessandra Biaggi said on February 4.
One of these moves included a March advisory ordering that nursing homes cannot deny admission of patients to based on "confirmed or suspected" diagnosis of COVID-19. This meant that nursing homes would be obligated to accept patients who tested positive for COVID-19.
De Blasio is joined by 14 Democratic state senators demanding "a repeal of the Governor's authority to issue unilateral directives."
It's "time to go back to the normal way of governing things," the mayor told the New York Daily News. "We can't keep clinging to this situation."
De Blasio said that it is not for Cuomo alone to determine when the pandemic gets to end. Cuomo's office rebuked the sentiment the governor has taken on too much power.
"Any executive order can be reversed by a simple resolution of the legislature, which is in session," a Cuomo spokesperson wrote in an email to the Daily News. "As far as the mayor saying he knows what he is doing, I respectfully suggest that every public poll suggests the people of New York City strongly disagree."
The state senators released a statement on Friday expressing it was clear the emergency powers are "no longer appropriate." The lawmakers demanded that the Senate move forward with the repeal processed right away, despite the fact Cuomo's expanded authority is set to expire on April 31.
According to the Long Term Care Coalition and the New York Department of Health, there have been a total of 9,244 COVID-19-related deaths in New York nursing homes as of February 1.
Newsweek has reached out to the offices of de Blasio and Cuomo for comment.