Andrew Gillum Fires Back at Donald Trump's 'Thief' Insults: 'Never Wrestle With a Pig'
As the midterm elections draw near, the day-to-day insults between President Donald Trump, GOP Florida gubernatorial candidate Ron DeSantis and Democratic opponent Andrew Gillum have only intensified.
Trump repeated similar claims he's made in recent days on Fox News Monday night, calling Gillum a "cold stone thief" and claiming Florida "will become Venezuela" if he's elected.
"I don't even think he should be allowed to continue on with the race," Trump said, referring to the Broadway tickets Gillum accepted from an undercover FBI agent. "How he's even close to being tied is hard to believe."
Gillum responded on Twitter afterward, calling up what he said his grandmother told him: "Never wrestle with a pig."
"I heard [Donald Trump] ran home to [Fox News] to lie about me," Gillum said. "But as my grandmother told me—never wrestle with a pig. You both get dirty, but the pig likes it. So ignore him and vote, Florida!"
The Gillum campaign later said in a news release that the tweet was Gillum's official statement on Trump's comments.
After the president called Gillum a "thief" in a tweet on Monday, Gillum said Trump was "howling because he's weak."
DeSantis appeared on Fox News Monday night with Sean Hannity, in the time slot right before Trump's appearance with Laura Ingraham. The GOP candidate spoke about an ongoing ethics investigation into possible wrongdoing by Gillum and a former lobbyist, Adam Corey, who was once Gillum's campaign treasurer when he ran for Tallahassee mayor in 2014. The president's "thief" comments referred to revelations from the investigation.
The state ethics probe into Gillum, who is not under an FBI investigation but has been questioned by the agency, has been investigating two trips the mayor took with Corey to New York and Costa Rica in 2016. The investigation has found that the mayor likely knew tickets to the Broadway show Hamilton came from an undercover FBI agent posing as a business developer. Corety later billed the same undercover agent for a $4,300 fundraising dinner in 2016 for Gillum's political action committee, Florida Forward. In documents provided to Newsweek, Corey said the undercover agent "graciously offered to sponsor" the dinner. It's unclear whether the campaign ever received money from the undercover agent.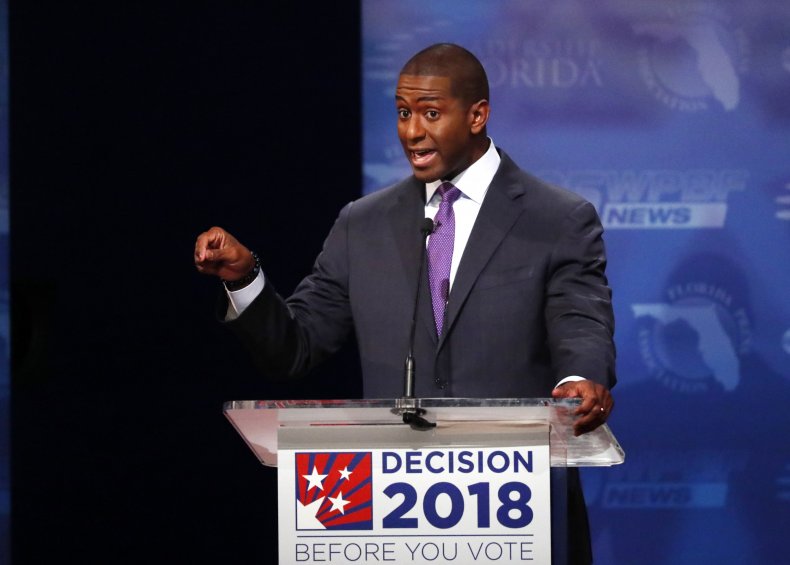 "Mayor Gillum turned around and gave that same lobbyist a contract with the city for $2 million," DeSantis said on Fox News about a project involving Gillum and Corey. "It's quintessential pay-to-play municipal corruption."
Gillum has neither been charged with any crimes nor been named in any subpoenas. The Gillum campaign has maintained that no wrongdoing ever occurred and has since distanced itself from Corey.
While DeSantis and Trump appeared on Fox News, Gillum simultaneously appeared on MSNBC's The Rachel Maddow Show.
"He performs as all weak people do: by bullying others," Gillum said about Trump. "The president needs to grow up, he needs to do his job, he needs to lead. This country could use leadership at this moment and instead he's throwing insults across Twitter."