Andrew Gillum Got 'Hamilton' Tickets from Undercover FBI Agents, Contrary to Past Claims: Report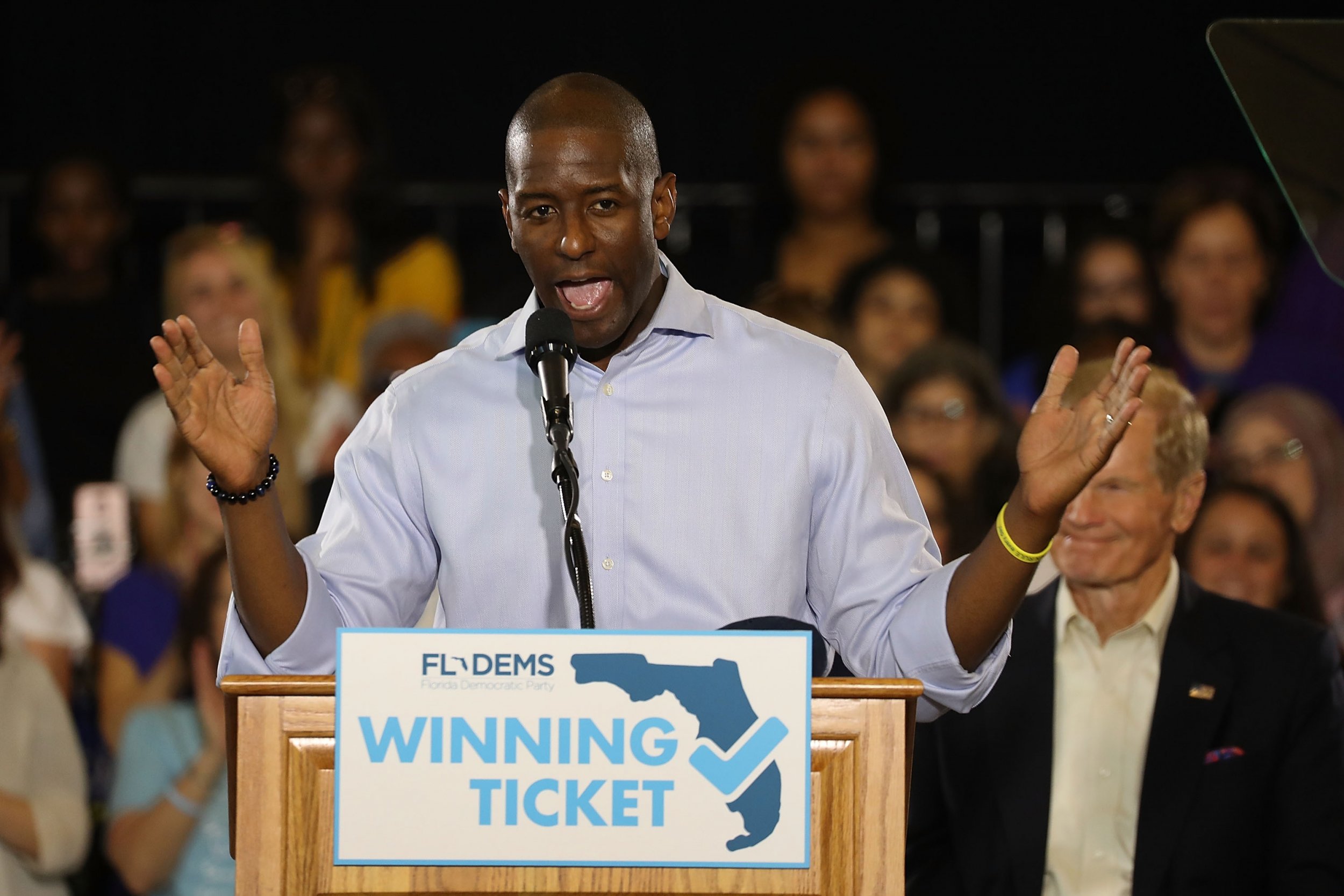 New documents and text messages released Tuesday reportedly show that Tallahassee Mayor Andrew Gillum, the Democratic candidate for Florida governor, accepted tickets to the Broadway show Hamilton from an undercover FBI agent that he did not pay for himself, despite past statements made by the candidate that he accepted them from his brother.
The documents, released by Tallahassee attorney Chris Kise and obtained by The Tampa Bay Times, reportedly show text messages Gillum exchanged with Adam Corey, who was Gillum's campaign treasurer when he ran for mayor in 2014.
Kise is representing Corey in a Florida Ethics Commission probe into Corey and Gillum's trips to New York City and Costa Rica in 2016. Corey is also at the center of an FBI investigation for public corruption, one that has also involved Gillum.
Despite past denials by Gillum and his campaign, text messages reportedly show that he accepted tickets for the Broadway musical play from an undercover FBI agent during a trip to New York with Corey. Gillum believed the man was a developer named "Mike Miller."
"Mike Miller and the crew have tickets for us for Hamilton tonight at 8 p.m.," Corey texted Gillum on August 10, 2016.
"Awesome news about Hamilton," Gillum replied.
Gillum has repeatedly claimed that his brother, Marcus, provided the tickets and not the undercover agent.
"After the trip, Mayor Gillum learned Marcus Gillum had obtained that ticket in a swap with Adam Corey for a concert ticket," the campaign said in September.
Kise told outlets he chose to release the documents on Tuesday because his client, Corey, received a subpoena for such records the week prior by the state's ethics commission. Kise could not be reached by Newsweek.
The Gillum campaign immediately released a statement after the documents and text messages were released, claiming the records prove the ticket came from his brother.
"These records vindicate and add more evidence that at every turn I was paying my own way or was with my family, for all trips, including picking up tickets from my brother, Marcus, who was with a group of his own friends," the campaign said. "But this isn't about a Broadway show, it's about a sideshow, because Ron DeSantis and his associates have no vision, no healthcare plan, and are running the most false, negative campaign in Florida history. Floridians deserve better."
In an interview with MSNBC's Chuck Todd later on Tuesday, Gillum said that the release of the records and text messages was "no news" to him. He maintained the notion that once he "got to the theater, my brother handed me the ticket."
"If I had to do it again I would've been a lot more circumspect about the people that are allowed to be around me and come into my space," said Gillum, referring to his once close friend Corey. "I've had the opportunity to learn from it, grow from it and move on."
Gillum's opponent, former GOP Congressman and Trump-backed candidate Ron DeSantis, pressed Gillum about the Broadway ticket during their debate Sunday night.
"Did you pay for the Hamilton tickets?" DeSantis asked, questioning Gillum about his past relationship with Corey.
"We all have friends that sometimes let us down," Gillum responded, adding that he was a hard-working person.
Gillum and DeSantis are scheduled to have their final debate Wednesday evening at the Broward College Central Campus in Davie, Florida. A number of recent polls have suggested Gillum has a steady lead over DeSantis, larger than the margins of errors.
A new racist robocall produced by the white supremacy and anti-Semitic broadcasting outlet The Road to Power was received by Florida residents on Tuesday, in which a man pretending to be Gillum had a racist minstrel dialect with monkey noises and a spiritual song playing in the background.
Earlier in October, the Gillum campaign threatened legal action if TV stations across Florida didn't stop broadcasting a "defamatory" advertisement produced by the Florida GOP and endorsed by DeSantis. Last week, Newsweek reported the campaign had yet to follow-up with stations that did not heed its warning. It did not appear as though Gillum or his team planned to take further action.