New Acting FBI Deputy Director David Bowdich Might Be a Trump-Russia Probe Witness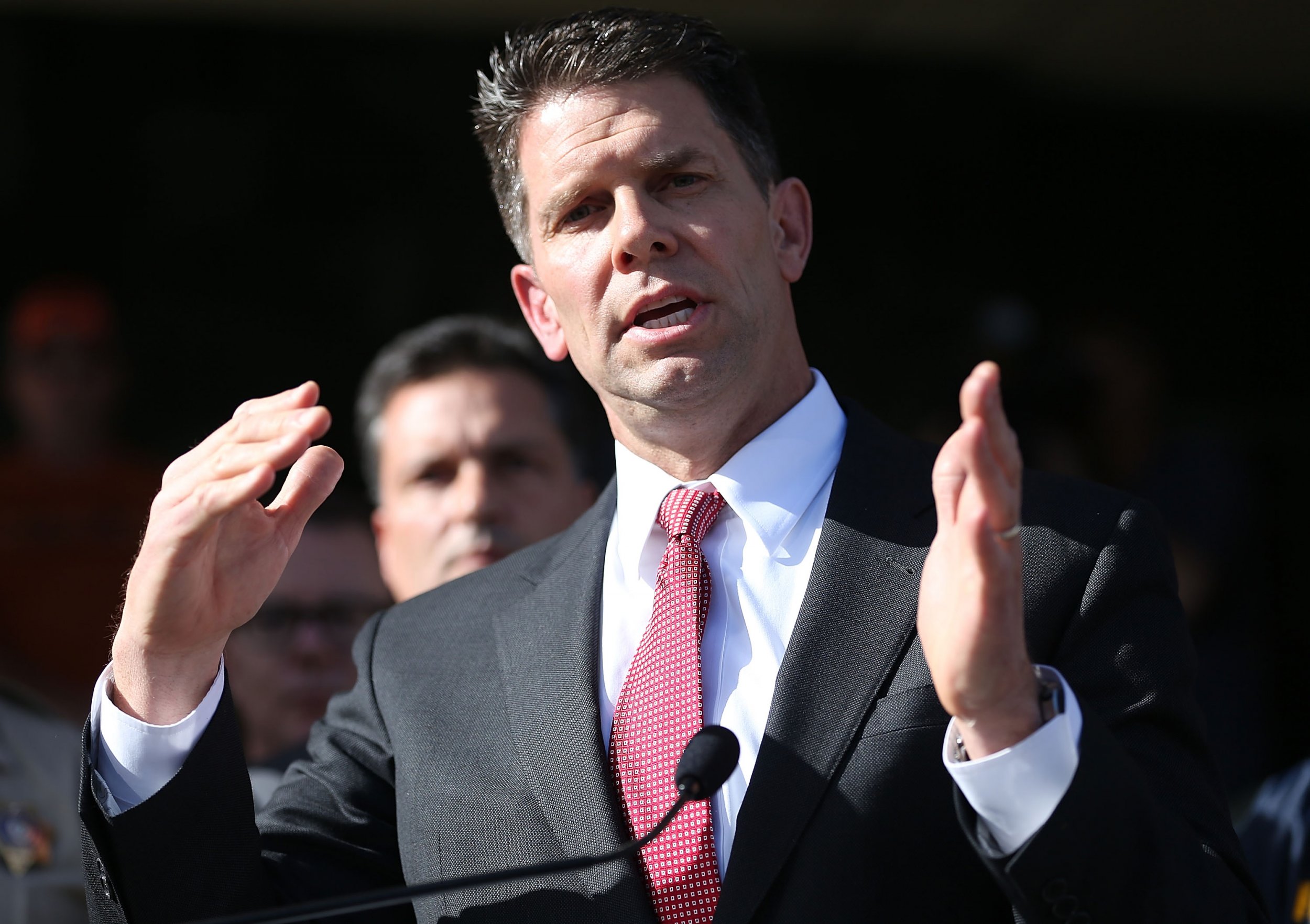 Updated | An FBI official who served as associate deputy director under James Comey and Andrew McCabe is replacing McCabe as acting deputy director, an FBI spokesman confirmed to Newsweek. Multiple outlets including Newsweek had previously reported the news, citing sources.
As associate deputy director, David Bowdich was the third-ranking FBI official, according to the bureau's organization chart, and would now become No. 2.
It was widely reported on Monday that McCabe stepped down as deputy director amid allegations of bias and misconduct regarding the investigation into Hillary Clinton's email practices while secretary of state. An FBI spokesperson declined to confirm the reports, but White House press secretary Sarah Huckabee Sanders told reporters Monday afternoon that she expected the FBI to release a statement later in the day.
Bowdich became associate deputy director in April 2016. In that role, he oversaw most of the bureau's nonoperational branches and divisions, such as personnel, budget, administration and infrastructure. Previously, starting in 2014, he was assistant director in charge of the Los Angeles field office. Before that, he led the counterintelligence division at that office, overseeing all international and domestic terrorism investigations in the region. He joined the FBI in 1995 and at various times was a SWAT team operator and a sniper.
Related: FBI deputy director leaving amid bias accusations
Bowdich is known for his work in response to the 2015 mass shooting in San Bernardino, California.
Prior to the recent promotion, he had been viewed as "next in line" towards the top of the organization, according to Frank Montoya Jr., a former special agent in charge of the FBI's Seattle division and the former head of national counterintelligence for the bureau. Montoya described Bowdich as a "good man," "fair" and "objective," and said he has a good reputation among agents.
"Great guy," said Katherine Schweit, a retired FBI executive. "He's well respected."
But Republican lawmakers and conservative commentators who have called for a "purge" of the bureau's Comey-era officials might be disappointed, given his former proximity to Comey and McCabe. In testimony before the Senate Intelligence Committee last June, Comey said he had spoken to senior colleagues including Bowdich about President Donald Trump's allegedly asking Comey to have the FBI back off its probe into Michael Flynn, the former national security adviser.
Because of that apparent conversation, and because he was the No. 3 official under Comey, Bowdich is a potential witness into whether Trump obstructed justice by firing Comey. Last June, Senator Dianne Feinstein, the ranking member of the Senate Judiciary Committee, requested that the committee interview Bowdich and other FBI officials as the panel investigated Comey's termination.
Before his departure, McCabe told Bowdich and other senior employees that they might have to serve as witnesses in special counsel Robert Mueller's investigation into Russian meddling in the 2016 presidential election and possible coordination with the Trump campaign, Vox reported in August.
As a senior official, Bowdich was also involved in conversations following reports about the so-called tarmac meeting between then–Attorney General Loretta Lynch and former President Bill Clinton while the FBI's probe involving Hillary Clinton was ongoing. Documents show that Bowdich and Comey discussed the reports via email.
The Department of Justice now is expected to approve making Bowdich the long-term deputy director, removing the "acting" title. The decision would likely be up to Deputy Attorney General Rod Rosenstein, who oversees the FBI. A spokesperson for the department was not immediately available to comment.
This article has been updated to include confirmation from an FBI spokesman, comments by Frank Montoya Jr. and information about the involvement of the Department of Justice.