Why Is Andrew McCabe Stepping Down? FBI Deputy Director Leaving Amid Bias Accusations
Updated | Andrew McCabe has stepped down as deputy director of the FBI, according to reports Monday from multiple news outlets. A number of senior officials have exited posts in recent weeks amid allegations of bias at the organization.
He is now on leave but will formally retire in March, according to CBS News. The report said he was "forced to step down." Another report, by The New York Times, said McCabe had told friends he felt pressure from FBI Director Christopher Wray to leave. But a source with knowledge of the situation, who was not authorized to speak publicly, told Newsweek the departure was previously planned.
McCabe joined the bureau in the mid-1990s. He became deputy director under former FBI Director James Comey, who President Donald Trump fired last May. Following Comey's termination, McCabe became acting director. He remained as deputy after the new director, Wray, took the reins in August.
When Wray became director, FBI analysts told Newsweek it is not unusual for the deputy of the outgoing director to remain under the new one, but added that those deputies often leave soon afterward. When Comey became director in 2013, his predecessor's deputy remained in the post for three months before retiring. "You want continuity," James Gagliano, a former FBI supervisory special agent, told Newsweek in August, "but there's also an understanding in the history of the FBI that any time a new director is appointed, they get an opportunity to select their own deputy director."
McCabe's departure comes amid a wave of criticism by Trump and his allies of the bureau and the Department of Justice, an effort that some on the political left view as a an attempt to discredit the agencies as Special Counsel Robert Mueller moves forward with his probe into Russian meddling in the 2016 presidential election and possible coordination with the Trump campaign.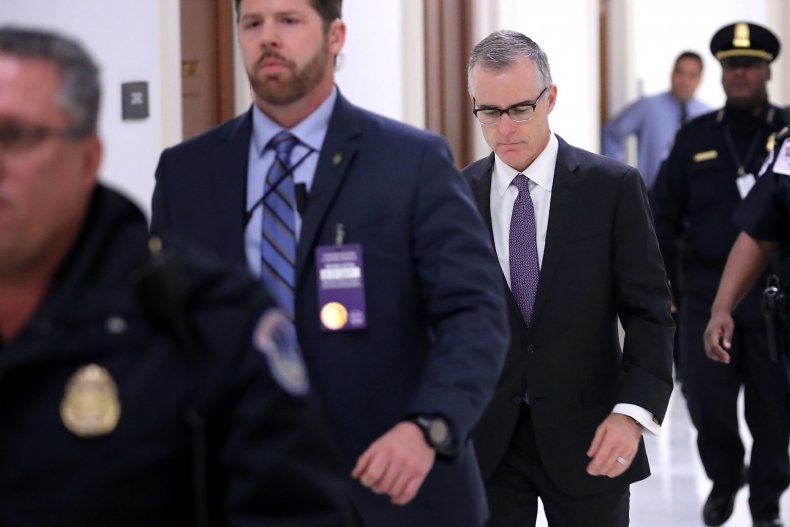 McCabe in particular has become a main target of those critics, who have accused the bureau of being too favorable toward Hillary Clinton in its investigation of her use of a personal email server while secretary of state. They pointed out that when McCabe's wife ran for Virginia state Senate, she received campaign contributions from entities associated with Virginia Governor Terry McAuliffe, who is close with the Clintons.
Senator Chuck Grassley, chairman of the Senate Judiciary Committee, has alleged that McCabe also violated the Hatch Act by emailing about his wife's campaign from his FBI email account. In January 2017, the Department of Justice Office of the Inspector General started looking into the handling of the Clinton case, including McCabe's conduct. That review is expected to be completed this spring.
Trump took to Twitter several times to criticize McCabe. Legal analysts have told Newsweek that such tweets could amount to witness intimidation. Trump pressured Wray to fire McCabe, but Wray threatened to resign instead, Axios reported on January 23. Later that day, The Washington Post reported that during a meeting in the Oval Office Trump once asked McCabe how he voted.
The Post and other outlets reported in December that McCabe was planning to retire. FBI employees are eligible to retire after serving for at least 20 years or reaching age 50, whichever comes later. McCabe joined the bureau in 1996 but does not turn 50 until May 2018. It is unclear if his leaving early will affect his eligibility for pension.
Following news in December of his imminent retirement, Trump tweeted, "FBI Deputy Director Andrew McCabe is racing the clock to retire will full benefits. 90 days to go?!!!"
In recent weeks, McCabe has been questioned by the House Oversight and Government Reform Committee, the House Judiciary Committee and the House Intelligence Committee.
Former Attorney General Eric Holder tweeted on Monday in defense of McCabe: "FBI Deputy Director Andrew McCabe is, and has been, a dedicated public servant who has served this country well. Bogus attacks on the FBI and DOJ to distract attention from a legitimate criminal inquiry does long term, unnecessary damage to these foundations of our government."
Comey also tweeted about McCabe, writing, "Special Agent Andrew McCabe stood tall over the last 8 months, when small people were trying to tear down an institution we all depend on. He served with distinction for two decades. I wish Andy well. I also wish continued strength for the rest of the FBI. America needs you."
But Tom Fitton, president of Judicial Watch, a conservative watchdog group that has sued the government for records related to McCabe, said in a Twitter message, "Something must have happened to trigger his abrupt departure. Judicial Watch uncovered documents months ago that should have triggered his removal, and last week we were given the run around on [a request for] his text messages. My guess is the deluge couldn't be held back any longer."
In addition to McCabe, two people who had served as FBI officials under Comey and remained under Wray, James Baker and Jim Rybicki, were also reported to be leaving their posts.
A FBI spokesperson said the bureau had no comment on the reports about McCabe. Speaking to reporters Monday afternoon, White House press secretary Sarah Huckabee Sanders said Trump was not involved in McCabe's leaving, and that she expected the FBI to release a statement later in the day.
This article has been updated to include a response from an FBI spokesperson, comments by Tom Fitton, Sarah Huckabee Sanders and James Comey and details from an article in The New York Times.