Under New Bureau Head, Acting FBI Director Andrew McCabe to Remain as Deputy, Despite Trump's Allegations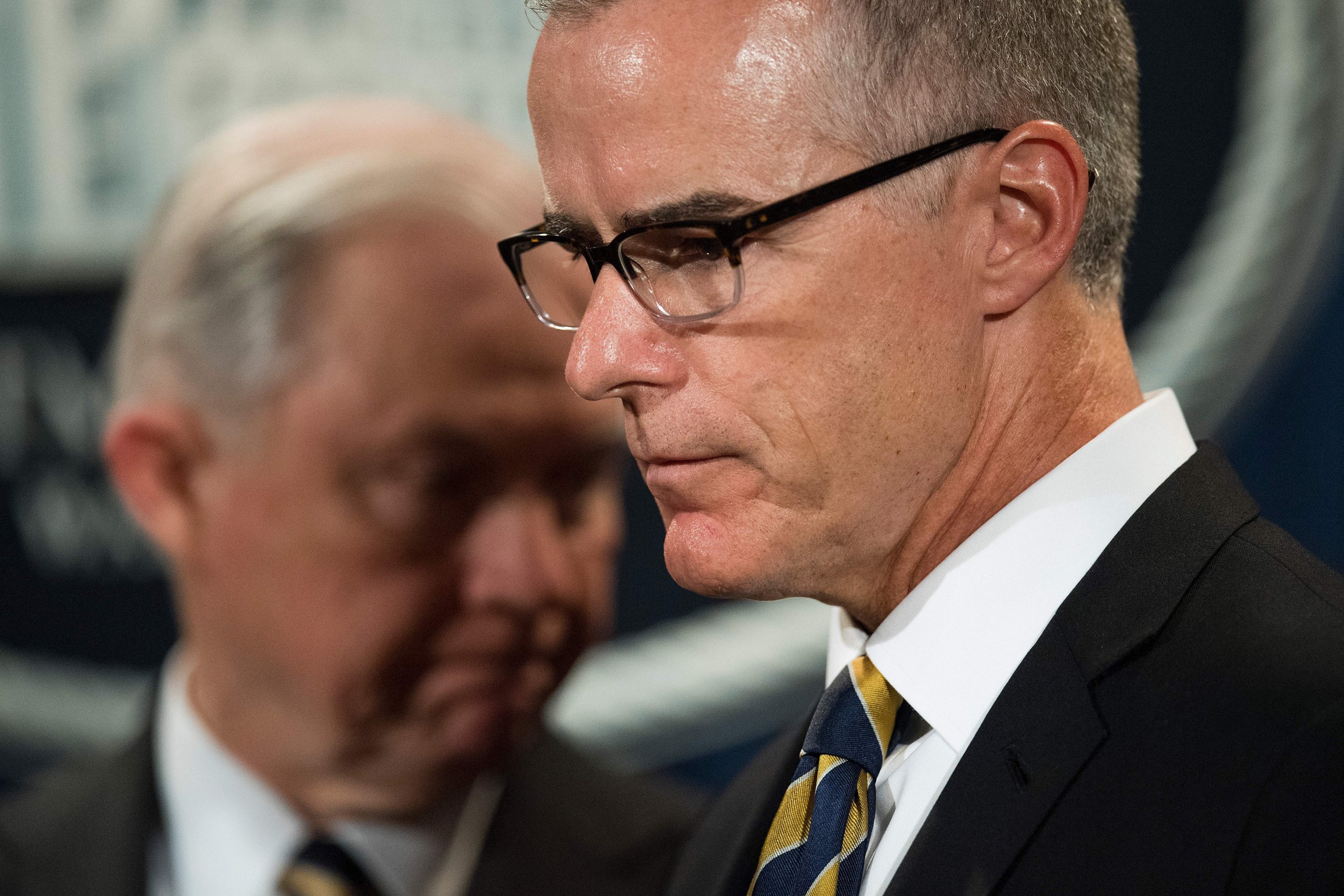 When Christopher Wray is sworn in as head of the FBI, the acting director, Andrew McCabe, will return to his previous role as deputy director—despite allegations from President Donald Trump regarding campaign donations his wife once received.
McCabe has been acting director since May 9, when Trump fired the previous head of the bureau, James Comey. McCabe, who has been at the bureau since the mid-1990s, had been Comey's deputy, the No. 2 position.
Related: Trump says FBI acting director got $700,000 from Clinton
On Tuesday, the Senate confirmed Wray, Trump's pick to succeed Comey. The Department of Justice expects his swearing-in to occur late Wednesday afternoon. When that happens, McCabe will return to his deputy role, an FBI spokeswoman confirms to Newsweek.
The last time the bureau saw a change in directors, in 2013, the existing deputy remained in the role for three months and then retired. The deputy remaining is a common occurrence, according to James Gagliano, a former FBI supervisory special agent who worked above McCabe at the New York City field office years ago. "You want continuity," he says, "but there's also an understanding in the history of the FBI that any time a new director is appointed, they get an opportunity to select their own deputy director."
But bureau employees can retire only after they have served for at least 20 years or reach age 50, whichever comes later. McCabe has been at the bureau since 1996 but does not turn 50 until May 2018.
Wray might be eager to install a new deputy, given that McCabe has been the subject of allegations that he failed to recuse himself from the FBI's investigation of Hillary Clinton's use of a personal email system. Last October, The Wall Street Journal and other outlets reported that two entities associated with Virginia Governor Terry McAuliffe, who is close with Bill and Hillary Clinton, gave a total of $675,288 to the state Senate campaign of McCabe's wife, Jill. Those entities were McAuliffe's political action committee Common Good VA and the Virginia Democratic Party.
In January, the Justice Department's Office of the Inspector General announced it would review whether McCabe should have recused himself from the Clinton investigation. Then, in late July, as part of his criticisms of Attorney General Jeff Sessions, Trump brought renewed attention to the donations to Jill McCabe. The president tweeted on July 25, "Problem is that the acting head of the FBI & the person in charge of the Hillary investigation, Andrew McCabe, got $700,000 from H for wife!" Days earlier, Trump had made similar comments in an interview with The New York Times.
Following Trump's tweets, on July 28 the conservative foundation Judicial Watch announced it had filed three Freedom of Information Act lawsuits against the Justice Department, seeking records about McCabe's political activities.
The FBI has said that McCabe played no role in fundraising events for his wife's campaign and that he did not begin overseeing the Clinton investigation until after his wife's campaign was finished. But that has not stopped critics from calling for his ouster under the new director. "The first thing Chris Wray needs to do as FBI director is FIRE Andrew McCabe," one Twitter user posted on Tuesday, echoing the comments of many other users.
McCabe will likely remain in the deputy role as Wray settles in and then make a transition to another post at the bureau. "He's probably going to move into some other position or be detailed somewhere as a special liaison...until he's eligible to retire," says Gagliano, the former agent.