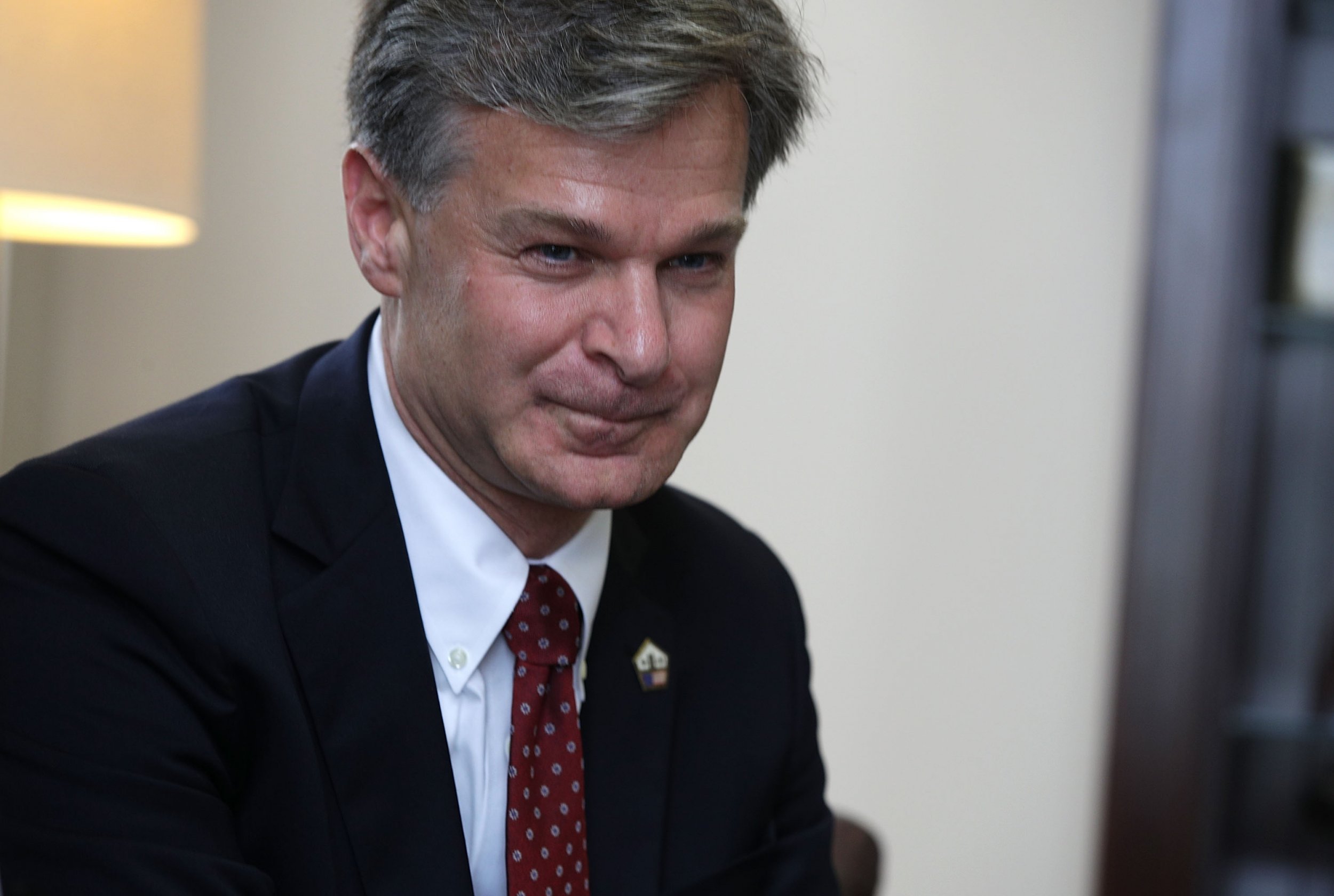 Updated | In a vote on Tuesday, the Senate confirmed President Donald Trump's nomination of Christopher Wray for FBI director. Wray is set to succeed James Comey, whom Trump fired from the post in May. The final tally was 92 voting yes, five voting no.
The confirmation was expected, despite opposition from at least one senator and the American Civil Liberties Union over Wray's history of political donations and his work as a private lawyer.
Related: Christopher Wray is the anti-Comey
On June 7, almost a month after firing Comey, Trump announced in a tweet his intention to nominate Wray. The nomination went to the Senate Judiciary Committee on June 26. The committee held a confirmation hearing for Wray on July 12, and eight days later, its members voted unanimously to report the nomination to the full Senate favorably.
Wray enters the FBI, part of the Department of Justice, at a fraught time for the agency. In late July, Trump repeatedly criticized Attorney General Jeff Sessions, and speaking of Deputy Attorney General Rod Rosenstein, Trump said to The New York Times, "Who is he?" The president has called allegations of Russian meddling in the 2016 presidential election and possible coordination with the Trump campaign, which the FBI is investigating, a "witch hunt."
Trump has also brought renewed attention to allegations involving acting FBI Director Andrew McCabe, claiming that McCabe once received $700,000 from Hillary Clinton for his wife's state Senate campaign. (His wife received $675,288 from two entities associated with Virginia Governor Terry McAuliffe, who is close with the Clintons. The FBI has said it was not a conflict of interest.) Under Wray, McCabe could return to the deputy director post in which he had served under Comey.
During his confirmation, Wray assured the Senate panel he would act independently of the president who appointed him—and who demanded loyalty from Comey, as the previous director claimed under oath. "I believe to my core that there's only one right way to do this job, and that is with strict independence, by the book, playing it straight, faithful to the Constitution, faithful to our laws and faithful to the best practices of the institution," Wray said at the hearing.
Besides the unanimous support from the Senate Judiciary Committee, other senators had advocated for Wray's confirmation following meetings with the nominee in recent weeks. At least one lawmaker opposed the confirmation, Senator Jeff Merkley, a Democrat from Oregon. That senator and the American Civil Liberties Union, among others, pointed out that Wray has donated to Republican campaigns and as a private lawyer worked for New Jersey Governor Chris Christie, a Trump ally. They also noted the law firm where Wray worked, King and Spalding, has represented two Russian state-owned energy companies, and a lawyer there is an ethics adviser to the Trump Organization.
But Wray has earned many supporters over the years. Among other roles, he was assistant attorney general in charge of the Justice Department's criminal division during the George W. Bush administration. "I've never run into another person, whether they be a prosecutor, an FBI agent, who impressed me more," Joe Robuck, a retired FBI agent who once worked with Wray on a corruption case, has told Newsweek. His friend and former chief of staff at the criminal division, John Richter, has praised him to Newsweek as "a guy who stays calm and tackles very hard."
Five lawmakers voted on Tuesday in opposition to the nomination: Merkley, Senator Elizabeth Warren, Senator Kirsten Gillibrand, Senator Rob Wyden and Senator Ed Markey, all Democrats. (In 2013, the Senate confirmed Comey 93 to one. His predecessor, Robert Mueller, was confirmed in 2001 with 98 votes to zero.)
The bipartisan confirmation comes as Republicans in the Senate accuse Democrats of enforcing an "unprecedented nominations blockade." A July 25 press release by the Senate Republican Policy Committee, which Senate Majority Leader Mitch McConnell tweeted on Tuesday, said that in the first six months of President Barack Obama's administration, the Senate confirmed 206 nominees, compared to 55 under Trump.
"I hope #Senate Democrats will work with us in confirming yet another noncontroversial nominee, Christopher Wray, to lead the @FBI," McConnell tweeted Tuesday morning.
This article has been updated to include additional information about the final vote tally.