Andrew Yang Believes in Bikes, Wants to Make Cars Unnecessary for New Yorkers
New York City mayoral candidate Andrew Yang aims to make the nation's largest metropolis more bike friendly if he's elected.
According to the city's Department of Transportation, about 900,000 New Yorkers use a bicycle on a regular basis. In 2019, the city added 21.4 miles of protected bike lanes. Some New Yorkers have raised concerns about safety, but the department notes that the risks of serious injuries in bike accidents have actually declined by about 80 percent between 2000 and 2018.
Yang told Newsweek in an interview last Thursday that he envisions New York City as a place people can move to avoid having a car. However, he also nodded to safety concerns saying access should be expanded while bike lanes should be properly protected.
"Part of trying to make it easy to get around via bicycle is that we should be protecting bike lanes to a higher level. We should be enforcing some of the bike lanes, either with barriers or with camera enforcement. Particularly, where there has actually been a record of some kind of accident or safety issue with a particular bike lane," Yang said.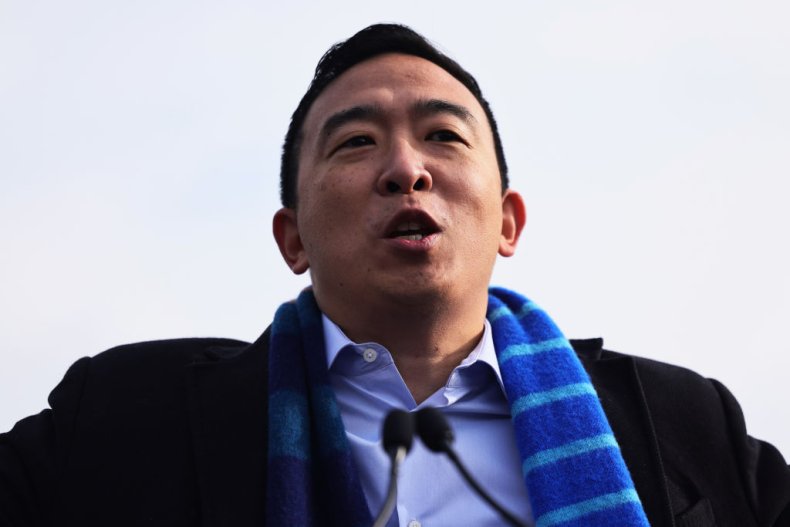 "If you're going to have bike lanes, you can't have trucks obstructing them all the time. I think some of those trucks will change their habits very quickly if they got a ticket or two. And then, make it so that people feel like getting around by bicycle is feasible and safe and cost-effective for them," Yang said.
The Democratic mayoral candidate noted that he regularly uses a bicycle to get around the city, describing himself as a "huge believer." He touted the health benefits as well as the positive impact on the environment from reducing cars on the road.
"One of my great hopes and visions for the city is we have to make it so that people do not have to own a car in the city. I moved here when I was 21. I bought a car when I was 40. I lived her 19 years without a car. And it was fantastic," Yang said. "I want it so that when someone moves to New York City, they think, 'Great! I don't need to own a car.' One aspect of that is going to be making the city as bike-friendly as it possibly can be."
Yang announced his mayoral campaign in mid-January. The entrepreneur turned politician rose to prominence in 2019 as he campaigned for the Democratic party's presidential nomination. Although he failed to garner any delegates during the primaries and caucuses, he suspended his campaign and went on to campaign for President Joe Biden and Vice President Kamala Harris.
Recent polls have shown Yang is already an early front-runner in the crowded field to replace outgoing Mayor Bill De Blasio, who is barred from seeking reelection due to term limits. The Democratic primary will be held on June 22.