Here's How Andrew Yang's Nearly $5 Trillion Climate Plan Stacks Up Against His Opponents
Presidential candidate Andrew Yang unveiled a nearly $5 trillion climate change proposal Monday morning that advises taking several specific steps within the next few decades, with the ultimate goal of achieving net-zero emissions by 2049.
Similar to the objectives of the Green New Deal, Yang's plan is the latest ambitious proposal from a 2020 hopeful to address climate change and court Democratic primary voters.
In his "Lower Emissions, Higher Ground" plan, Yang takes a five-pronged approach that, he believes, would allow the U.S. to achieve net-zero emissions by mid-century: transition away from fossil fuels to renewable energy and upgrading infrastructure and farming practices, focus on sustainability by providing innovation and technology to other countries, move populations to higher ground, conduct research on how to remove carbon from the atmosphere and pass a constitutional amendment to force federal and state governments to be "stewards for the environment." Compared to other climate change plans from candidates, Yang's would focus more on nuclear energy.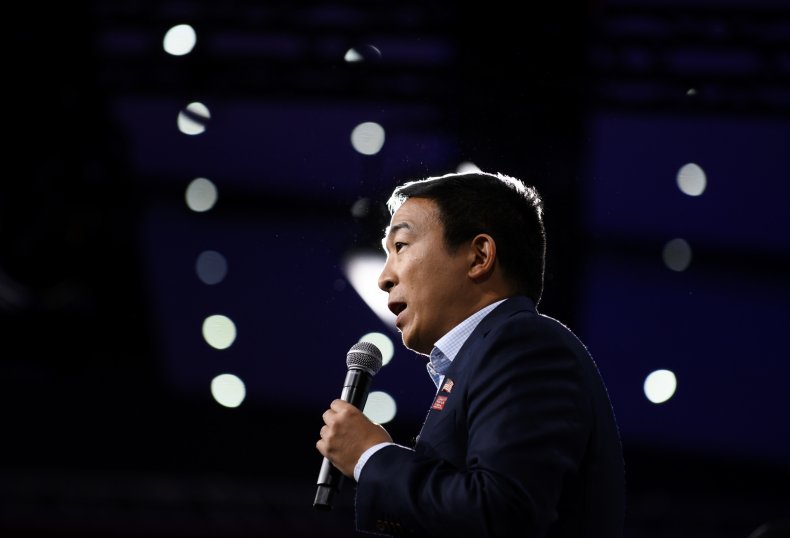 The timeline would be as follows:
2025 – Establish net-zero standards for new buildings
2027 – New nuclear reactors (thorium and fusion) begin to come online
2030 – Zero-emission standard for all new cars
2035 – 100% renewable electric grid
2040 – Net-zero for all transportation sectors
2045 – 85% methane recapture
2049 – Fully green economy
The price tag for such a policy would top out at $4.87 trillion—which would be funded, in part, by eliminating oil company subsides and instituting a carbon fee and dividend. Yang estimates those measures combined would raise hundreds of billions of dollars per year.
The 44-year-old entrepreneur classified the Green New Deal, a similar climate change initiative introduced by freshamn New York Democrat Alexandria Ocasio-Cortez and others, as something that "has done a great job in starting the conversation."
The majority of the 2020 contenders, including Yang, have said they support it. Still, some have tried to set themselves apart in the crowded field by rolling out newer, more detailed plans.
Vermont Senator Bernie Sanders, an independent who considers himself a democratic socialist, has unveiled a new Green New Deal that's even more ambitious—and expensive: Under his initiative, the U.S. would spend more than $16 trillion to eliminate all carbon pollution from the electricity and transportation sector by 2030. The remainder of the economy would reach the same goal by 2050.
Massachusetts Senator Elizabeth Warren's five-prong climate-change strategy combats manmade global warming with separate policies for public lands, the military, trade, climate risk disclosure and manufacturing. She supports the Green New Deal, as well.
Partnering with Ocasio-Cortez, California Senator Kamala Harris has introduced in Congress an "equity" plan that would prioritize low-income and vulnerable communities in future climate change legislation, because they "have faced historic, systemic environmental injustice."
Harris has not released a broader, specific proposal, but she does support the Green New Deal.
Former Vice President Joe Biden also has a mid-century deadline for fossil-fuel emissions. However, despite supporting the Green New Deal, Biden received flack from fellow Democrats for advocating for a "middle ground" approach. Ocasio-Cortez labeled his idea a "dealbreaker."
Former Texas Representative Beto O'Rourke, who also backs the Green New Deal, has similarly set a 2050 target date to achieve net-zero emissions. His plan would cost around $5 trillion over the next 10 years.
New York Senator Kirsten Gillibrand's policy has a similar timeline and goals.
South Bend Mayor Pete Buttigieg and New Jersey Senator Cory Booker do not have specific proposals, but both Democrats say they support the Green New Deal.
Although polls show climate change is typically not the number one issue on voters' minds when they head to the ballot box, it's something most of the Democratic candidates believe is necessary to address if they want to win the primary.
"Our planet is a mess," Yang wrote with the release of his plan. "The right time to deal with this crisis was decades ago. We've waited too long, so we need to act fast and recognize that all options need to be on the table in order to adapt to the changed world we live in while mitigating behaviors that make it worse and reversing the damage we've already done."
Correction: This story has been updated to say the U.S. would spend $16 trillion under Bernie Sanders' climate plan, not $16 billion as previously written.