With Andrew Yang Out of Presidential Race, Where Will His Supporters Go?
Entrepreneur Andrew Yang dropped out of the Democratic primary race Tuesday after early results from New Hampshire showed him with a disappointing finish, leaving some to wonder which candidates his supporters could end up backing.
Yang suspended his campaign after early results in the primary showed him earning less than 3 percent of the vote. His supporters will now have to choose whether to switch their allegiance to any of the remaining field of candidates still running for the Democratic nomination.
A poll from late January suggested that 42 percent of Yang supporters would refuse to support any Democratic nominee other than Yang, while 9 percent said their choice would depend on the nominee. Out of the supporters willing to switch, former Vice President Joe Biden was their top choice with 30 percent support with Sen. Bernie Sanders in second with 27 percent.
Yang's campaign quickly gained a fiercely loyal group of supporters, who call themselves the "Yang Gang," despite the candidate having no previous political experience.
Yang's signature proposal for universal basic income and a focus on "humanity first" and issues related to automation distinguished him from the large Democratic field, but by Tuesday night, his diminishing chances of winning the nomination had become apparent.
"I am the math guy, and it is clear by the numbers that we are not going to win this race," said Yang to his New Hampshire supporters, "I am not someone who wants to accept donations and support in a race that we will not win, and so tonight I am announcing that I am suspending my campaign for president."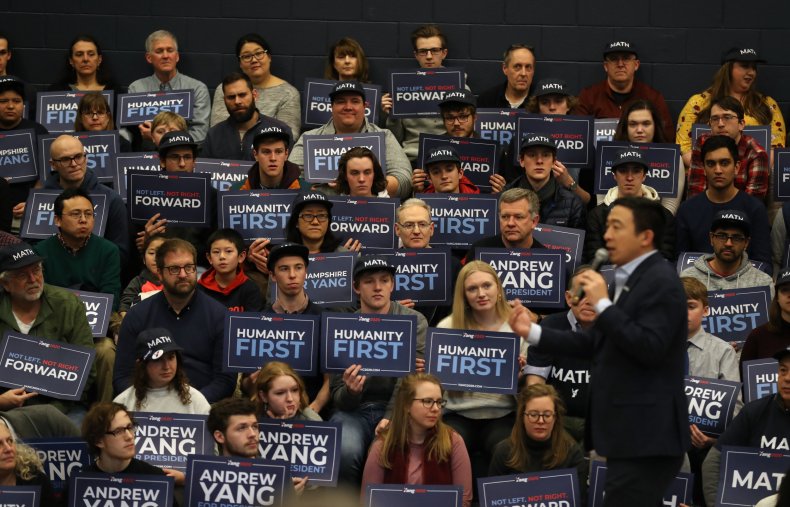 Yang has previously said that he was a Sanders supporter during the 2016 Democratic primary, adding that many of his supporters may switch allegiance to the senator if he were to drop out of the race.
"I think that Bernie and I do have a lot of overlap in support so it wouldn't be surprising to me if many of our supporters head in that direction," Yang told reporters on January 29.
It is unclear whether Yang will choose to endorse another candidate in the primary; he said he would support whoever the Democratic nominee is in the general election.
Although Yang supporters may be likely to vote for a Democrat in the general election if they do participate, his base also includes a large number of independents and conservatives. Some voted for President Donald Trump in 2016.
Backers of the other Democratic candidates quickly began courting Yang Supporters on Twitter after the announcement, but only a few immediately declared their new allegiances on the social media platform.
"I'm sad to see @AndrewYang drop out, as I'm an early #yanggang member. I'll be joining the Bernie camp now (where I was in 2016). Hope there's a spot for Yang in a Bernie administration," tweeted Matt Saincome, founder of the satirical website The Hard Times.
"If Yang drops out, I'm switching to Klobuchar. If Bernie gets the nomination, I might vote Trump," tweeted user @redeemedmonkey1 shortly before Yang dropped out.
With Yang out of the running, some of his supporters may choose to sit out the election. For those that do participate, their choice in November could be more of a referendum on Trump than a preference for a candidate.