Andrew Yang Wants to Repurpose Underused Hotels to Help Homeless
New York City mayoral candidate Andrew Yang believes the city should be repurposing more underused hotels as places for homeless New Yorkers to reside.
Last year, about 10,000 homeless individuals were moved into 63 hotel properties around the city amid the raging COVID-19 pandemic. The ongoing measure is designed to encourage social distancing among the vulnerable population.
The city's homelessness problem runs deep, however. Analysts have estimated that nearly one in 100 New Yorkers is homeless, while advocates for the homeless population have warned that the pandemic has exacerbated the problem. As of late last year, the number of single New Yorkers sleeping in a shelter run by the Department of Homeless Service had risen above 20,000. That number does not include those sleeping on the streets or in private homeless shelters.
Yang told Newsweek in an interview last Thursday that New York City needs "to expand the number of beds available as quickly as possible." He suggested that some of the city's underused hotel properties are a great option.
"We should be repurposing under-utilized hotel properties right now. In some cases, the city is actually paying a nightly rate, which doesn't make sense. We should be repurposing some of those properties as affordable housing as quickly as possible," the Democratic candidate said.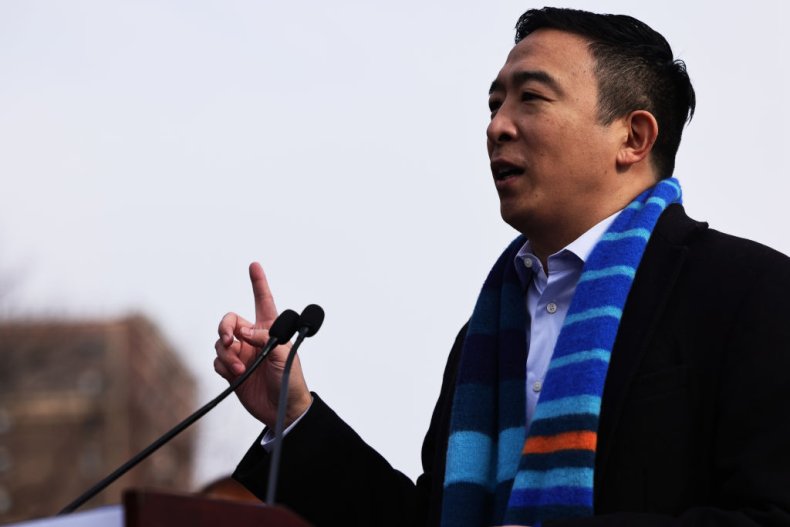 Yang described the situation as "a crisis that you have to keep from getting worse." The mayoral hopeful said eviction moratoriums should be extended as well as tenement assistance programs.
"We should be giving every tenant the right to counsel, which has been shown to keep people in their homes, effectively," he said.
As the COVID-19 pandemic surged in New York City last year, city leaders put forward the plan to move some homeless individuals into hotels. In October, Mayor Bill De Blasio's administration reached an agreement with the Hotel Association of New York City to keep some homeless individuals in hotels for another six months, Gothamist reported.
But in some areas of Manhattan—particularly in the Upper West Side—the original move faced criticism, as neighborhood residents claimed that some homeless individuals residing in hotels were doing drugs and engaging in inappropriate behavior in the area.
But, as Yang pointed out, the city is reportedly paying an average of $120 per night to house these individuals. Overall, the price tag of the contracts with the city's hotel association has reportedly cost New Yorkers more than $540 million thus far. Additionally, the current hotel plan is only a temporary solution amid the pandemic—not a long-term solution to address the homelessness crisis.
Yang rose to national prominence during his unsuccessful campaign for the Democratic Party's 2020 presidential nomination. Although the entrepreneur-turned-politician failed to win any delegates during the Democratic caucus and primaries, he grew an ardent and loyal fanbase dubbed the "Yang gang." Yang channeled that energy and influence into campaigning hard for President Joe Biden and Vice President Kamala Harris, as well as other Democratic candidates.
Although there are some 40 candidates vying to lead New York City after the end of De Blasio's term, Yang appears to be an early frontrunner, according to recent polls. The Democratic primary will be held on June 22.