Angel Zapata Hernandez Died With a Knee to His Neck Months Before George Floyd
Months before George Floyd was killed in Minneapolis when former police officer Derek Chauvin knelt on his neck for over nine minutes, Angel Zapata Hernandez died in San Diego in similar circumstances.
Floyd's killing was captured on video by a passerby and immediately went viral, sparking nationwide protests against police brutality and resulting in Chauvin being found guilty of second-degree murder, third-degree murder and manslaughter last week.
The death of Angel Zapata Hernandez, however, remained largely obscure until last week.
A 24-year-old man, Zapata Hernandez died in the evening of October 15, 2019 after he was found wandering along the railroad tracks close to the Santa Fe Depot. The details of his death were laid bare last week, when the Metropolitan Transit System (MTS) and Zapata Hernandez's mother agreed to a $5.5 million settlement, while the agency released a video of his arrest.
The footage, which was filmed from a security camera at the station, contains disturbing scenes and is eerily reminiscent of the video that captured Floyd's arrest in Minneapolis.
Zapata Hernandez was stopped by a MTS code compliance inspector. Hernandez initially spoke to the inspector but ran off when an Allied Universal security officer arrived on the scene. The two officers chased Hernandez for approximately 100 yards before catching up and forcing him to the ground. As he lay with his stomach on the ground, handcuffed with hands behind his back, one of the two officers knelt on Hernandez's neck.
The footage shows Zapata Hernandez initially appeared to resist and tried to move his body away from the officer's foot, before becoming increasingly motionless and silent. According to the video, the security officer knelt on his neck for just over six minutes.
"Angel, are you still alive, dude?" the MTS officer asked. "Angel, Angel, hey."
One of the police officers can be then seen checking a pulse on the side of Zapata Hernandez's neck.
"Wait, does he have a pulse?" he asked.
"I don't know," the MTS officer replied.
Hernandez was subsequently taken to a hospital where he was pronounced dead shortly afterward.
A statement released by MTS the following day read: "Initial information provided by witnesses and the MTS employees indicate the male was acting erratically and was possibly under the influence.
"The witnesses did not see any use of force by the MTS employees other than trying to hold the male down on the ground as he kicked and screamed."
Upon announcing the settlement last week, MTS CEO Sharon Cooney confirmed the transport agency will pay $2.5 million an its insurance carrier will contribute $625,000. The remaining $2.37 million will be paid by contractor Allied Universal and its insurance company.
Cooney acknowledged that while MTS officers were trying to help Angel, they made serious mistakes that contributed to his death."
San Diego County Supervisor Nathan Fletcher, who chairs the MTS board, described the incident as a "seminal moment for this agency," and one that had led it to take "a deep look at our polices and practices."
"All of us agree that this is a terrible tragedy that should not have occurred," he said at the news conference last week.
"Too many times, public agencies defend their actions, defend their polices. We are not going to do that. We are going in a different direction."
San Diego police investigated Zapata Hernandez's death and presented a case to the District Attorney's Office in June last year. Five months later, however, prosecutors opted not to bring charges against the security officers.
"Based on the totality of the circumstances, evidence, and findings by the San Diego County Medical Examiner, our office has determined that criminal liability, as opposed to the different legal requirements of civil liability, could not be proven beyond a reasonable doubt," the District Attorney's Office was quoted as saying by The San Diego Union-Tribune.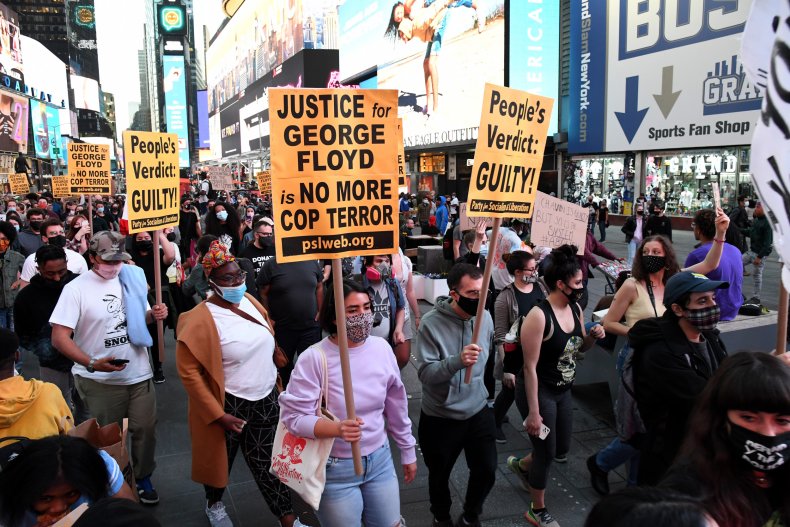 Correction 4/26/21, 9 a.m. ET: This article was updated to correctly state former police officer Derek Chauvin knelt on George Floyd's neck.