Angela Bassett Holding Austin Butler's Hand at Oscars Goes Viral
A video of actress Angela Bassett holding Austin Butler's hand at the 2023 Oscars has gone viral.
The 95th Academy Awards, which were hosted by Jimmy Kimmel, took place at the Dolby Theatre in Los Angeles, on Sunday, March 12.
Bassett, 64, was nominated for best supporting actress for her role as Queen Ramonda in Black Panther: Wakanda Forever at the ceremony, but ultimately lost out to Jamie Lee Curtis, who won for her part in Everything Everywhere All At Once.
Butler, meanwhile, was nominated for best actor at the Oscars, for his role as Elvis Presley in Baz Luhrmann's Elvis.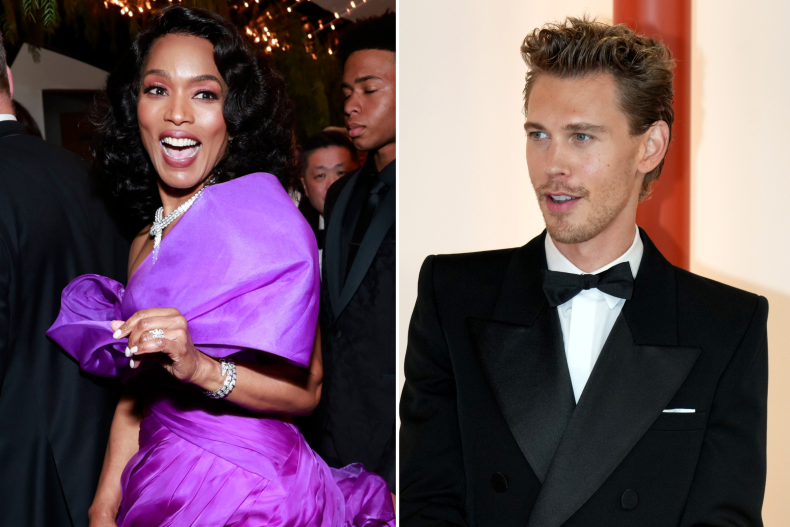 The 31-year-old former The Carrie Diaries star faced tough competition in his category as he was nominated against Colin Farrell, Bill Nighy, Paul Mescal and frontrunner Brendan Fraser.
The viral moment was captured when it came time for the best actor Oscar to be awarded, with actresses Jessica Chastain and Halle Berry presenting.
As the nominations for the best actor were called out, the camera panned to Bassett and Butler sitting next to each other and holding hands.
The clip of the pair was then posted on Twitter by a fan, alongside the caption: "Angela Bassett holding Austin Butler's hand while he's nervous...is exactly the kind of woman I imagined she was," alongside a love heart emoji.
At the time of writing, the sweet footage has been viewed over 258,000 times and liked over 3,500 times.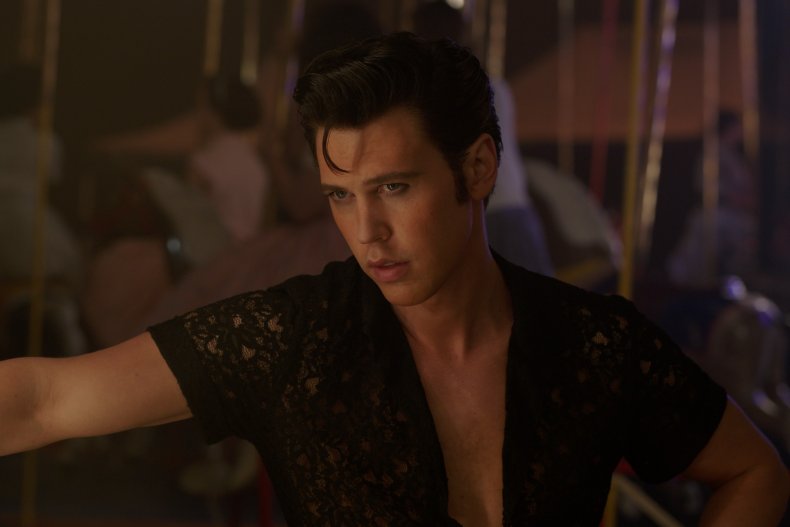 Fans were quick to share their thoughts on Bassett's gesture, replying to the original tweet to praise the actress.
"Aww the way she squeezed his hand in encouragement at the end [love heart emoji] He's been through a lot this past year," gushed one fan.
Another declared the clip was their "new favorite GIF," posting a number of love heart emojis as well.
"Very nice moment," added another Oscars viewer.
Ultimately, Fraser ended up being triumphant at Sunday's Oscars and took home the award for best actor, giving a shout-out to Butler and the other nominees in his speech.
The Mummy star Fraser had already won several awards for playing a morbidly obese and reclusive English professor named Charlie in the run-up to the 2023 Academy Awards.
He then gave an emotional address to the Oscars audience, in which he reflected on the highs and lows of his career in the film industry.
The actor also thanked his fellow nominees; Butler, Colin Farrell, Bill Nighy, and Paul Mescal, saying: "Gentlemen, you laid your whale-sized hearts bare so that we could see into your souls, like no one else could do, and it is my honor to be named alongside you in this category."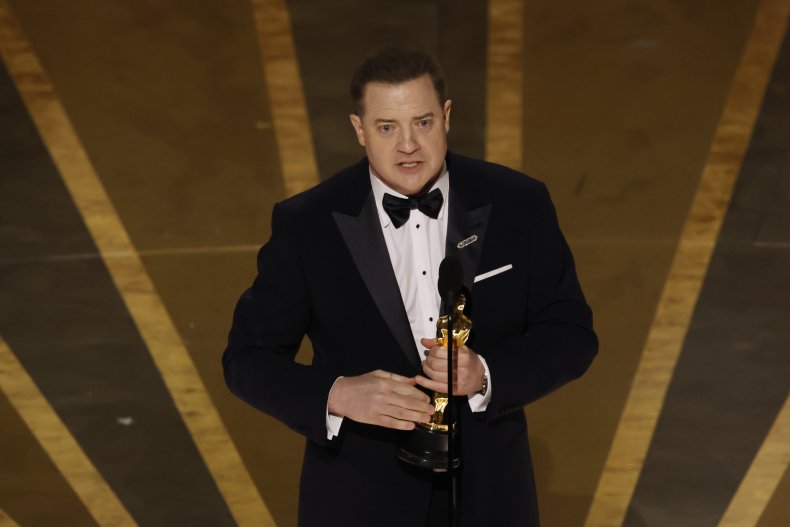 While Bassett and Butler's touching hand-hold was one of the most talked-about moments of the Oscars, the movie Everything, Everywhere, All at Once also had a hugely successful night and took home seven awards, making it the most-awarded best picture since 2008's Slumdog Millionaire.
The film, directed by Daniel Kwan and Daniel Scheinert, took home Academy Awards for best picture, best director, best original screenplay, best actress, for Michelle Yeoh, best supporting actress, for Jamie Lee Curtis, best supporting actor, for Ke Huy Quan, and best editing.
Yeoh's historic win marks the first time an Asian star has won the award for best actress.
She was handed the Oscar statuette by Halle Berry, who was named best actress in 2002 for her role in Monster's Ball, becoming the first Black woman to win the award.
Yeoh and Berry share another career link, as pointed out on social media, as they have both been Bond girls in films led by Pierce Brosnan.
Berry featured as Jinx Johnson in Die Another Day in 2002, while Yeoh played Wai Lin in the 1997 film Tomorrow Never Dies.