Nicole Kidman's Candid Reaction to Jimmy Kimmel's Oscars Hosting Goes Viral
Nicole Kidman has gone viral after being caught on camera reacting to Jimmy Kimmel hosting the 95th Academy Awards.
The Australian actress wasn't nominated this year, but she was still mentioned during Kimmel's opening monologue at the Oscars. Later on in the show, she appeared relieved when Kimmel chose to interact with someone else.
A brief seven-second video has been viewed hundreds of thousands of times showing Kidman giving off a certain "energy," which viewers found amusing.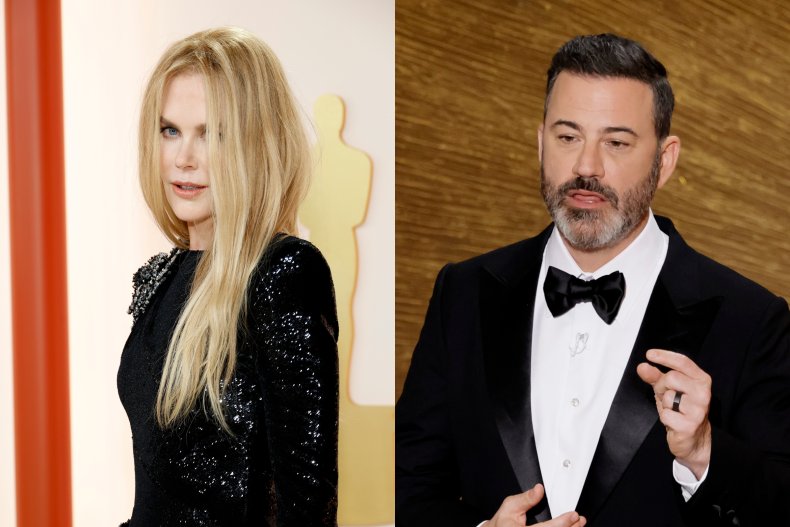 "The next question is for…" host Kimmel can be heard saying as he interacted with the audience during an Oscars segment. The camera pans across the audience and Kidman can be seen intently starring at the stage where Kimmel is.
"The next question is for, oh Jessica Chastain," Kimmel said. When Chastain's name was announced, Kidman smiles and turns to speak to the person next to her.
"Nicole is all 'thank f****** god' lol," wrote @littlelostsunny alongside the video on Twitter. It's not audible what Kidman is saying or mouthing to the person next to her, but she seems relieved all the same. People commented and retweeted the video, adding their own spin on Kidman's reaction.
"Me when the teacher asks a question and is looking at my direction but calls the one behind me," wrote @shaniakenna. "Me when a stand up comedian starts interacting with the audience," @PaulCullenDub said. Meanwhile @tyriontheking added, "all of us in an impromptu question session by a teacher!"
Others thought Kidman was just relieved to not have to interact with Kimmel again.
"She's so over him," one user wrote, while another added: "She's fed up with Jimmy Kimmel." Many Kidman fans praised her for being "so real" and "the realest" for having such a candid reaction in that moment.
Earlier on during the opening monologue, Kimmel had singled out Kidman for her famous AMC theaters commercials.
"I am happy to see that Nicole Kidman has been released from that abandoned AMC," Kimmel said gesturing to the actress who was sat next to her husband Keith Urban. "And thank you for encouraging people who were already at the movie theater, to go to the movie theater," Kimmel added as the audience laughed.
Kidman was present at the 95th Academy Awards as one of the many presenters. Alongside Idris Elba, she announced the nominees for best director, before handing over the award to Daniel Kwan and Daniel Scheinert who won for their movie Everything Everywhere All at Once.
Kidman's next appearance on the big screen is likely to come in Aquaman and the Lost Kingdom and she'll also appear in the Netflix movie A Family Affair. She's also been cast in Taylor Sheridan's upcoming Paramount+ spy thriller Lioness.