The current economic crisis in Sri Lanka led to unrest, and one incident showing a group of people pushing a car into a river has gone viral on Reddit.
Shared by u/Aztery to the forum "Public Freakout," the video, which amassed more than 16,000 votes, attracted hundreds of commenters to react to the incident.
The Associated Press reported Tuesday that security forces in Sri Lanka were ordered by the country's defense ministry to shoot those harming people or property.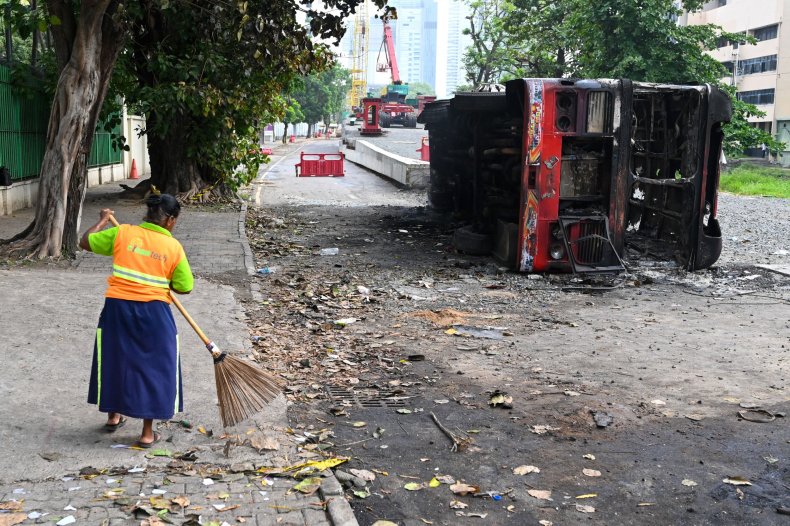 Protests have erupted across the country, many of which physically escalated. They began after citizens were faced with a shortage of essential supplies, like food and fuel.
Kamal Gunaratne, secretary to the Ministry of Defense, said that in addition to the buildings and vehicles that were burned, eight people were killed and 219 were injured.
Among those who were killed included a lawmaker and two police officers.
According to the AP, Prime Minister Mahinda Rajapaksa resigned on Monday and the Cabinet was dissolved. Rajapaksa's brother, President Gotabaya Rajapaksa appointed Ranil Wickremesinghe, a five-time prime minister, to fill the vacancy.
In the video, a large group of people is seen surrounding a car in Colombo that allegedly belonged to Minister of Highways Johnston Fernando.
They managed to roll the vehicle onto its side before it toppled over the edge and into the water.
"People are suffering," said a man who was interviewed in the video. "People are living with one meal per day. Can you imagine? Can you imagine? I'm so sorry to say this."
The video prompted viewers to share their thoughts on the event.
"It's crazy how we let privileged [people] who are so far disconnected from the struggle, make the important decisions," a viewer wrote.
Another suggested that more of these protests will start occurring in other countries.
"Poor countries cannot afford the huge inflation in food prices, and the average person is going to suffer greatly," they commented.
Although many commended the protesters, others said their actions would not result in them getting what they wanted.
Other protests from around the world have also gone viral.
One viral video showed a face-off that took place at the Basilica of St. Patrick's Old Cathedral in Lower Manhattan between abortion-rights activists and anti-abortion activists.
Following the leaked memo from a Supreme Court justice regarding potentially overturning the Roe v. Wade case, protests have erupted across the country.
Photos, videos and memes that showed Canadian truckers protesting Prime Minister Justin Trudeau's COVID-19 vaccine mandates have also gone viral on social media.
Most of the protests were peaceful, though police did need to investigate some violence and threatening behavior.
After Russian President Vladimir Putin ordered the invasion of Ukraine at the end of February, thousands of people around the world expressed their solidarity with Ukraine.
Even in Moscow, the streets were lined with anti-war protesters.