Screenwriter Gary Whitta Talks His 'Animal Crossing: New Horizons' Talk Show, 'Animal Talking'
If you logged onto Twitch Wednesday night, there's a good chance you stumbled across a show called Animal Talking, a late-night talk show set in the world of Animal Crossing: New Horizons.
Animal Talking is a talk show complete with monologues, guests, musical guests and a working set. It's like if The Tonight Show was held in the basement of a virtual home with friends.
The show was conceived on a Saturday and after just two episodes, Animal Talking was featured in Entertainment Weekly and other gaming/entertainment outlets. That shouldn't be a total surprise, though; not only is New Horizons one of the biggest games of the year, but during these trying times players are getting creative, putting on virtual graduations and weddings while people shelter in place. So why shouldn't someone host a virtual talk show?
Wednesday night's episode was particularly special, though. Animal Talking was featured on the front page of Twitch and creators Gary and Leah Whitta (who are married) and game developer Adam Nickerson had to be ready.
"I was more nervous than I have been about anything in ages," Gary told Newsweek. "My wife said to me, 'I had more fun doing that than I had at the Rogue One premiere.'"
Gary was the screenwriter for the 2010 film The Book of Eli, starring Denzel Washington; co-wrote 2013's After Earth, starring Will Smith; and yes, co-developed the story for 2016's Rogue One: A Star Wars Story.
So you can say Gary is famous—or "micro-famous," as he likes to put it—but putting on the fourth official episode of Animal Talking was an experience he and his team won't likely forget.
That episode of the talk show drew 12 thousand viewers and was the 14th most-watched stream on Twitch that day. Impressive stats for a show that was less than a week old.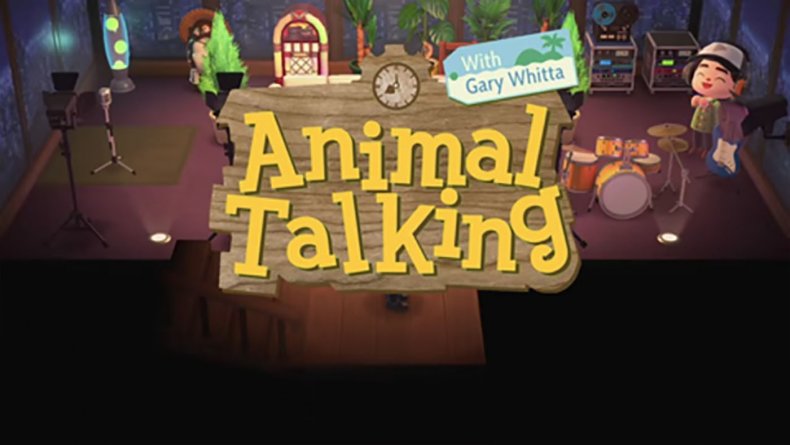 EARLY DAYS OF STREAMING
The origins of Animal Talking actually start with the first-person shooter Player Unknown's Battlegrounds, or PUBG, for short. Gary started up his Twitch account just playing PUBG, but then he became bored with streaming it, as he wasn't gaining an audience—and, by his own admission, he wasn't very good at it.
"I had trouble finding an identity for my channel. I don't really want to do video games, everyone else does that and I don't have a lot to offer," Gary explained. "No one wants to watch me play golf, they want to watch Tiger Woods. Why would you want to watch me play PUBG when you can watch Dr. Disrespect or Shroud or Ninja, the elite-level players?"
But things would change when The Book of Eli was released on Netflix about a year ago. The DVD/Blu-Ray release didn't come with a commentary track, and Gary felt that Twitch offered a great opportunity to share some behind-the-scenes information on the project with viewers. So that's exactly what he did while people streamed the film on Netflix—similar to the watch parties and watch-alongs we're seeing a lot today while people are staying indoors.
That experience with The Book of Eli gave Gary the streaming bug again. So, he'd go against the Twitch gaming grain and do Q&As with himself or interview other writers, or stream his reactions to competitive Russian face-slapping tournaments. Everything was fair game on his channel, but he still didn't have a real identity until the release of Animal Crossing: New Horizons.
Before New Horizons, Gary's experience with the franchise came with the mobile game, Pocket Camp. Leah has been a fan since Animal Crossing, the 2001 Nintendo GameCube game, and their 7-year-old daughter has been playing since New Leaf for the 3DS.
So when the game came out in late March, he and his family were hooked.
"I like it because it's a world I can go to that's better than this one, and that's really true," Gary said. "It's peaceful, pastoral, wholesome. The worst thing that can happen to you in Animal Crossing is you get stung by a wasp. Just the monotony of chopping wood and picking fruit. I went to my daughter's island and had a tea party and it was delightful."
"This game should be covered on your health insurance," Gary joked. "The nature of what it's offering people during this time, it is bringing something worthwhile into people's lives. And if the talk show has added even a tiny bit on top of that, then brilliant."
Gary was already playing New Horizons, so he figured he would do it on his Twitch channel, which is when Animal Crossing Mornings was created. At 9 a.m. PT for one hour a day, Gary would just stream Animal Crossing. He's been doing that for a month and is beginning to gain an audience. With Animal Crossing Mornings, Gary found an identity for his channel, but it wouldn't be until Animal Talking that things would really take shape.
ANIMAL TALKING STARTS
Everyone plays Animal Crossing differently. Leah is meticulous with how her island looks and is all about the landscaping. Gary just wants a beautiful house.
Originally, Gary had a rumpus room in his Animal Crossing basement that he filled with arcades, foosball tables and things like that. But it wasn't actually a room to do anything in, just to show off all his nice things, and he took it as far as he could go.
And then Gary found video cameras, a mic stand, a desk and wallpaper that looks like a city skyline, and thought he could build a talk-show set.
"I grew up in the U.K. where [late-night talk shows] wasn't a part of the British television tradition the way it was in the U.S.," Whitta said. "People grew up with Johnny Carson and Jay Leno or David Letterman. We never had people like that."
Gary came to the U.S. in 1996 and was enamored with the late-night talk shows. (His favorite television program of all-time is a send-up of the genre, HBO's The Larry Sanders Show.) So of course when the time came to establish a set for Animal Talking, he wanted to pay homage to the giants of the genre.
The set, with its city-skyline background, is a nod to The Tonight Show; there's a golf bag to pay tribute to Johnny Carson; a lot of greenery in the background like The Larry Sanders Show; and the desk is literally between two ferns, a reference to (you guessed it) Between Two Ferns.
"It's a virtual dollhouse and I'm a 47-year-old man playing with dolls and I don't care," Gary proclaimed. "It brings me joy."
Gary showed off the set on the next Animal Crossing Mornings and his viewers loved it— so much so that he and Leah received messages from people offering items for the set like drums, plants and other instruments, which are now used on the show.
"Nintendo puts incredible detail into all the little objects," Gary said. "And we were able to put it together and impress someone who worked on The Tonight Show, which is probably my proudest moment."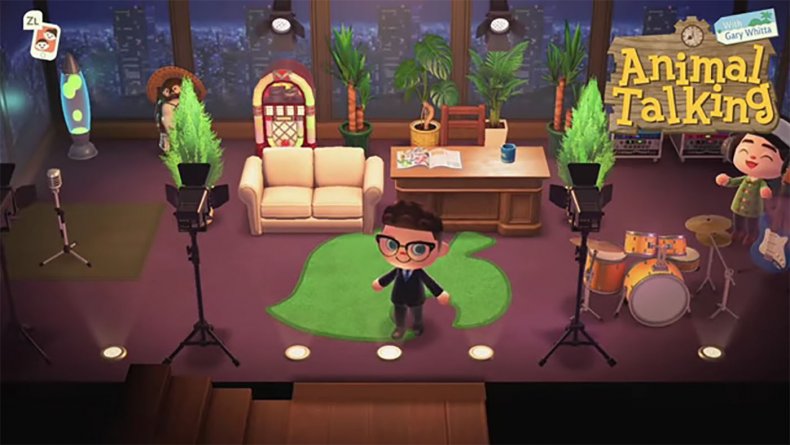 With the set built, Gary felt they should put on a show for fun. With Gary as the host, Leah the executive producer and Adam as his Ed McMahon—as well as producing the video—Animal Talking was ready to go.
Gary's first guest was Naomi Kyle, a YouTube and internet personality, and it was a lot of fun and people were responding to it. The next episode had Leah as the guest and the audience continued to build.
"Normally, you want to have test shows with audiences to see what works," Gary said. "We did that, but we actually broadcast it. It was like building the plane while it's still in the air."
"I didn't know until I started doing this show that I wanted to be a talk show host," he said. "I just didn't know it until I became one and I enjoy it immensely and people tell me that I'm good and it puts a smile on my face. I look forward to doing the next show."
With a few episodes under their belt they were ready for Wednesday.
THE BIG SHOW
"The front page show, the most ambitious show we did had three guests, musical performances and it went off without a hitch," Gary said.
Gary said that in the first three episodes, he was making a lot of mistakes, like killing the mic mid-show. It's tough being the host, as well as the camera operator and backstage producer while everything is live.
"I was genuinely nervous and I was pacing around all day and I knew we would have a big audience. When we went live, we already had 7,000 people watching and I didn't make any mistake. I hit every cue and mark but, like, halfway through, the stream crashed."
Normally when a stream on Twitch crashes people look for something else to watch, but after five minutes of troubleshooting, everyone was still waiting for the show to come back.
"We didn't lose a single viewer and then we went from 7,000 to 12,000," Gary said. "That's a testament to the fact that people really enjoy it."
Animal Crossing: New Horizons is the most popular video game right now, breaking all sorts of Nintendo records. But not everyone owns the game (or a Switch, for that matter). So to get around that limitation, Leah came up with the idea to use her own avatar to portray the guest.
Wednesday's musical guest, Raquel Lily, doesn't own Animal Crossing, so Leah changed her character to look like her. So while Raquel was chatting and singing over the communication-app Discord, Leah was puppeteering.
The technical limitations of the game also constricts how wide a camera shot is. As the show is being streamed from Gary's Switch, the camera is focused on him. To get the right angle for Raquel's performance, he had to resort to an ingenious workaround. Gary would stand behind one of the ferns so he could get close enough to Raquel and the mic.
"Part of the reason why the show has been so successful, it's a testament to how awesome Animal Crossing is," Gary said. "I was able to do this without modding or changing anything or hacking in any way, just using the tools and the furniture items and the wallpaper and carpets that are available to everyone. Anyone can do this. We were just the ones who did it first."
FUTURE OF ANIMAL TALKING
With their biggest show in the rearview, the future of Animal Talking continues to be nebulous.
Gary, Leah and Adam started the show out of the boredom of being home during quarantine, but it has evolved into something more. Gary admits that he's spent more time on this show than what he normally spends doing his day job. He makes talking points for the show, does pre-interviews with guests prior to the stream and even gives a virtual tour to make sure they understand how things work on Animal Talking. They're even looking into putting out an audio version of the show at the request of fans.
This would be a problem if he wasn't ahead of his work and not late on deadlines for various projects like comic books, animated series and more. But when things go back to a state of normalcy, Gary doesn't know what will happen to the show.
"I don't even know what's going to happen on Friday's show. Right now we have guests booked for two weeks," he said. "Right now, it's a novelty or in the honeymoon period. I will stop doing it if the concept runs out of steam or I get bored. And I don't know when that will be."
Gary says he doesn't do Animal Talking for the money—his day job pays well enough—and he's not calling agents to get celebrities on his show, but if notable Animal Crossing players like Chrissy Teigen or Elijah Wood want to come on, he'll be happy to have them.
He's had a friend say he can get NBA superstar Steph Curry on the show, and Gary revealed that he is close to booking their first major celebrity guest, so there's a lot of exciting possibilities to come for Animal Talking.
"I don't know what's next, but I'm having a lot of fun doing it," Gary said. "If the only thing I ever do with this game is make my wife happy, then that's more than enough for me. But I think we're making a lot of people happy. This really started as a way to try and put a smile on some people's faces starting at home with me and my wife at a time when everyone needs a reason to smile. It's been incredible therapy for me and it's an incredible tribute and testimony to the amazing world Nintendo has built with Animal Crossing."
You can watch Animal Talking live on Gary Whitta's Twitch channel or the next day on YouTube.