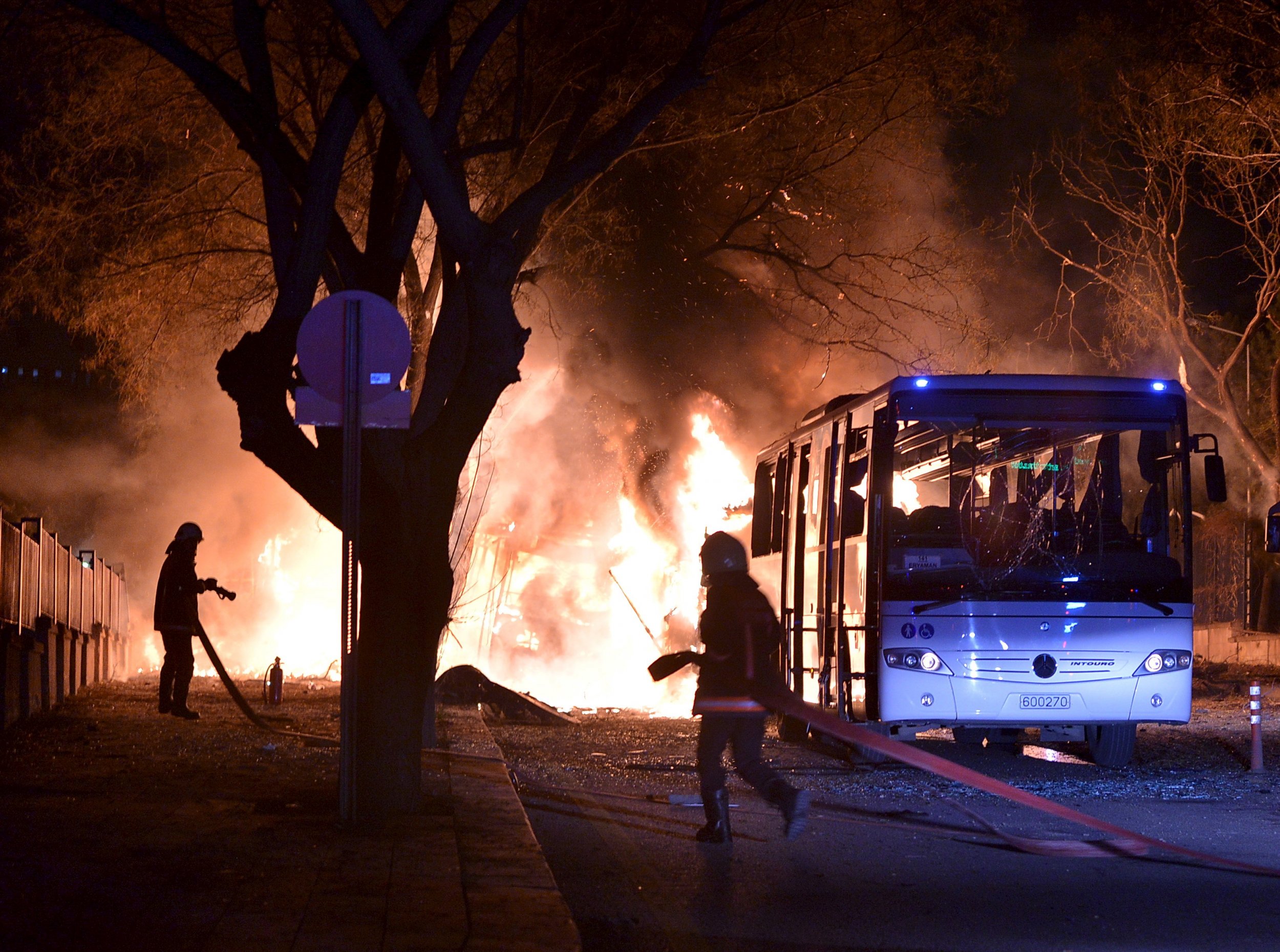 Updated | Turkey's prime minister has blamed Kurdish militants for a deadly bomb attack in the capital Ankara that killed at least 28 people.
Prime Minister Ahmet Davutoglu said on Thursday that the Kurdistan Workers' Party (PKK) and the Kurdish YPG militia based in Syria were responsible for the Ankara attack, the BBC reported. A car bomb detonated on Wednesday in the center of Ankara near to the Turkish parliament, reportedly targeting a bus carrying military personnel. Davutoglu said that 26 of the 28 people killed were soldiers.
Davutoglu said that nine suspects have been detained over the bombing and named the bomber as Salih Necar, a Syrian member of the Syrian Kurdish People' s Protection Units (YPG). The Turkish army confirmed fresh airstrikes on Kurdish targets in northern Iraq took place overnight.
Cemil Bayik, the co-leader of the PKK umbrella group, said he did not know who carried out the Ankara attack but that it could be a response to "massacres in Kurdistan," referring to Turkish attacks on Kurds, according to Reuters.
At least 61 people were wounded in the attack and huge fires were seen in its aftermath. Turkish President Recep Tayyip Erdogan vowed on Wednesday to retaliate against the perpetrators. "Turkey will not shy away from using its right to self-defense at any time, any place or any occasion," Erdogan said.
Turkey has been subject to several militant attacks in recent months. An explosion in Istanbul in January killed 10 people, including eight German tourists, and was suspected to have been carried out by members of the Islamic State militant group (ISIS). A double suicide bombing at a pro-Kurdish peace rally in Ankara in October 2015 killed more than 100 people. ISIS was again suspected as being behind the attack. PKK militants have also carried out attacks in Turkey: three Turkish troops were killed in July 2015 when PKK fighters ambushed them in the southeastern province of Sirnak.
The Ankara attack was also condemned by the U.S. State Department and NATO Secretary General Jens Stoltenberg, who said that "NATO allies stand shoulder-to-shoulder in the fight against terrorism."
Turkey is currently facing several security challenges, including supporting the U.S.-led coalition against ISIS in Syria, conducting operations against Kurdish fighters in southeast Turkey and dealing with an increasing number of refugees fleeing the conflict in Syria.
This story has been updated to include further details of casualties and comments from the PKK.