Ann Coulter Says Donald Trump and Fox News 'Lied' to Voters
Conservative pundit Ann Coulter expressed her latest criticism against former President Donald Trump on Friday.
Coulter, once a vocal Trump supporter, turned against the former president during his White House tenure. She has also continued voicing criticisms about his effectiveness as he again runs in the 2024 GOP presidential primary and following the 2022 midterm elections, when Trump-endorsed candidates underperformed in key races across the country.
Following the midterms, the GOP has grappled with these losses. Republicans won only a narrow victory in the House of Representatives and lost ground in the Senate. Some Republicans have said that the party should move away from Trump, adding that his 2020 election fraud claims are toxic among moderate and swing voters.
Coulter said on Friday that Trump's election fraud claims cost Republicans a key governorship in Michigan, where Democratic Governor Gretchen Whitmer easily beat back a challenge from her Republican opponent, Tudor Dixon.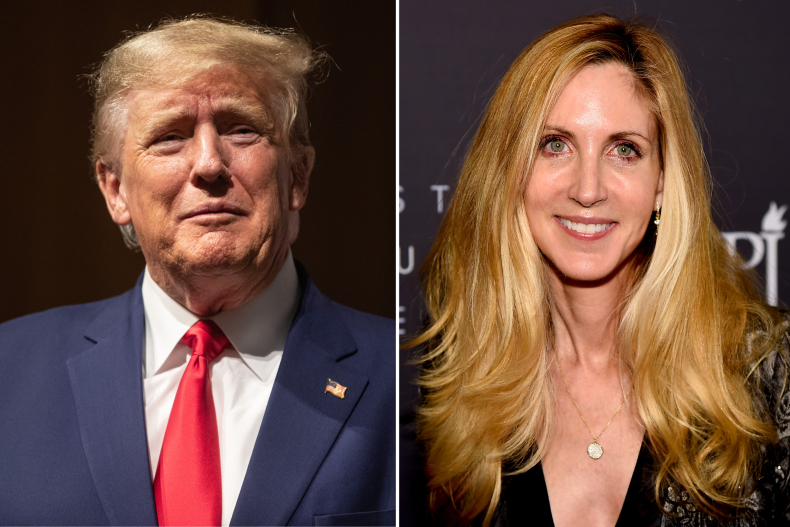 Coulter wrote on Twitter that Dixon had to parrot Trump's election fraud claims to win credibility among Republican voters during the primary election, but that her stance on the issue cost her in the general election.
"She lost because she REPEATEDLY said Trump won the 2020 election. Maybe she had to, to win the primary," Coulter tweeted.
She also questioned why Dixon would emphasize voter fraud during the competitive election, blaming Trump and Fox News personalities for pushing false election claims.
Since the 2020 presidential election, Trump has consistently said the election was stolen from him due to widespread voter fraud, despite a lack of substantial evidence, at rallies and media appearances. Several Fox News personalities also voiced skepticism about the election results on the network, despite a recent lawsuit alleging that they were privately skeptical about Trump's claims.
"But WHY would voters want her to say that???" Coulter asked in her Friday tweet. "Because Trump and Fox News lied to them."
Newsweek reached out to Fox News and Trump's office for comment.
Coulter has recently made other critical comments about Trump. During a recent appearance on the podcast Timecast IRL, she described the former president as "profoundly stupid."
"The one thing I didn't know when I wrote In Trump We Trust is how profoundly stupid he is," Coulter said. "I made very clear in the book the only thing he could do; we will forgive him for anything, and I defended him the day after the Access Hollywood *****grabbing tape came out. I was pedal-to-the-metal defending him. I said we'll forgive him for anything unless you betray us on immigration. Guess what? He did."