Ann Coulter Shares Illustration of Her Sitting on Donald Trump's Lap Demanding a Wall for Christmas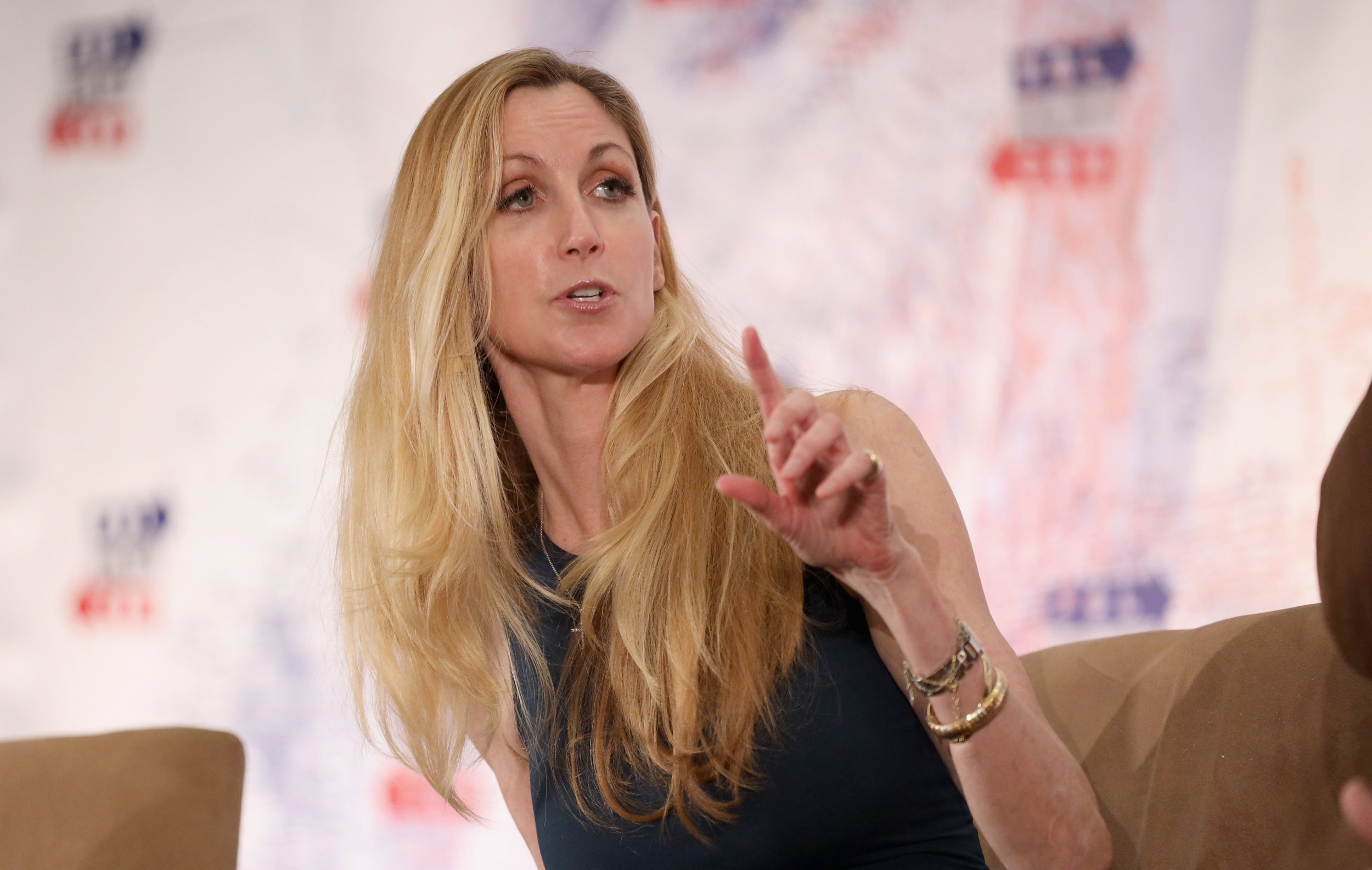 Right-wing pundit Ann Coulter this week continued her pleas for President Donald Trump to build a wall in...interesting... fashion.
Coulter posted a cartoon illustration to Twitter on Tuesday showing herself sat on Trump's lap—the president dressed as Santa—yelling at him: "This isn't real! I want a wall. Bad Santa..."
Coulter has regularly urged Trump to build his long-promised wall along the southern border of the United States. After it seemed he would back down from the fight, the president—at the 11th hour—last week said he would not sign a stop-gap spending bill if it did not including funding for his wall, which led to the ongoing partial government shutdown.
Before Trump sparked the shutdown, Coulter—author of the books In Trump We Trust: E Pluribus Awesome! and Resistance Is Futile!: How the Trump-Hating Left Lost Its Collective Mind—slammed Trump and predicted he would lose a bid for re-election in 2020, if he ran at all.
"Either Trump never intended to build a wall and was scamming voters from the beginning or he hasn't the first idea in how to get it done and no interest in finding out," Coulter told the conservative outlet The Daily Caller. "My prediction is his support will evaporate and Trump will very likely not finish his term and definitely not be elected to a second term."
Coulter isn't the only high-profile conservative to suggest Trump might not finish his first term in office. On the heels of Trump's decision to pull troops of out Syria, outgoing Republican Senator Bob Corker said last week that the next few months could determine if the president just gives up.
"I think this next three months could well determine whether [Trump] decides to run again or not," he said on CNN's State of the Union. "I think it's going to be very important for our country that the United States Senate really dig in and make sure we don't make other colossal mistakes as it relates to foreign policy. But I think the stage is going to be set and we'll see. Only he knows what's going to do next."
It's unclear when, exactly, the shutdown might end. The new Congress—in which the Democrats will control the House of Representatives—is set to take effect in the new year, which will provide a new barrier for Trump.
"I can't tell you when the government is going to be open. I can tell you it's not going to be open until we have a wall, a fence, whatever they would like to call it," Trump said on Tuesday.