Anna Paulina Luna Allegations Draw George Santos Comparisons
Republican Representative Anna Paulina Luna has drawn comparisons to her GOP colleague Representative George Santos following a report from The Washington Post that made a series of allegations that Luna had misrepresented her background.
Luna, a first-term representative who was elected in November, has strenuously refuted the newspaper's allegations and said on Friday that her attorneys had demanded a correction and threatened legal action.
Some social media users compared Luna to Santos, who has been the center of controversy and calls for him to resign following accusations that he lied about much of his personal history, including his education, employment history and his claim to be the "grandson of Holocaust refugees."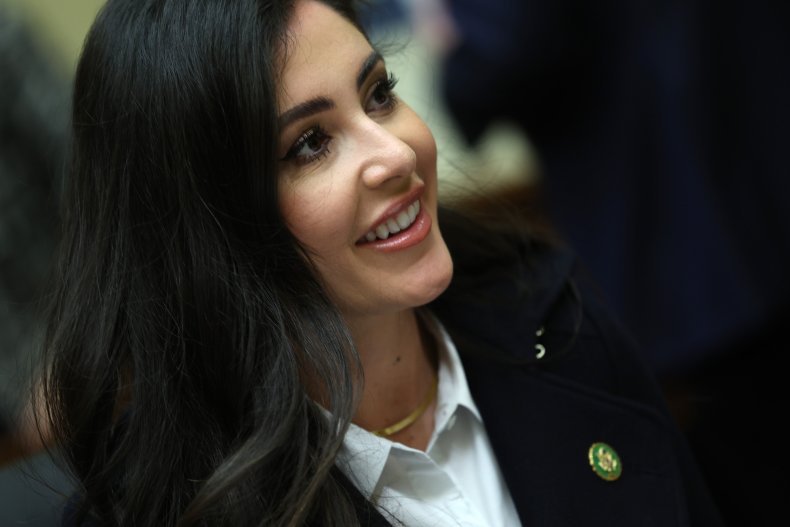 While Santos has been heavily criticized, not all those weighing in on The Washington Post's story were convinced that the comparison between Luna and Santos was fair.
"Do we have ANOTHER George Santos in Congress?" tweeted lawyer and founder of Main Street Law, Tristan Snell, sharing allegations made in the Post's story.
Journalist Aaron Rupar tweeted: "Rep. Anna Paulina Luna has more than a whiff of George Santos to her, right down to dubious claims of being Jewish (her grandfather, it turns out, was actually a soldier for Nazi Germany)."
The Washington Post reported that Luna's grandfather, Heinrich Mayerhofer, had served in the German army during Nazi rule in the 1940s.
While many social media users compared Luna to Santos, some suggested that comparing the two was wrong.
Em Steck, writer and researcher with CNN's KFILE, tweeted: "Luna is not a serial liar, has not been accused or charged with any crimes and has not used mass tragedies to further a compelling life narrative. She embellished parts of her life story but that doesn't come close to what Santos has done/allegedly done. It's inaccurate to comp."
Steck later tweeted: "I think it's intellectually dishonest to say the two are the same when Santos' lies and scandals pile and pile. Luna is more in the traditional camp of politicians caught embellishing life stories."
Matt Ford, of The New Republic, tweeted: "This reads less like another Santos and more like someone with a troubled childhood trying to find their identity, in some cases perhaps on tenuous grounds."
In a statement to Newsweek on Saturday, Representative Luna said: "The fact that people were so quick to jump to conclusions about my life is alarming and highly insulting."
"As you saw with what we presented to Fox and the multiple retractions already made by the WAPO, clearly they were not forthright with their reporting and are now backtracking," she went on.
"I've seen a lot and to make the comparison to George Santos is wrong and I'm positive that even Mr. Santos would agree. I know all journalists are not bad, but WAPO did not do the professional industry any favors and even Elon Musk agreed this morning," Luna added, referring to a tweet Twitter's owner sent on Saturday.
"WaPo needs a thorough housecleaning," Musk said.
Luna has slammed The Washington Post's article, telling Fox News Digital on Friday: "As I've said before, and as the Washington Post has clearly showcased, anyone who is a conservative minority is a threat to Leftist control."
"They can try to discredit me, but unfortunately for them the facts completely blow their story out of the water," she said.
Luna tweeted on Friday: "Here come the receipts. We have sent letters from my attorney to the Washington Post & Salon to issue corrections or we will sue. We are also sending to Vanity Fair, Business Insider, Yahoo News, Independent, any other outlet that reports false info."
The Republican's team has also indicated that they believe the article was racially charged because of its suggestion that Luna embraced her Hispanic heritage as part of her bid for election.
The Washington Post has corrected one part of the article that wrongly stated Luna had registered as a Democrat in Washington state, but the newspaper's vice president of communications, Shani George, stood over the rest of the reporting on Friday.
"We have corrected one piece of factual information that was based on a database error. This deeply reported story about Rep. Luna's biography includes ample perspectives from people who have known her throughout her life," George said, according to a Fox News report.
The newspaper has also added a note to the article to say that Luna's roommate in Missouri was not the only person mentioned in a police report about a break-in at their apartment in 2010 but she was the only person police interviewed about the incident.
Update 02/11/23 10.56a.m. E.T.: This article has been updated to include a statement from Anna Paulina Luna and additional information.