George Santos Is Collecting Money for a Campaign He Says Isn't Happening
The Federal Election Commission wants to know if embattled Republican Representative George Santos is running for reelection due to campaign disbursements "that appear to be for the 2024 election."
A letter sent to Santos by the FEC says that no debts remain from Santos' 2022 election campaign, though his campaign committee has accepted contributions or spent in excess of $5,000 for a potential reelection, thus meeting the definition of "candidate."
Santos said last month that he would not seek reelection, according to a report from WABC-TV in New York.
"You must either disavow these activities by notifying the Commission in writing that you are not a candidate, or redesignate your principal campaign committee by filing a statement of candidacy within 35 days from the date of this letter," the FEC said in the February 7 letter. Santos must issue a response by March 14.
Any individual running for federal office must register and file financial reports when he or she raises or spends more than $5,000 in contributions or expenditures, according to FEC requirements. Federal candidates must also designate a principal campaign committee, which takes in contributions and makes expenditures on behalf of the candidate.
The FEC declined to comment to Newsweek.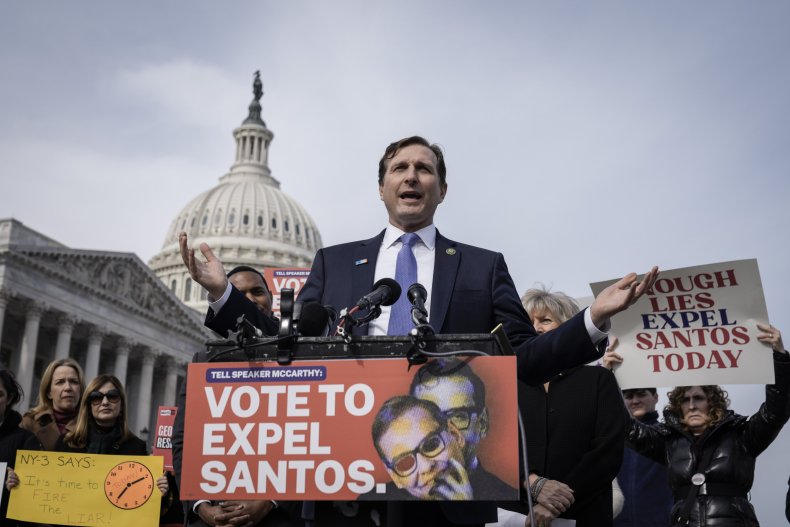 Seamus Campbell, a New York City-based political consultant, told Newsweek that the FEC letter puts Santos "in an untenable situation."
"It tells the FEC that he is running—then, for the next 18 months, he will be hit almost daily by opponents from both parties for his lies and they all will [do] opposition research on where his funds are coming from and being spent—if only to be the first one to call dibs on finding a smoking gun," Campbell said.
Even if Santos does inform the FEC that he is not seeking reelection, Campbell said he must immediately wind down his committee to prevent potential legal pitfalls associated with misappropriation of funds or filing false statements.
The Republican has faced a mounting list of allegations since his election victory in November. Most recently, there have been questions around his claim that he started a company in his early teenage years.
He is also facing a plethora of campaign finance questions, including by the FEC, due to a $500,000 loan he received that was from the "personal funds of the candidate."
House Speaker Kevin McCarthy, who spoke with Santos prior to his temporarily stepping down from two committees, has mostly referred questions about Santos' multiple allegations to the House Ethics Committee.
Santos has also been rebuked by fellow Republicans in Nassau County, New York, who have collectively disavowed him as their congressman and repeatedly called for his resignation.
His reputation in his short stint in Congress has been widely scrutinized by additional members of his own party, including some in the U.S. Senate.
Senator Mitt Romney of Utah blasted Santos at the State of the Union, referring to Santos as a "sick puppy" and even telling the first-term congressman he shouldn't have been in the room among the other politicians and dignitaries.
Senator Lisa Murkowski, a Republican from Alaska, told The Hill that members like Santos further hurt the Republican Party's image in an era when trust in politicians is already low.
"It's not like we've got a really strong public approval rating," Murkowski said. "It doesn't do much to elevate us in the eyes of the American public when it would appear we are kind of protecting somebody just because he's a member of our caucus."
Campbell said Santos' future, as it pertains to the House ethics investigation, is in his own hands.
"If he says he is not running and follows the proper protocols, then that is one less thing to investigate—though there are plenty more," he said. "But, if he says he is running, then the Ethics Committee will have a deadline of November 5, 2024, to make a case on what punishments, if any, Congressman Santos should receive."
He added: "At this point, all of the investigations are becoming a game of Tetris for Congressman Santos: Each new scandal is another block and eventually, it will reach the top and it will be over."