Lisa Murkowski Warns That George Santos Harms Republicans' Image
Republican senators are voicing their concern that drama involving Republican Representative George Santos of New York is threatening the party's ability to secure a majority in the Senate in the 2024 elections.
Republicans, who expected a "red wave" in the 2022 midterms, barely secured a majority in the House and were unable to regain the Senate in November. Lawmakers are already turning their focus to 2024, and one senator believes the strategy revolves around making sure Santos doesn't continue to taint the Republican image.
Santos is facing ethics investigations after admitting to "embellishing" his resume, and Republicans aren't taking kindly to what the news is doing to their national image. Santos has stepped down from two House committees amid the investigation, but lawmakers feel the continued discord is holding back Republicans, according to Senator Lisa Murkowski.
The Alaska Republican told The Hill that she's surprised Santos hasn't resigned amid all the criticism from his GOP colleagues. She said Santos remaining in the House points to his lack of self-awareness regarding the harm he has done to fellow Republicans.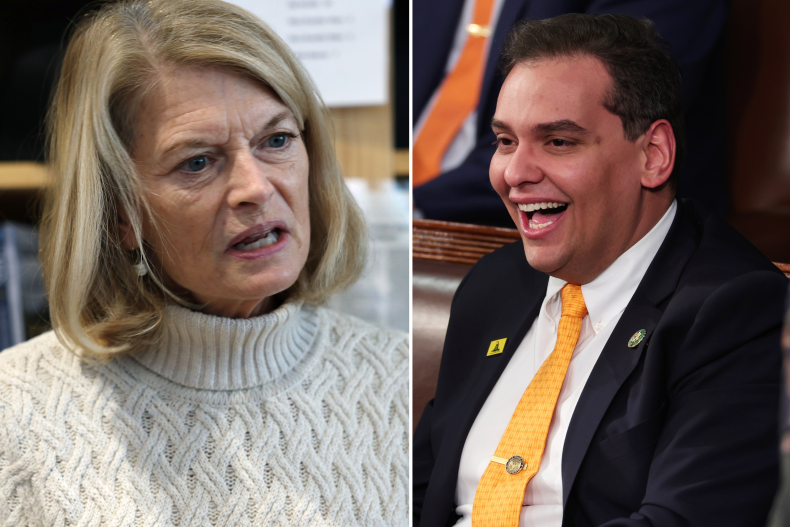 "It's not like we've got a really strong public approval rating," she said. "It doesn't do much to elevate us in the eyes of the American public when it would appear we are kind of protecting somebody just because he's a member of our caucus."
Republicans have faced increased scrutiny after the January 6, 2021, U.S. Capitol riot, and former President Donald Trump continues to fight myriad investigations and legal battles, including over business dealings with Saudi Arabia and his actions surrounding the 2020 election won by President Joe Biden.
Many Trump-endorsed candidates lost their congressional races in November. Those who won, such as Representative Marjorie Taylor Greene of Georgia, have continued to bring unflattering attention to the GOP.
Santos' drama crossed into the Senate on Tuesday at President Joe Biden's State of the Union (SOTU) address. Republican Senator Mitt Romney of Utah volleyed harsh words at Santos, telling him that he didn't belong there.
Santos was quick to respond, saying Romney's attack "wasn't very Mormon" and tweeting at Romney to tell him that he would never be president. Romney launched two unsuccessful presidential campaigns, in 2008 and 2012.
Santos has faced calls to resign since shortly after he was elected, but until recently, senators have stayed mostly uninvolved, believing that House Speaker Kevin McCarthy of California should be the one to request Santos' resignation.
Some disagreed with Romney's approach at the SOTU but related to feeling disheartened at Santos' continued position in the House. Republican Senator Kevin Cramer of North Dakota told The Hill that he wouldn't have approached Santos the same way but that he agreed with Romney's sentiment.
Newsweek has reached out to the offices of Murkowski and Santos for comment.