'A Warning' By Anonymous Topples Donald Trump Jr.'s 'Triggered' Book As No. 1 Bestseller
A tell-all book about the Trump administration penned by an anonymous senior White House official appears to have taken the top spot on The New York Times' bestseller list for non-fiction, toppling Donald Trump Jr.'s own tome, Triggered.
Described on the Times' bestseller list as an "assessment of the president," as well as a "moral appeal" to the American public, A Warning, offers an eviscerating analysis of Trump and his ability to lead.
President Donald Trump's son's own book, meanwhile, targets those on "the left," accusing liberals of thriving on hate and seeking to silence those on the right.
Noting that A Warning had claimed the number one spot on The Times' bestseller list for non-fiction, pushing Trump Jr.'s book to number two, bestselling author and political commentator Tony Schwartz welcomed the news, calling it "poetic justice" in a tweet.
"Such poetic justice," Schwartz wrote, before calling on the author behind the Trump administration tell-all book to "out him/herself."
Despite widespread speculation on who the anonymous author behind the exposé could be, the self-described senior Trump administration official has yet to reveal their identity.
On Thursday, Conservative attorney George Conway, who is married to Trump counselor Kellyanne Conway, was forced to put an end to speculation that the couple might be behind the book.
"I wish. But no," the attorney wrote in a tweet after former Nixon White House Counsel John Dean prompted speculation by drawing parallels between Conway's writing style and that of the anonymous author.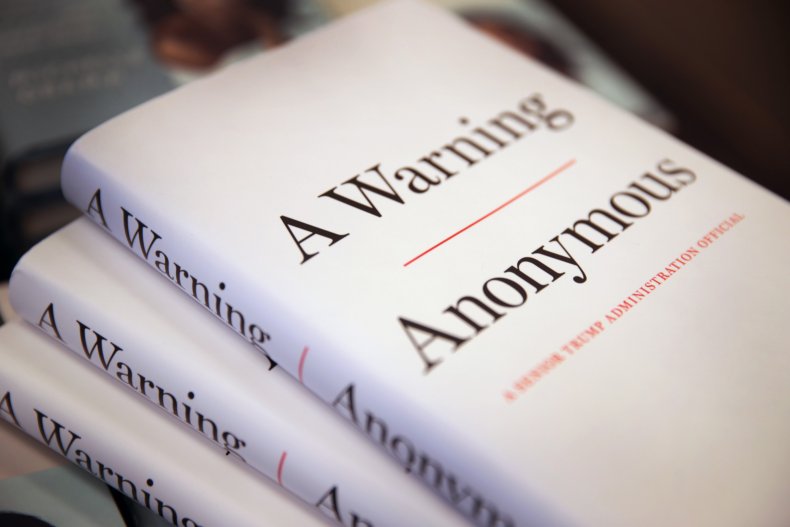 With the Conways off the list of potential authors, it is still unclear who the unnamed authority might be.
The anonymous author has suggested, however, that all may soon be revealed in the near future. In a recent "Ask Me Anything" interview on Reddit, the unnamed official claimed that Trump would hear from them "in my own name" before the upcoming 2020 election.
"As far as anonymity is concerned, I will not keep my identity shrouded in secrecy forever," anonymous wrote. "I am not afraid to use my own name to express concern about the current occupant of the Oval Office."
The writer also claimed that others within the White House were "considering adding their voices before votes are cast." The possibility, they said, was being discussed "with some regularity."