Another Alec Baldwin Project Is Delayed Indefinitely Amid 'Rust' Investigation
An upcoming film featuring Alec Baldwin has been delayed indefinitely amid the ongoing investigation into the tragedy on the set of Rust.
Montrose Pictures and Cargo Releasing announced on Monday that the upcoming British documentary, Flint: Who Can You Trust?, will be delayed from its planned release date of October 29, the Los Angeles Times reported. Baldwin narrated the documentary, directed by Anthony Baxter, which explores the city of Flint, Michigan, and its ongoing water crisis.
"Out of the deepest respect for all those affected by this terrible tragedy, we feel now is not the time to release FLINT: Who Can You Trust?" Baxter said in a statement about the delay. "[W]e will now be positioning the film for release in the US at a future date."
The doc had been scheduled for a limited release in New York and Los Angeles this weekend. A Kickstarter campaign aimed at funding a wider release was also halted for the time being.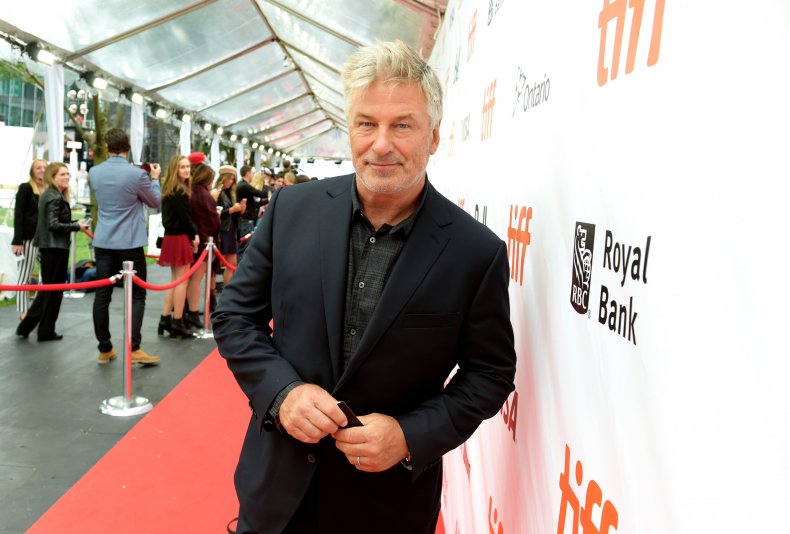 The production of Rust has also been delayed indefinitely following the on-set death of cinematographer Halyna Hutchins on Thursday. Both Hutchins and writer-director Joel Souza were hit when a prop firearm Baldwin was handling unexpectedly discharged. Baldwin had been told prior to the incident that the prop was "cold," and therefore not loaded with any sort of rounds.
Crew members on Rust told investigators that Baldwin "had been very careful" while handling prop firearms during the production, according to a recently released affidavit. A search warrant released on Sunday also revealed that the actor had been practicing how to remove the prop from a holster when the incident occurred. Baldwin reportedly removed the prop and pointed it towards the camera when it discharged, hitting Hutchins in the stomach and Souza in the shoulder.
"There are no words to convey my shock and sadness regarding the tragic accident that took the life of Halyna Hutchins, a wife, mother and deeply admired colleague of ours," Baldwin said in a statement on Twitter. "I'm fully cooperating with the police investigation to address how this tragedy occurred and I am in touch with her husband, offering my support to him and his family. My heart is broken for her husband, their son, and all who knew and loved Halyna."
Baldwin's IMDB page indicates that he is slated to appear in the upcoming storm chaser thriller, Supercell, which has wrapped principal photography. He is also set to star in the films The Father and Blue Before Blood, and an untitled television project with Kelsey Grammer, all of which are listed as being in pre-production.
Since the shooting, former colleagues have come forward to allege unsafe conditions on sets where Rust's assistant director, David Halls, has worked in the past. Halls was reportedly the person who handed Baldwin the prop and told him it was "cold." Maggie Goll, a prop maker and licensed pyrotechnician, told Newsweek on Sunday that Halls' sets were "almost always allowed to become increasingly claustrophobic, no established fire lanes, exits blocked...safety meetings were nonexistent."
Halls reportedly grabbed the prop gun from a cart that had been loaded by the production's head armorer, Hannah Gutierrez-Reed. Gutierrez-Reed, 24, previously said during an appearance on the Voices of the West podcast that she almost did not take the job out of concern that she was not experienced enough.
The investigation into the fatal shooting of Hutchins remains ongoing. No official conclusions have been released by investigators.