A video featuring Representative Madison Cawthorn, a Republican from North Carolina, blasting Ukrainian President Volydymr Zelensky has reportedly joined clips of Fox News host Tucker Carlson in regular rotation on Russian state-run television. Other Republicans—such as Representative Marjorie Taylor Greene of Georgia—could soon be next to appear on the Russian airwaves.
Cawthorn told supporters to "remember that Zelensky is a thug" and that "the Ukrainian government is incredibly corrupt," "evil" and "has been pushing woke ideologies" in the video, which was obtained by Raleigh news station WRAL. On Thursday, NBC News reporter Raf Sanchez shared the clip to Twitter among other footage gathered from Russian state television following a three-week trip to Moscow.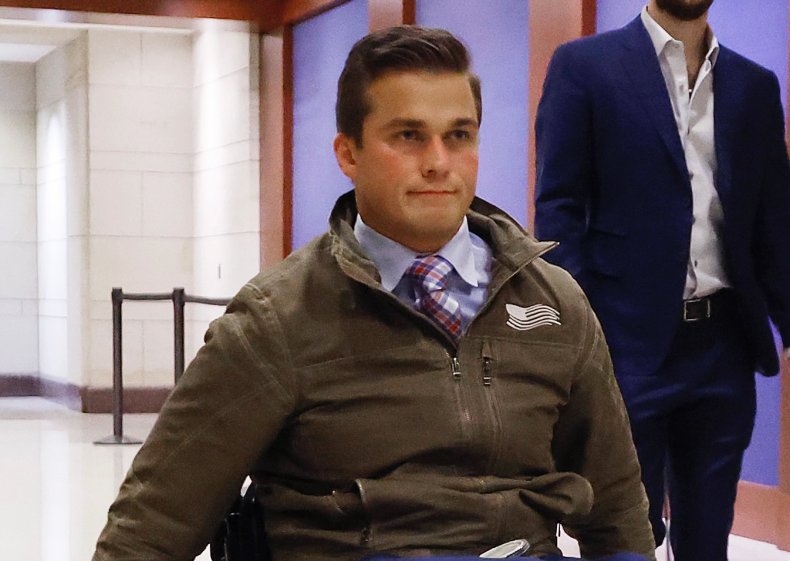 "Russian state TV also jumped on comments by Republican congressman Madison Cawthorn, who called Zelenskyy 'a thug,'" Sanchez tweeted while sharing the clip, which included a Russian voiceover alongside the comments from Cawthorn. "That got played over and over."
While the Republican congressman's comments were reportedly popular as Russian state propaganda, the clip was met with widespread condemnation closer to home. Members of Cawthorn's own party were among those who criticized the remarks, including his fellow North Carolina Senator Thom Tillis.
After being asked by Newsweek to comment on the clip being played on Russian state television, Cawthorn's Communications Director Luke Ball defended the remarks by pointing out that the congressman also later described the Russian invasion as "disgusting" and has referred to Russian President Vladimir Putin as a "tyrant."
"Russian disinformation twists words, removes context, and uses selective sound bites to further their political agenda," Ball said in a statement to Newsweek. "It reminds us of the mainstream media here in the United States. Sad!"
Other U.S. Republican lawmakers could soon join Cawthorn on the Russian airwaves. News of the congressman's starring role in Kremlin-approved propaganda came as the hacker group Anonymous threatened Greene while accusing her of being a "Russian asset" for her comments on the war on Ukraine.
In a Facebook Live video on Wednesday, Greene said that Ukraine was fighting "a war they cannot possibly win," while blaming "dementia-ridden fossil" President Joe Biden for "dragging America into World War III."
From the House floor on Thursday, Greene repeated elements of a baseless QAnon conspiracy theory that claims the war is part of a benevolent Russian plan, backed by former President Donald Trump, to rid the world of dangerous U.S.-funded bioweapons labs in Ukraine.
If Greene does eventually make her way into Russian state media, she will be joining both Cawthorn and Carlson. Media outlet RT, controlled and funded by the Russian government, previously played a Tucker Carlson Tonight clip frequently, which featured the host urging his viewers not to "hate" Putin.
During the February 22 segment, Carlson asked rhetorically: "Has Putin ever called me a racist? Has he threatened to get me fired for disagreeing with him? Has he shipped every middle-class job in my town to Russia? Did he manufacture a worldwide pandemic?"
"Vladimir Putin didn't do any of that, so why does permanent Washington hate him so much?" he continued.
Kremlin-funded media outlets later aired state propaganda that featured a clip of Carlson interviewing retired Colonel Douglas Macgregor, who supported the Russian annexation of Crimea and has consistently urged Ukraine to retreat and give in to Putin.
"If [the Ukrainians] don't surrender in the next 24 hours, I suspect the Russians will ultimately annihilate them," Macgregor said during the segment. "The game is over."
A memo issued by the Kremlin on March 3 and later obtained by Mother Jones reportedly instructs state media to use clips of Carlson discussing the Ukraine invasion "as much as possible" to claim victory in the "Information War."