Another Stimulus Check? More Direct Payments Are Going Out in These States
Although another round of federal stimulus checks appears unlikely to be approved, some states are sending out additional direct payments to many residents as the economic fallout from the COVID-19 pandemic persists.
Congress previously approved three rounds of stimulus checks to be sent out to the majority of Americans. The first, for $1,200, was approved back in March 2020 as the nation locked down in an effort to curb the spread of COVID-19. Congress approved another round of $600 direct payments in December 2020 and President Joe Biden pushed through an additional $1,400 stimulus check as part of his $1.9 trillion American Rescue Plan approved by House and Senate Democrats this past spring.
While millions of Americans have signed online petitions urging the federal government to provide more aid—including reoccurring monthly payments of $2,000—Congress is not currently considering any such legislation. However, California and some other states have approved stimulus payments for many of their residents.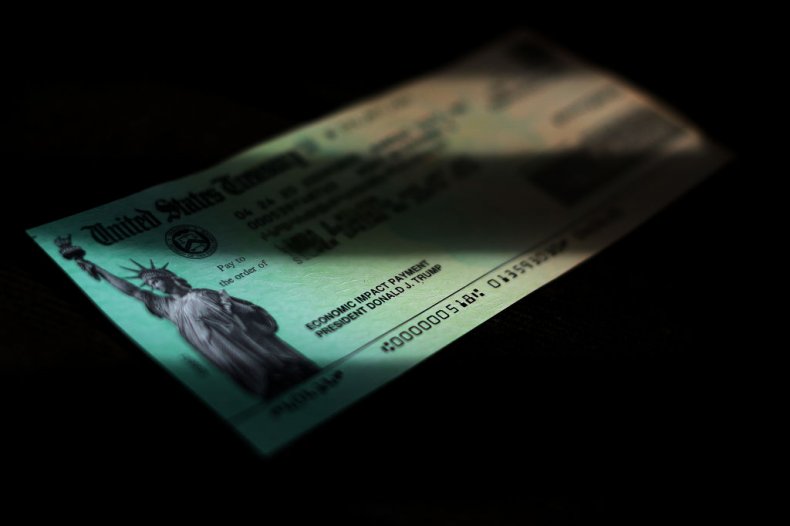 California
More than 1 million stimulus checks and direct payments of up to $1,100 are set to go out in California on Friday and early next week as part of the Golden State Stimulus approved earlier this year. California residents who earned up to $75,000 in 2020 are eligible to receive $600 payments as well as an additional $500 for a qualifying dependent.
The latest round of payments going out in California will include 400,000 direct bank deposits before the weekend and 750,000 paper checks being mailed out on Monday, according to local media reports. About 9 million Californians are estimated to qualify for the payments, with about half of the stimulus checks already being sent out or deposited.
Georgia
Earlier this year, Georgia's Board of Education approved a plan to help out educators, who have struggled and faced hardships amid the COVID-19 pandemic. The plan doles out $1,000 bonuses to full-time teachers and $500 to those teaching part-time.
"I feel that this was the right thing to do for our educators and education staff," Superintendent Richard Woods said when the plan was announced in the spring. "They have worked above and beyond. There has been a tireless effort to keep schools going."
Connecticut
Back in May, Connecticut's Democratic Governor Ned Lamont announced a plan to pay unemployed individuals to return to work. The "Back to Work" plan offers $1,000 to 10,000 eligible workers who leave unemployment and return to work for at least eight consecutive weeks prior to the end of the year.
"This is the latest tool in our toolbox to maximize our state's recovery from the coronavirus pandemic," Lamont said in a statement when the plan was announced.
Maryland
Maryland approved stimulus payments of $500 for those who received the earned income tax credit and $300 for other taxpayers earlier this year as part of the Relief Act of 2021. Some in the state have advocated for even higher payments.
"We should have been sending $2,000 checks out to families with young children and included tens of thousands more than we're actually included in the governor's proposal," Maryland State Comptroller Peter Franchot said in February, but that proposal does not appear to be moving forward.
Meanwhile, more than 80 lawmakers in Congress have backed a proposal to send out a fourth stimulus check or recurring monthly payments to most Americans. While the plan has substantial backing from Democrats, and particularly progressives, it does not currently appear to be on a path to passage in Washington, D.C. At the same time, nearly 3 million people have signed a petition urging the federal government to provide $2,000 per month to all Americans.