Dr. Anthony Fauci has defended the U.S.' COVID-19 testing record, but conceded he is frustrated with the limited supply of tests amid the surge caused by the Omicron variant.
"We're addressing the testing problem," the nation's top infectious disease expert said in an interview that aired on ABC's This Week on Sunday. "Very soon that will be corrected."
His words came with the data blackout on COVID-19 cases set to end when the U.S. Centers for Disease Control and Prevention (CDC) resumes updating its COVID Data Tracker today. The last update was on December 23.
The CDC's COVID Data Tracker Weekly Review, which interprets the week's data, will not return until January 7.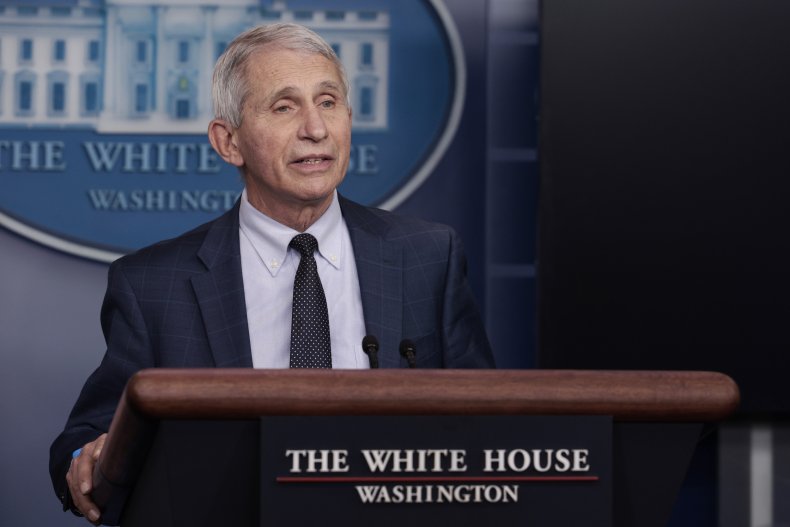 The disruption in releasing data could pose issues as cases of Omicron, now the dominant strain in the U.S., surge, with people facing issues getting tested before traveling over the holiday period.
On This Week, anchor Jonathan Karl noted that President Joe Biden was "quite defensive" in a recent interview when asked if there was a "failure" when it came to testing. Biden recently announced that the federal government will buy half a billion COVID-19 rapid test kits and distribute them for free, but the first batch won't be shipped until early January 2022.
"Testing was a colossal failure in the early days and why is it that now nearly two years in, we still don't have affordable tests widely available to anybody who needs it?" Karl asked Fauci. "I mean, this must frustrate you, I imagine, as well?"
"Well, obviously it does, Jon," Fauci replied.
But he added: "I mean, if you look at the beginning of the administration, the beginning of the year, there were essentially no rapid point of care home tests available. Now there are over nine of them and more coming."
The production of home tests has been "rapidly upscaled," Fauci said, but Omicron "is stirring people to get appropriately concerned and wanting to get tested, as well as the fact of the run-on tests during the holiday season."
He added: "We've obviously got to do better. I mean, I think things will improve greatly as we get into January, but that doesn't help us today and tomorrow. So you're right. That is something that is of concern."
Later in the interview, Fauci said he was pleased with evidence showing that Omicron causes less severe illness in most people.
But he cautioned against complacency because the quick spread of the variant may "override a real diminution in severity" because so many more people could get infected.
"Even though we're pleased by the evidence from multiple countries, that it looks like there is a lesser degree of severity, we've got to be careful that we don't get complacent about that because it might still lead to a lot of hospitalizations in the United States," he said.
"We're particularly worried about those who are in that unvaccinated class. Those are the most vulnerable ones when you have a virus that is extraordinarily effective in getting to people and infecting them the way Omicron is."
Fauci also said he was "stunned" that former President Donald Trump was booed by his own supporters when he told them he had received a booster shot.
"I mean, given the fact of how popular he is with that group, that they would boo him, which tells me how recalcitrant they are about being told what they should do," he said. "And I think that his continuing to say that people should get vaccinated and articulating that to them, in my mind, is a good thing. I hope he keeps it up."
The CDC has been contacted for comment.