Anthony Fauci 'Stunned' After Trump Booed for Saying He Received COVID Booster
Anthony Fauci expressed shock Sunday over former President Donald Trump getting booed after saying he'd received a COVID booster shot.
The incident occurred last weekend while Trump spoke at an event in Dallas, after former Fox News host Bill O'Reilly asked him whether he'd received a booster.
"I was a bit dismayed when former president Trump came out and made that statement and his followers booed him," said Fauci, director of the National Institute of Allergy and Infectious Diseases, in an interview Sunday with ABC's Jonathan Karl.
"I was stunned by that," Fauci added. "I mean, given the fact of how popular he is with that group, that they would boo him, which tells me how recalcitrant they are about being told what they should do. And I think that his continuing to say that people should get vaccinated and articulating that to them in my mind is a good thing. I hope he keeps it up."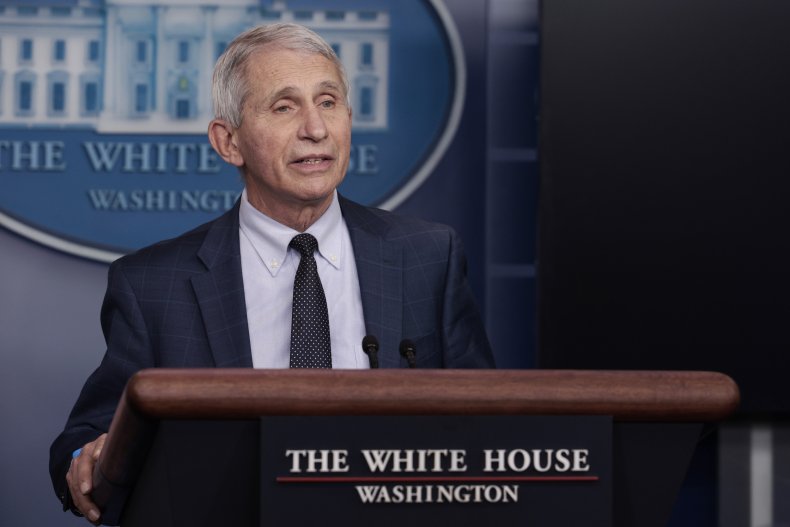 During the event, Trump told the audience, "Look, we did something that was historic, we saved tens of millions of lives worldwide when we, together, all of us, we got a vaccine done. This was going to ravage the country far beyond what it is right now. Take credit for it."
He expressed opposition to vaccine mandates, however. "If you don't want to take it, you shouldn't be forced to take it. No mandates, but take credit...don't let them take that away from you," he said.
Trump has been championing COVID vaccines this week, often in the face of conservative blowback.
During an interview with Daily Wire host Candace Owens, he touted the vaccines. When Owens said that "more people have died under COVID this year" despite the fact that more people have now taken the vaccine, Trump cut her off.
"Oh no, the vaccine[s] work, but some people aren't taking them," he said. "The ones that get very sick and go to the hospital are the ones who don't take their vaccine."
On Saturday, right-wing InfoWars host Alex Jones issued an "emergency Christmas Day warning to President Trump," criticizing the former president's comments during the interview with Owens.
"Recently, Candace Owens attempted to confront you politely face-to-face with the fact that the so-called vaccines are causing a lot of deaths and illnesses," Jones said. "And you doubled down, saying that nobody has been hurt by these shots, and that is just a flat-out lie.
On Sunday, another InfoWars host, Owen Shroyer, suggested that Florida Governor Ron DeSantis may make a better 2024 presidential candidate than Trump after the former president's vaccine remarks.