InfoWars Suggests DeSantis Better Candidate Than Trump After Ex-President's Vaccine Remarks
Conspiracy theory website InfoWars now suggests that GOP Florida Governor Ron DeSantis may be a better 2024 presidential candidate than former President Donald Trump after the latter repeatedly touted COVID-19 vaccines this week.
Trump revealed at a Texas event last Sunday that he's been boosted with a third dose of a COVID-19 vaccine, drawing boos from supporters. He then touted the vaccines several times, describing them as "one of the greatest achievements of mankind" during an interview with Daily Wire host Candace Owens.
After Trump's repeated promotion of the vaccines this week, some conservative supporters of the former president have expressed anger and frustration. InfoWars founder Alex Jones suggested that the former president's name will "go down in history as pure evil" in a "Christmas warning" to his followers. Then on Sunday, Owen Shroyer—a host on InfoWars—began discussing alternative candidates that those opposed to the COVID vaccines could support in 2024.
"We're considering what the political future for the 'America First,' 'Great Awakening,' Trump movement is," Shroyer said. "Is it Donald Trump? Or do statements like this overwhelm us and leave a bad taste in our mouth that we don't want to support him anymore?"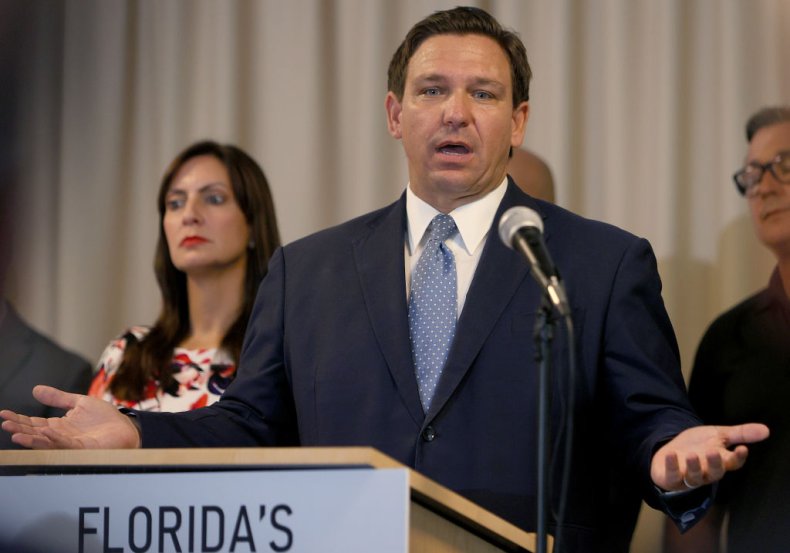 The host went on to speculate about the 2024 presidential election. "So, who would there be? Which is the ultimate question. Well, Ron DeSantis is obviously emerging as a potential frontrunner and in many polls is actually ahead of Donald Trump," Shroyer claimed.
While DeSantis has polled well among Republican voters, Trump dominates the field of potential 2024 contenders in most surveys. A December poll by Echelon Insights found that 30 percent of Republican voters would "probably" or "definitely" vote for DeSantis. Meanwhile, 70 percent said the same for former president.
September survey results showed a much closer margin between the two prominent Republicans. That poll—conducted by GOP pollster Carter Wrenn on behalf of the super PAC of Trump's former national security adviser John Bolton—found that Trump had the support of 26.2 percent of Republican voters while DeSantis was close behind at 25.2 percent.
Although conservatives opposed to the COVID-19 vaccines have expressed frustration in recent days, the former president has long touted the success of Operation Warp Speed as a top achievement of his administration. The former president launched that initiative in 2020 to support the rapid development of vaccines in a bid to bring an end to the pandemic.
President Joe Biden last Tuesday praised the Trump administration's success with Operation Warp Speed. "Let me be clear. Thanks to the prior administration and our scientific community, America was one of the first countries to get the vaccine," Biden said.
In Trump's interview with Owens last week, he pushed back after she suggested that vaccines are not working.
"Oh no, the vaccine[s] work, but some people aren't taking them," he said. "The ones that get very sick and go to the hospital are the ones who don't take their vaccine. But it's still their choice, and if you take the vaccine you're protected. Look, the results of the vaccine are very good. And if you do get it, it's a very minor form. People aren't dying when they take the vaccine."
After conservative backlash, Trump doubled down on his praise of the vaccines during an interview with conservative radio host Joe Pags on Thursday.
"We cannot lose that issue," the former president told Pags. "That's a great, great thing that we did. We saved tens of millions of people throughout the world."
It's unclear whether DeSantis plans to launch a 2024 campaign for the presidency. The Florida governor said in October that he will seek re-election in 2022. "I'm not considering anything beyond doing my job," he told Fox News at the time. "We've got a lot of stuff going on in Florida."
Trump told Yahoo Finance in October that he'd "beat" DeSantis if the Florida governor ran against him in the 2024 GOP primary. "If I faced him, I'd beat him like I would beat everyone else," he said. Notably, the former president has not confirmed whether he will run in the next presidential election.
The Florida governor has been vaccinated against COVID-19. In April, the Associated Press reported that he'd received the one-dose Johnson & Johnson vaccine against the novel coronavirus. Earlier this month, DeSantis suggested to Fox News that he'd not received a booster jab.
"I've done whatever I did, the normal shot, and that at the end of the day is people's individual decisions about what they want to do," DeSantis said. The governor has encouraged Floridians to get vaccinated but has strongly opposed mandates requiring the jabs.
Newsweek reached out to Trump's press office for comment but did not immediately receive a response.