Trump Explains 'We Cannot Lose That Issue' as Vaccine Boasts Anger Fans, Conservatives
Former President Donald Trump doubled-down on his promotion of COVID-19 vaccines after facing pushback and backlash from supporters and conservatives after touting them as a top achievement of his administration.
Trump revealed last Sunday during an event in Texas that he had gotten a COVID-19 vaccine booster, drawing boos from the audience of supporters. Although the rapid development of the lifesaving shots was largely due to the Trump administration's Operation Warp Speed initiative, conservative supporters of the former president are the group most likely to be skeptical or opposed to getting the jab, according to multiple polls.
Despite backlash from his fans, the former president has repeatedly touted the vaccines over the past week. In a Thursday interview with conservative radio host Joe Pags, Trump argued that Republicans should not "lose" the issue of vaccines.
"When you think about what we did...we came up with a vaccine—and sometimes people say 'oh the vaccines'—we saved—we cannot lose that issue!" Trump said. "That's a great, great thing that we did. We saved tens of millions of people throughout the world."
The former president's remarks came after he pushed back in an interview this week with conservative commentator Candace Owens when she suggested the vaccines aren't working. In that interview with the Daily Wire host, Trump described the vaccines as "one of the greatest achievements of mankind."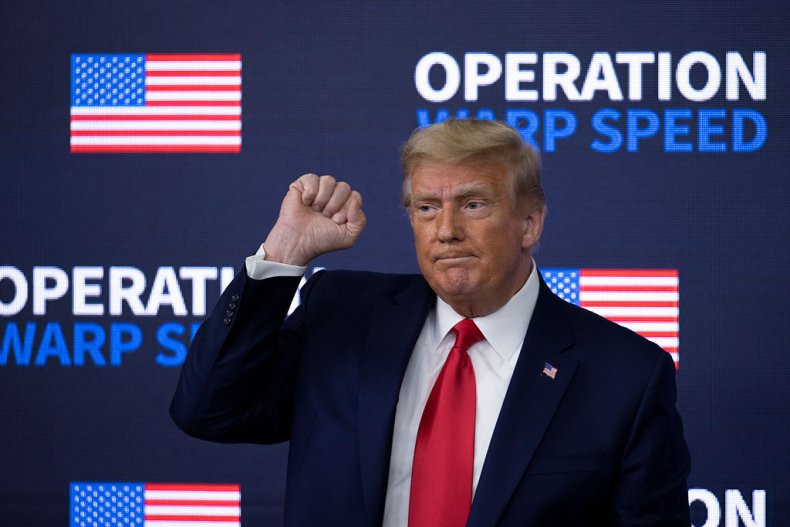 "The vaccine[s] work, but some people aren't taking them," he said as Owens attempted to argue that the vaccines aren't working to end the pandemic. "The ones that get very sick and go to the hospital are the ones who don't take their vaccine. But it's still their choice, and if you take the vaccine, you're protected. Look, the results of the vaccine are very good. And if you do get it, it's a very minor form. People aren't dying when they take the vaccine."
Trump has long claimed the rapid vaccine development as a success of his administration, but has also opposed mandates requiring Americans to get the shots. His comments in support of the vaccine over the past week have been more forceful, drawing frustration from some conservatives and supporters who are opposed to them.
"Remember when Trump said you would be playing right into the Democrat's [sic] hands by mocking the rushed, ineffective shot?" Stop the Steal organizer Ali Alexander wrote to his followers on messaging app Telegram.
"Yeah, Joe Biden praises him and his booster shot. Trump, stop. Just stop. Have your position (backed by Fauci) and allow us to have ours (which is backed by science). This losing is getting boomer level annoying," he said.
As Alexander noted, Biden spoke favorably of Trump's efforts to develop the vaccines quickly during a Tuesday speech. "Let me be clear. Thanks to the prior administration and our scientific community, America was one of the first countries to get the vaccine," the president said.
InfoWars host and infamous conspiracy theorist Alex Jones, who has generally been supportive of Trump, said on his show this week that "we're fighting Bill Gates and Fauci and Biden and the New World Order and Psaki and the Davos Group."
"And now we've got Trump on their team," Jones added.
Jones also hosted right-wing activist Alison Steinberg, who slammed Trump for requiring proof of vaccination at his New York hotel.
"If you go to his hotel in New York, you have to show proof of papers. So how can you continue to blindly defend this man?" Steinberg said.
"Did Trump do some great things while he in office? Absolutely. Was I a supporter? I was a huge one, but there's no denying what he's doing is evil," she said.
October polling by the Kaiser Family Foundation showed that the majority of the unvaccinated population in the U.S.—about 60 percent—identifies as Republican or Republican-leaning. Overall, about 62 percent of the entire U.S. population has been fully vaccinated against COVID-19, according to data compiled by the New York Times. Among adults (those 18 and older), nearly three-quarters (73 percent) have been fully vaccinated.
Newsweek reached out to Trump's press office for comment.