Anthony Fauci Gets Moderna COVID Vaccine Days Before Turning 80 on Christmas Eve
Anthony Fauci, director of the National Institute of Allergy and Infectious Diseases (NIAID), has received his COVID vaccine during a live-streamed event.
He took the Moderna shot at the National Institutes of Health (NIH) in Bethesda, Maryland, after six health care workers from the NIH Clinical Center research hospital, and Health and Human Services Secretary Alex Azar. Francis Collins, director of the National Institutes of Health, had his vaccine after Fauci.
Fauci, who found new fame as a member of the White House coronavirus task force this year, had the vaccine days before he turns 80 years old on December 24, Christmas Eve.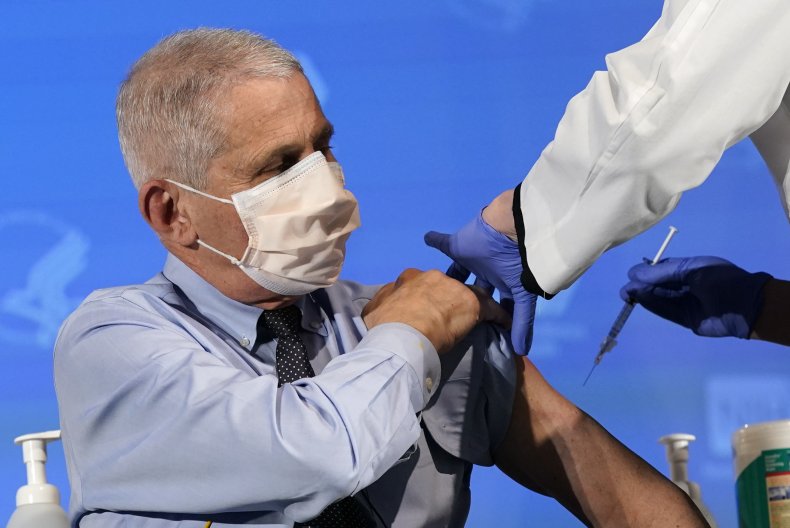 After being vaccinated, they will be observed for around 30 minutes to ensure they do not have any adverse reactions.
Azar said in a speech before getting his vaccine that it was a "proud and happy occasion" and expressed his "deep gratitude" to members of the NIH team for their help during the pandemic. He said he was "honored" to be getting the vaccine.
The health secretary said Americans should know that the shot had been through the kind of research and independent reviews that they would expect from a vaccine authorized by the FDA. He said no corners were cut and standards in data were fully transparent.
The U.S. Food and Drug Administration gave Moderna emergency authorization to roll-out the vaccine on Friday, a week after it did the same for Pfizer. Moderna was co-developed by scientists at the NIH's NIAID.
On Tuesday, Azar tweeted: "I look forward to rolling my #SleeveUp this morning to receive the Moderna #COVID19 vaccine today alongside frontline workers from @NIHClinicalCntr, @NIHDirector, and @NIAIDNews Dr. Fauci."
Ahead of the event, the NIAID tweeted to say that Fauci, Azar, Collins and several frontline workers at the NIH Clinical Center research hospital would have the shot "to build confidence in the vaccine, which is the best hope against this pandemic."
High profile figures such as president-elect Joe Biden and vice president Mike Pence have similarly received COVID vaccines to allay vaccine hesitancy among some. As shown in the Statista graphic below, the percentage of U.S. adults who have said they would not get the COVID vaccine if it was free and found to be safe has dropped between September and December.
At Pence's vaccination on Friday, Fauci said the speed at which COVID vaccines have been developed reflect extraordinary scientific advances rather than safety or scientific integrity being compromised. He said thousands of clinical trial participants had put themselves on the line to show the shots were safe. The FDA authorized their use based on the recommendations of an independent body, he said.
This article has been updated with additional information.