Anthony Fauci Rips GOP Sen. Ron Johnson's 'Preposterous' Accusation He's 'Overhyped' COVID
Dr. Anthony Fauci slammed U.S. Senator Ron Johnson for accusing him of "overhyping" COVID-19 during a CNN appearance Sunday morning.
Johnson, a Wisconsin Republican, compared Fauci's handling of the COVID-19 pandemic to AIDS while appearing on Fox News host Brian Kilmeade's radio show on Wednesday, according to the Milwaukee Journal Sentinel.
"Fauci did the exact same thing with AIDS. He overhyped it. He created all kinds of fear, saying it could affect the entire population when it couldn't," Johnson said. "And he's doing—he's using the exact same playbook with COVID."
On Sunday, Fauci, who serves as the director of the National Institute of Allergy and Infectious Diseases, addressed the accusation.
"How do you respond to something as preposterous as that?" Fauci said. "Overhyping AIDS? It's killed over 750,000 Americans and 36 million people worldwide. How do you overhype that? Overhyping COVID? It's already killed 780,000 Americans and over 5 million people worldwide."
Fauci added: "So I don't have any clue of what he's talking about."
In a statement to Newsweek Sunday afternoon, Johnson wrote: "Once again, one of my remarks has been taken out of context. It's clear from the full exchange, we were talking about the Omicron variant that doctors in South Africa have reported as causing mild symptoms to date. I would also contend that Dr. Fauci, the Biden administration, and the media are using Omicron to perpetuate the state of fear they have created to exercise control. I understand that none of them will ever admit they are doing this."
Others have also joined in condemning the comments. Brian Bond, the executive director of PFLAG National, pointed out that the comments were made on World AIDS Day, according to the Journal Sentinel.
"The timing of this was crass and hurtful and harmful to people. What happened in the 80s was the exact opposite of hype," Bond told the outlet.
Representative Don Beyer, a Virginia Democrat, wrote on Twitter: "A monstrously ignorant thing to say even for Ron Johnson, and on #WorldAIDSDay. 36 million people have died from AIDS-related illnesses since the epidemic began, including 700,000 Americans."
Johnson's remarks come as scientists express concern over the new Omicron variant, which has been detected in 16 states as of Sunday morning. Scientists continue to seek to understand the full impact the variant could have, but it has 30 mutations, which has raised concerns. So far, Omicron patients have experienced mild to moderate cases.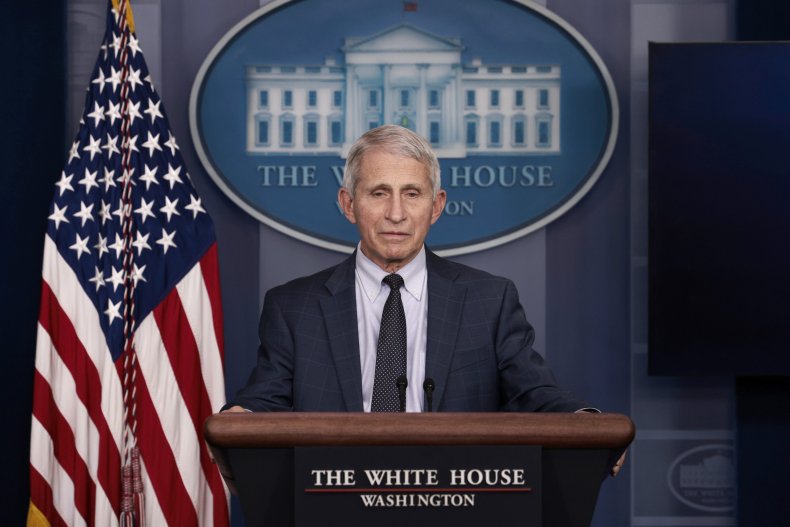 COVID-19 cases in the United States have surged in recent weeks. On Saturday, the United States had a seven-day average of 106,132 new cases per day, up from 70,217 one month earlier, according to data from the Centers for Disease Control and Prevention (CDC).
Johnson previously faced backlash over his comments regarding COVID-19 and vaccines. In November, YouTube suspended the senator's channel after a video posted showed him claiming the vaccines are not safe.
He also faced criticism in June after announcing plans to hold a news conference about adverse reactions to the vaccine.
Update 12/05/2021, 2:19 p.m. ET: This article was updated with a statement from Senator Ron Johnson's office.