Anti-Abortion Group Condemns White Supremacists' Presence at DC Rally
The head of a prominent anti-abortion organization has condemned the presence of a group of white supremacists at the national March for Life rally held Friday in Washington, D.C.
The presence of Patriot Front, the white supremacist group, at the event comes a week after dozens of members of the group showed up for an anti-abortion rally in Chicago, according to The Chicago Sun-Times. The masked members of the group carried shields and held a sign reading, "STRONG FAMILIES MAKE STRONG NATIONS."
Jeanne Mancini, president of March for Life, said in a statement provided to Newsweek, that Patriot Front and other like-minded groups are not welcome at her organization's events.
"March for Life promotes the beauty, dignity, and worth of every human life by working to end the violence of abortion," Mancini said. "We condemn any organization that seeks to exclude a person or group of people based on the color of their skin or any other characteristic. Such exclusion runs counter to our mission which recognizes that all human lives are equal from the moment of conception: equality begins in the womb."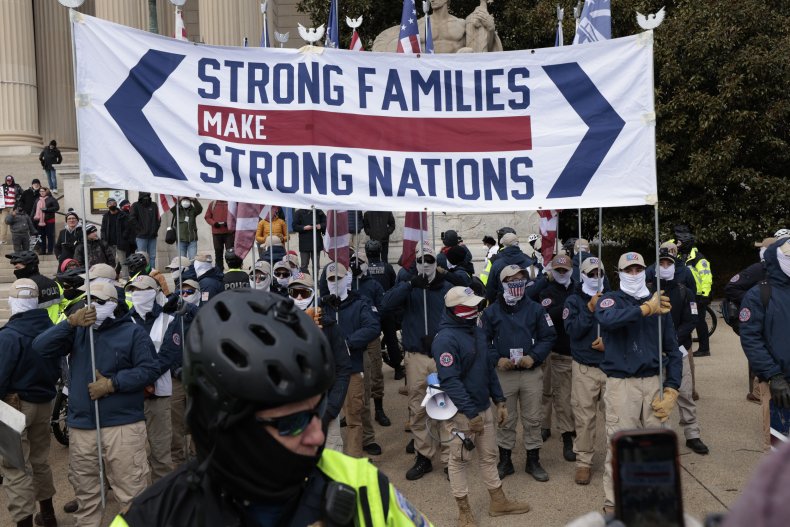 The March for Life is an annual demonstration held in Washington, D.C., to protest the practice and legality of abortion. The event has drawn crowds varying in estimates between tens and hundreds of thousands. It's timed to take place around the anniversary of the landmark Roe v. Wade Supreme Court decision establishing abortion rights, and features speeches by politicians, religious leaders and cultural figures.
This year's march comes as the U.S. Supreme Court could be poised to strike down Roe, as far-right political currents have merged with more mainstream conservatism.
Despite Mancini's statement, members of Patriot Front were present at the March for Life event on Friday. Police formed a barrier between about 40 members of Patriot Front and the rest of the protesters during the march, reports The Washington Post. The group's leader, Ryan Rousseau, led chants of "Reclaim America."
Other protesters shouted "go home, Nazis" and "Patriot Front go home," according to the Post.
Last summer, Patriot Front held marches in Philadelphia and Washington, D.C., where members carried banners that said, "Reclaim America," while chanting "life, liberty and victory."
Members of Patriot Front believe their "ancestors conquered America and bequeathed it solely to them," according to the Anti-Defamation League. Texas-based Patriot Front originated as a splinter group from Vanguard America, which was present at August 2017's "Unite the Right" rally in Charlottesville, Virginia, according to the Anti-Defamation League.
Patriot Front has participated in "localized flash mob demonstrations" where its members wear similarly styled khaki pants and a blue or white polo shirt with many wearing masks, according to the league.
Newsweek has reached out to Patriot Front for comment.