Masked white supremacists marched in Philadelphia and Washington, D.C. on Saturday, carrying banners that said "reclaim America" and chanting "life, liberty and victory." They appeared to be from the Patriot Front, a group known for joining localized flash mobs.
In Philadelphia, the marchers clashed with bystanders, according to images published by the Philadelphia Inquirer. Reportedly dozens of Patriot Front members marched in front of Philadelphia City Hall, while more than 100 marched in Washington's National Mall, where, according to the Independent, onlookers heckled the white supremacists.
Photos published by the Inquirer showed police detaining several of the masked men after clashes with bystanders. Police D.C. reportedly followed alongside the demonstrators but told the Independent that they had no records of the Patriot Front applying for a permit to hold the march. Law enforcement told the publication that the march "was peaceful with no incidents or arrests."
The demonstrators—who appeared to be largely or all men—wore khaki pants, navy blue shirts, tan hats and white masks over their faces. Some carried American flags and riot shields.
"They started engaging with citizens of Philadelphia, who were none too happy about what they were saying. These males felt threatened, and at one point somebody threw a smoke bomb to cover their retreat, and they literally ran away from the people of Philadelphia," said police officer Michael Crum in an interview with 6ABC Philadelphia.
The Anti-Defamation League describes the Patriot Front as "a white supremacist group whose members maintain that their ancestors conquered America and bequeathed it to them alone. They define themselves as American fascists or American nationalists who are focused on preserving America's identity as a European-American identity."
Based out of Texas, the far-right group is associated with the so-called alt-right movement—which organized the deadly "Unite the Right" rally in Charlottesville, Virginia, in 2017. During that march, alt-right demonstrators infamously carried torches as they chanted, "Jews will not replace us." The Patriot Front split from fellow white supremacist group Vanguard America in 2017 due to tensions between the two organization's leaders.
"Patriot Front members generally wear khaki pants and a blue or white polo shirt; many also wear masks. The group, intensely focused on 'optics,' has used attention-grabbing smoke bombs, signal flares and torches during their demonstrations. Members routinely chant, 'Blood and Soil,' a slogan with origins in Nazi Germany that Patriot Front uses to conflate white European identity with American soil," according to the Anti-Defamation League.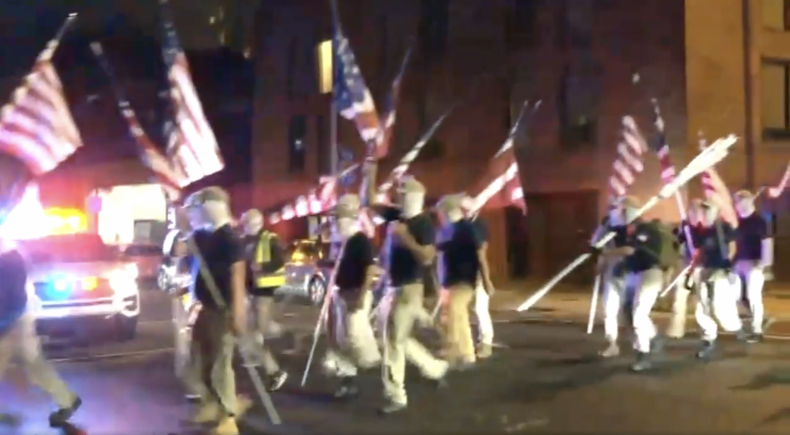 Members of the far-right group are believed to have vandalized a new statue of George Floyd in New York City last month. Floyd was an unarmed Black man murdered by police in Minnesota in May 2020, leading to massive national and international protests against systemic racism. Police said the statue was found covered in paint with a Patriot Front inscription. The white supremacist group is believed to have also vandalized a Floyd statue in New Jersey.
Newsweek reached out to police in Philadelphia and Washington for further comment but did not immediately receive a response.