Anti-CRT Group Crows About Flipping School Boards Conservative
A conservative group opposed to critical race theory has celebrated after its endorsed candidates won local elections that flipped the ideological makeup of multiple school boards in Florida.
The 1776 Project political action committee (PAC), which describes itself as being "dedicated to electing school board members committed to abolishing CRT from the public school curriculum," bragged in a series of tweets on Tuesday about its candidates winning conservative majorities on at least four school boards as results of the normally nonpartisan elections became clear.
The PAC said that it had flipped the political makeup of five Florida county school boards: Miami-Dade, Duval, Martin, Clay and Sarasota. 1776 Project member Aiden Buzzetti tweeted that the PAC's candidates had been successful in 71 percent of elections on Tuesday, while highlighting the "HUGE WIN" of flipping Miami-Dade, one of the country's largest school districts, for conservatives.
The group, which works to insert conservative ideology into school boards nationwide, also celebrated a recent decision by a Texas school board to ban CRT and block so-called "gender ideology." The decision would allow teachers to misgender transgender students and force students out of using bathrooms that align with their gender identity.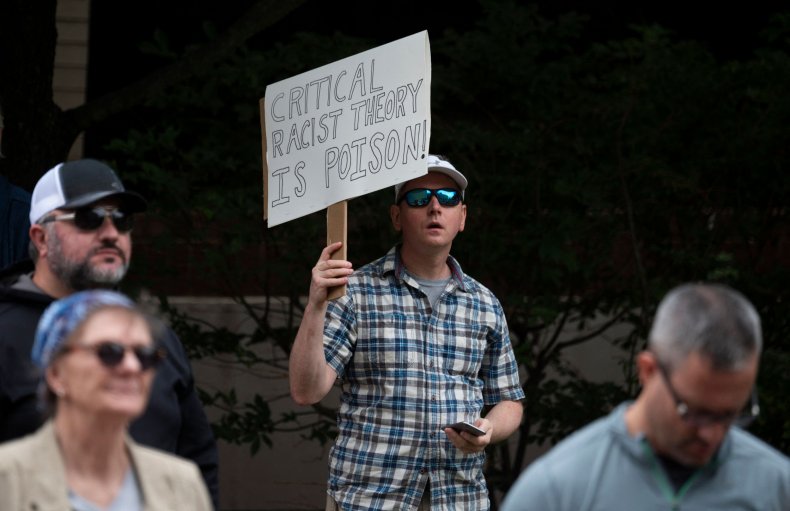 "Yesterday, a Texas school board that we flipped last May banned CRT and gender ideology," 1776 Project PAC tweeted. "Today, our PAC helped flip FIVE Florida school boards from majority liberal to conservative, including Miami Dade. We are removing left-wing ideologies from our schools one county at a time."
The notion of public schools teaching CRT, an academic concept arguing that racism has been institutionalized throughout U.S. history, has become an increasingly popular conservative wedge issue in recent years, despite little evidence that the theory is being regularly taught in schools outside of college.
Although Florida's school board elections have officially been nonpartisan since 1998 and ballots do not indicate any party affiliation of candidates, Republican Florida Governor Ron DeSantis endorsed many of the same candidates that the were backed by the 1776 Project PAC. Several of the candidates backed by the governor are also parents who were "very vocal" about previous COVID-19 pandemic restrictions in schools, according to NBC affiliate WPTV.
University of Central Florida history professor Dr. James Clark told CBS affiliate WKMG that a governor becoming involved in school board elections was unheard of. He suggested that DeSantis, who has warned of what he calls "woke indoctrination" in public schools, could be using the endorsements to gauge his popularity ahead of the November general election.
"We haven't seen anything like that before," Clark said of DeSantis' endorsements. "I think it will show his influence and what kind of following he has statewide. He's putting his prestige on the line in 30 elections... He has identified races and people where he wants the incumbent of challengers defeated, and he's going after them."
Newsweek reached out to DeSantis' office for comment.