Anti-Monarchy Group Slams King Charles Accession: 'Affront to Democracy'
King Charles III's automatic accession to the throne, making him Britain's new head of state, is an "affront to democracy", according to a campaign group seeking to abolish the monarchy.
Charles III became king of the United Kingdom, and 14 other countries known as the Commonwealth realms, on Thursday when Queen Elizabeth II passed away aged 96.
On Saturday, Charles was formally declared king by the Accession Council, a body dating back to England's early medieval history, at St. James's Palace in London.
The principal proclamation was read out by David White, confirming the new monarch, though a date has yet to be set for Charles' coronation.
However Republic, a group campaigning for Britain to have an elected head of state, condemned the "automatic accession" and called for a "national debate on the future of the monarchy".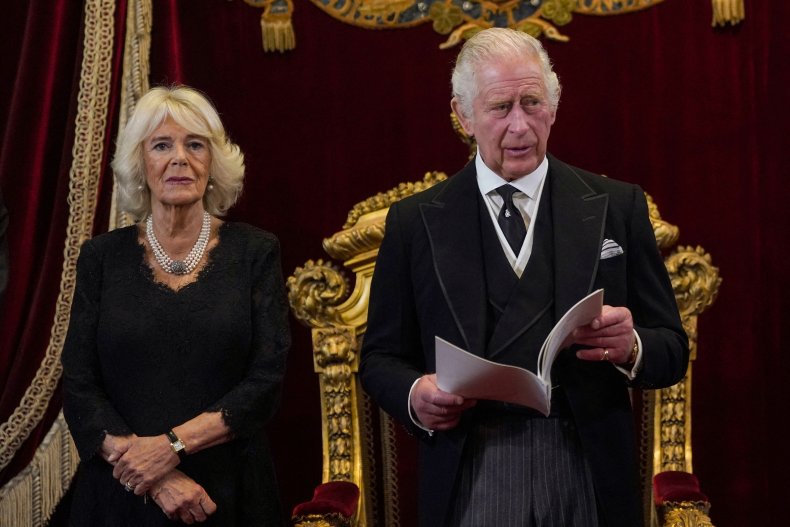 In a statement, Graham Smith, CEO of Republic, commented: "While we recognize that many people are reflecting on the loss of the Queen, Britain does need a debate on the future of the monarchy in light of King Charles' accession to the throne.
"A proclamation of a new king is an affront to democracy, a moment that stands firmly against the values most of us believe in, values such as equality, accountability and the rule of law.
"Britain has changed almost beyond recognition since 1952 and the last royal succession. In this modern and democratic society our head of state cannot simply step into the role without debate or without challenge to his legitimacy."
Smith said support for the monarchy had "to a large extent been buoyed" by Elizabeth II's personal appeal during her reign.
"We believe Britain needs to move to a democratic alternative to the hereditary monarchy. We believe that debate must start now," he concluded.
In June pollster YouGov released a survey, coinciding with Queen Elizabeth II's Platinum Jubilee celebrations, showing strong support amongst the British public for maintaining the monarchy.
It found 62 percent of Britons want to keep the monarchy, versus 22 percent who think it should be replaced with "an elected head of state". The other 16 percent told pollsters, who surveyed 1,669 adults in Britain on 16-17 May, that they were unsure.
However backing for the monarchy was significantly lower than when YouGov asked the same question in 2012, when 73 percent wanted to keep the royal family versus 16 percent backing for an elected head of state.
At the Accession Council, King Charles III vowed to protect "constitutional government" and to "seek the peace, harmony and prosperity" of people across the U.K. and the Commonwealth realms.
The modified national anthem, "God Save the King", was then sung and gun salutes fired by the British Army at Hyde Park, the Tower of London, Edinburgh Castle, Cardiff Castle and Hillsborough Castle.
While the date of Elizabeth II's funeral hasn't yet been confirmed, the White House confirmed on Friday that President Biden plans to attend.
He also ordered all flags flying at U.S. government buildings, military bases, warships and embassies to be flown at half-mast as a tribute.