Will Anti-Semitism Undermine the Black Lives Matter Movement?
Black and Jewish activists say charges of anti-Semitism are being used to undermine the Black Lives Matter movement.
Concerns about anti-Semitism in the Black community have been fueled by recent comments from Black celebrities, including Nick Cannon, DeSean Jackson and Ice Cube. Some of the celebrities echoed the rhetoric of Nation of Islam leader Louis Farrakhan, who is known for empowering Black activism but has been widely condemned as an anti-Semite and a homophobe.
Farrakhan "may be the most popular anti-Semite in America," the Anti-Defamation League recently said, after he delivered a hate-filled July 4 address, which was attended by Cannon and other Black celebrities.
In a column for The Hollywood Reporter, Kareem Abdul-Jabbar said such incidents are "a very troubling omen" for the future of the Black Lives Matter movement and decried the "shocking lack of massive indignation."
The controversies brought new attention to long-standing debates about the Black-Jewish relationship.
The phrase "Black anti-Semitism" is employed by critics to pit the Black and Jewish communities against each other, says April Baskin, founding director of Joyous Justice and the racial justice director for the Jewish Social Justice Roundtable. Baskin, who is Black and Jewish, denies that there has been an increase in anti-Semitism among Black Americans.
"One of the core purposes, besides oppressing Jews, that anti-Semitism has, is to serve as a wedge and to undermine liberation movements," Baskin says. "Both anti-Black racism and anti-Semitism are fundamental elements and driving forces within white nationalism.
"So when this is happening, it's important, and it undermines the fundamental truth that each of these communities actually do have more in common than they don't. And it serves to divide and conquer and distract people.
"As someone who grew up in the Black community and has been doing work around Black liberation for a very long time now, I'm very clear that [when] people talk about Black anti-Semitism, that's a misnomer. It's absolutely absurd.
"There's nothing particularly Black about anti-Semitism. It originates, not exclusively, but in part, out of Christianity and white supremacy and white nationalism."
The disproportionate attention paid to instances of anti-Semitism by Black celebrities "obscures the narrative that thousands of Black Lives Matter activists all over the country regularly are pushing for and advocating for, and it breaks my heart," Baskin says.
Anti-Semitism in the Black community
Baskin says support for Farrakhan is far from widespread in the Black community and his views are not a reflection of the Black Lives Matter movement.
"In the context of the Black community, I almost never hear his name mentioned anymore," Baskin says. Farrakhan's prominence comes from media reports, she says. "It keeps him alive. It's not Black people."
Such coverage "overshadows the fact that the primary danger facing Jews is a straight-up white nationalism," Baskin says.
"There is a conservative Black national movement that has more anti-Semitism in it, but that is not reflective of Black Lives Matter... and those two things get conflated. I think a number of people, who are very aware of what they're doing, play on the fact that a lot of people are generally ignorant about Black liberation movements, and so it's easy for them to accept gross over-generalizations."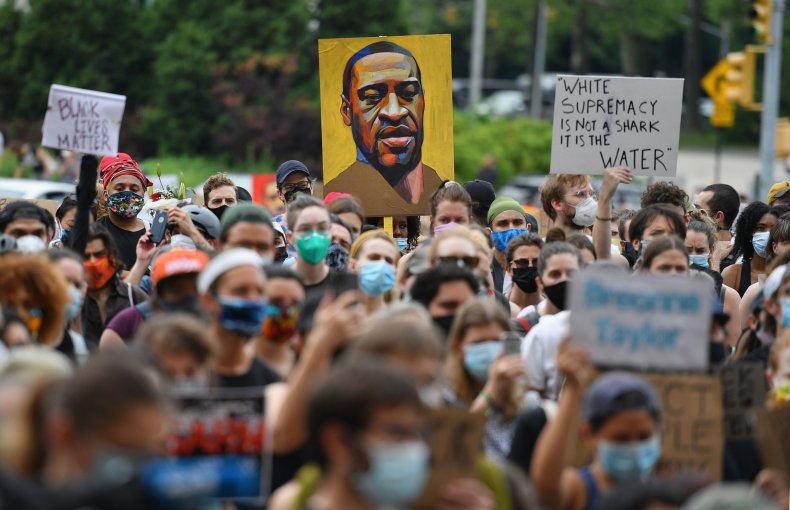 "The goal is to eradicate hate"
Both Black and Jewish activists told Newsweek that anti-Semitism is not reflective of the movement as a whole and that "anomalous" instances of anti-Semitism were being used to sow divisions and distract from the cause.
Martin Luther King III said in a statement to Newsweek that anti-Semitism has "no place" in the Black Lives Matter movement because the goal is to "eradicate hate."
"The civil rights movement has always been a multi-generational, multi-racial, multi-religious coalition and anti-Semitism has no place in this movement," King says. "We want to eradicate hate and eradicate prejudice. Period. I cannot imagine those fighting to end racism and injustice would hold opinions that are intolerant of others."
David Love, a media studies professor based in Philadelphia, wrote in an op-ed for CNN that the Black Lives Matter movement calls for "confronting anti-Black racism and other forms of discrimination including anti-Semitism in the fight against white supremacy, which binds them all together."
The public discourse on racism and anti-Semitism "runs the risk of evolving into an oppression Olympics with no winners," he wrote.
Malana Krongelb, a 25-year-old who is Black and Jewish, agreed that accusations of anti-Semitism were being "wielded as a silencing tactic."
She told Newsweek: "I've seen it play out in my activist life and I've seen it play out in the Black Lives Matter movement. I think the terms of 'anti-Semitism' or 'anti-Black' or 'racist' are at times being wielded as a silencing tactic instead of actually getting at the issue. It's a white supremacist tactic."
Neither she nor Baskin deny there is anti-Semitism in the Black community, and that some of it has been perpetrated by those with ties to the Black Lives Matter movement.
"It's an issue in all communities," Krongelb says, adding that part of the tension comes from the assumption by some Black people that all Jews are white which overlooks Jews of color like herself.
"I think a lot of the animosity is [the idea that] well, Jewish people are just another type of white people. And white people are the ones that are oppressing me. But there are levels of whiteness and white hierarchy just like there are hierarchies in people of color," Krongelb says.
Baskin says: "It's like any other form of oppression, it's systemic. It's everywhere. So you have people who are a part of particular groups who may express it, that doesn't necessarily mean that they're the source of it. Anti-Semitism and racism explicitly come out of the white nationalist movement."
The Black-Jewish relationship
The relationship between the Black and Jewish communities has "rested on a common history of oppression," historian Edward Shapiro wrote in his 1994 essay Blacks and Jews Entangled.
That history is what led some Jews to fight alongside Black activists during the civil rights movement in the 1960s. Dr. Martin Luther King Jr. often spoke of their shared struggles.
"How could there be anti-Semitism among Negroes when our Jewish friends have demonstrated their commitment to the principle of tolerance and brotherhood not only in the form of sizable contributions, but in many other tangible ways, and often at great personal sacrifice," said Dr. King.
Other leaders of the civil-rights movement, including the late Rep. John Lewis and the Rev. James Lawson, saw the Biblical account of Jews fleeing Egypt, as recounted in Exodus, as a model and a metaphor for the Black struggle for freedom.
"The story of the exodus was early on embedded in the Negro spiritual of the slave," Reverend Lawson said. "My contention was that the exodus story represents the first written account of a people who were held in slavery, organizing themselves to leave slavery and to launch out on their own journey," he said. "So it is the first written account of a people that engaged in the struggle to change their condition for the better."
During the Freedom Summer of 1964, three young civil-rights workers who were working to register Black Americans as voters were murdered in Mississippi by the Ku Klux Klan: James Chaney, who was Black, and Andrew Goodman and Michael Schwerner, who were Jewish. Many Jews are proud of the role their co-religionists played.
Marc Dollinger, a professor of Jewish Studies at San Francisco State University and the author of Black Power, Jewish Politics, tells Newsweek that Jews were "disproportionately" involved in the Black civil rights movement in the 1950s and 1960s, but that there have always been tensions between the two communities.
Some Black Americans see Jewish business owners or landlords in their communities as intruders or profiteers, or blame "globalists" like George Soros or the Rothschild family for Black economic marginalization. It is fair to say that for a number of reasons including the obvious one of physical appearance, Jews have been able to assimilate into the American mainstream more easily than Blacks.
There was co-operation between the two groups, Dollinger says, "because white Jews were able to find ways to strengthen their own religious and ethnic identity, because they saw what Black power was doing to empower African Americans."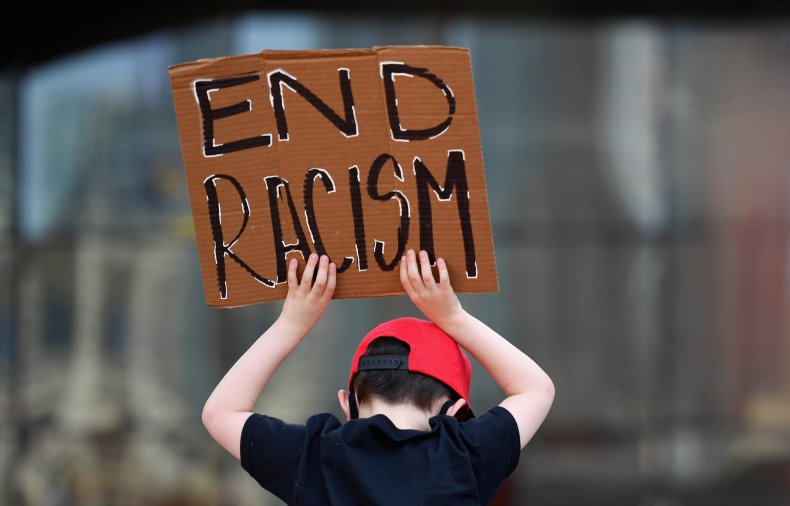 Uniting around Black Lives Matter
Earlier this month, the Jewish Journal accused Black Lives Matter protesters "marching in support of Palestine" of anti-Semitism, saying they had chanted "Israel, we know you, you murder children, too."
Criticism of the Israeli government and Zionism are sometimes conflated with anti-Semitism, Krongelb says. Zionism is not something that all Jews support, she says. "Israel the state is not the Jewish people."
Dollinger says there is widespread support for the Black Lives Matter movement among white Jews which "reflects the intergenerational interracial and interfaith nature of the protests that have erupted since the murder of George Floyd."
"This is something we didn't even see in the 60s. This is more impressive. To me, that is the story. The story is how many different kinds of people from different walks of life are all uniting around the slogan of Black Lives Matter," Dollinger says.
Baskin added: "As someone who went to the convening for the Movement for Black Lives in 2015, with thousands of other Black people, I felt deeply a part of that movement as a Jew. We even held a Shabbat service where attendees who weren't even Jewish... came and joined us and asked questions and engaged with us.
"I grew up in the context of a Black family that feels connection and love and respect for Jews. I see that in Black religious leaders who are both Movement for Black Lives leaders and general Black liberation leaders."
The "double standard" of responsibility
Baskin and others also decried the "double standard" of the suggestion that Black Lives Matter leaders should take responsibility for every organizer, protester or celebrity who happens to be Black.
"It would be like if we compared liberal leaders, white leaders, and made them accountable to Steve Bannon rhetoric," Baskin says.
In the wake of the furor sparked by NFL star DeSean Jackson's sharing of anti-Semitic quotes on social media, Evan Traylor, an activist who describes himself as Black/White and Jewish on his website, wrote on Medium that he had seen white Jews "respond in a bombastic, blaming fashion" that made him question their "support for the Black Lives Matter movement, and their understanding of racism, white fragility, and privilege."
He called out Jews who demand that the Black Lives Matter movement "take ownership" of Jackson but don't expect white Jews to take responsibility for every member of their community.
"Do you think Black organizers, activists, and leaders have to speak out every time one of the more than 40 million Black people in this country say something hateful?" Traylor wrote. "Why or why not? Do White Jews need to speak out every time Jared Kushner or Sheldon Adelson say something offensive?" Traylor says.
Traylor also questioned why the Trump campaign's release of T-shirts that evoked Nazi imagery had not incited the same fury among Jews.
Like Baskin, he also called out the use of the phrase "Black anti-Semitism" in the post.
"Some White Jews have described Jackson's comments as 'Black anti-Semitism,'" Traylor wrote. "Is there really a difference between how people of different races express anti-Semitism? Or is it based on their own experience of ignorance or bias? Is there such a thing as 'Jewish racism' that is different than 'Christian racism' or 'Muslim racism?'"
Dollinger agreed. "Why are we calling it Black anti-Semitism? Some Blacks are anti-Semitic and some White Jews are also racist. We don't call it white racism.
"There are some activists in Black Lives Matter who are anti-Zionist. I'm sure there's probably some who are anti-Semitic and as a consequence, some voices within the American Jewish community are expressing concern."
Dollinger doesn't agree with the fear that isolated cases of anti-Semitism will harm the Black Lives Matter movement.
"That's giving too much power to a few people. And it's creating a double standard," he says. "It's a double standard because guess what, in the United States Congress, there's a lot of white people who've been doing and saying a lot of racist and bigoted things for a lot of years. We don't have this kind of attention paid to them."
Anti-Semitism should be called out "everywhere it happens," Dollinger says, but it shouldn't be to used to distract from the ongoing Black Lives Matter protests.
"I'm a white Jewish man in America and if fellow white Jews are experiencing anti-Semitism anywhere, I think they have a right to argue," he says. "Jews need to call out anti-Semitism everywhere it happens."
But he adds: "Let's not miss the point, if the goal is Black Lives Matter, then let's focus on that. Let's not stop fighting for racial justice because someone in the movement for racial justice is also an anti-Semite or some other kind of bigot.
"It would be great if everybody was not, but since all of our communities are complex, and we all have lots of different views, let's stay focused on the singular objective, which is that Black Lives Matter."
Black Lives Matter did not respond to a requst for comment.