'Not Our President:' Protests Against Donald Trump in Several U.S. Cities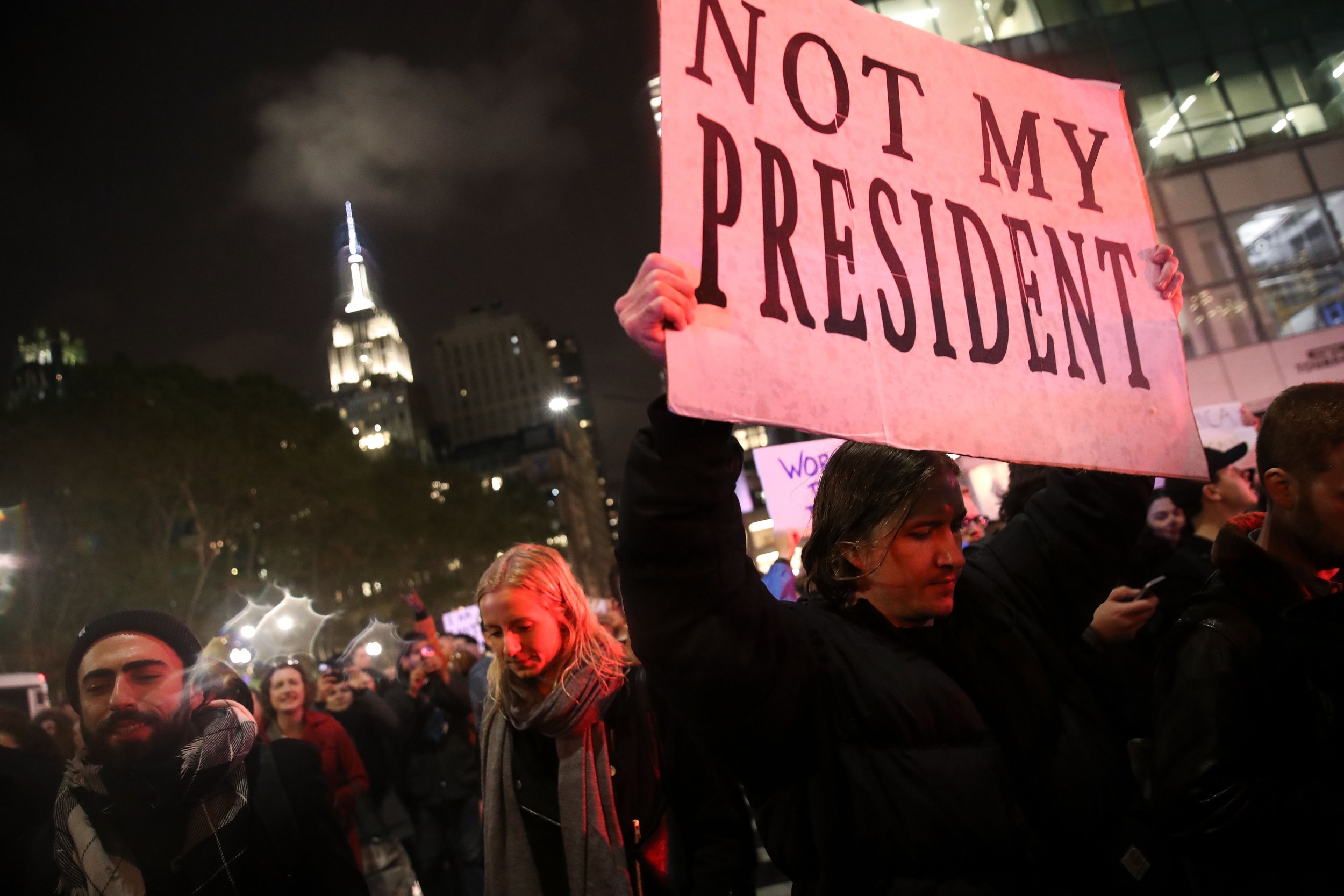 Thousands of people protested in cities across the United States overnight on Wednesday after Donald Trump's surprise victory in the presidential election.
Protesters burned effigies of the president-elect and converged on buildings belonging to Trump, chanting the slogan, "Not our president." Demonstrations were reported in cities including New York, Chicago, Boston, Dallas and Washington, as well as on college campuses in California, Massachusetts and Pennsylvania.
In Los Angeles, there was a rally of around 5,000 people and on Wednesday night protesters sat on the Hollywood 101 freeway.
In New York, there were protests outside Trump Tower. A spokesman for the police department tells Newsweekthat 65 protesters were arrested overnight after demonstrators gathered around the skyscraper, causing streets to be closed, resulting in traffic backups.
Wednesday's demonstrations came along with social media campaigns by angered anti-Trump protesters, with #TrumpProtest trending into Thursday. In Chicago, crowds of protesters blocked the entrance to Trump Tower. "No Trump, no KKK, no fascists USA," protesters chanted, according to the Chicago Tribune.
Demonstrators appeared to burn the American flag at some protests. Demonstrations continued into Thursday morning.
Trump beat Democratic rival Hillary Clinton to the presidency after winning a series of key swing states and will become the 45th U.S. president when he is inaugurated in January.
The protests came despite comments by incumbent President Barack Obama and Trump's defeated rival Clinton calling for a peaceful transition of power. Obama said on Wednesday that, while he had significant differences with Trump, " we are all now rooting for [Trump's] success in uniting and leading this country." Trump is due to meet with President Obama at the White House on Thursday to discuss his transition into power.
In her concession speech, Clinton said that her supporters owed Trump an "open mind and the chance to lead."
Trump said in his victory speech that he would "bind the wounds of division" that existed in the U.S. But the business mogul's controversial campaign—which included anti-immigrant rhetoric and personal attacks on Clinton—has left some Americans anxious about the country's future.