Hillary Clinton Makes Her Long-Awaited Concession Speech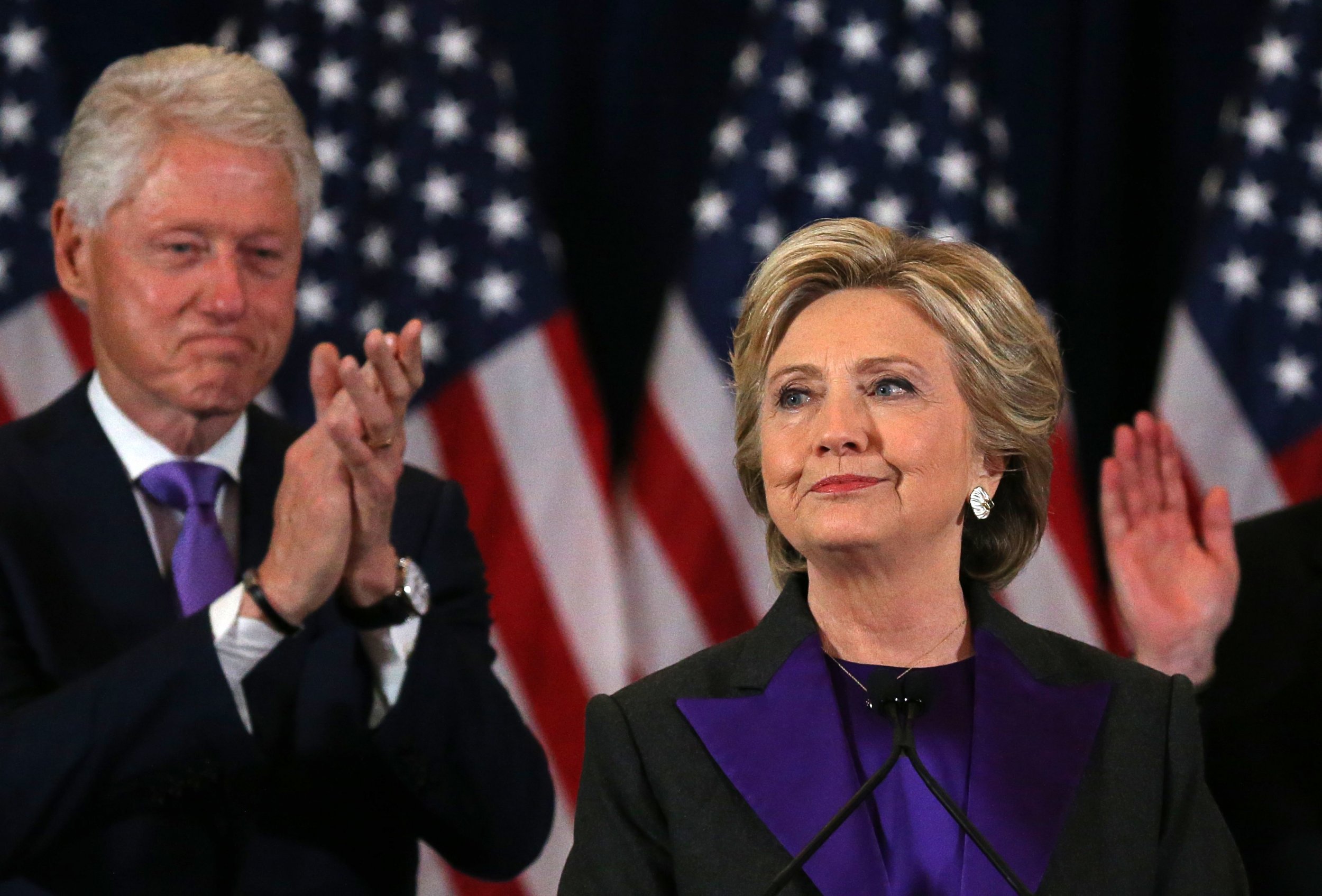 Nine hours after Donald Trump won the U.S. presidential election, the defeated Democratic nominee, Hillary Clinton, took to the stage at the New Yorker hotel to deliver her long-awaited concession speech.
The venue was a far cry from the Jacob K Javits Convention Center, an imposing glass building in New York where Clinton and her team had hoped to celebrate winning the presidency. Some commentators thought the center was chosen to symbolize what would have been the ultimate smashing of the metaphorical glass ceiling: Clinton becoming the first female president of the U.S.
Before Clinton addressed her supporters at the hotel, her vice-presidential nominee Tim Kaine and his wife Anne Holton came out to speak to the assembled guests. His voice occasionally shaking with emotion, Kaine reiterated how proud he was of Hillary Clinton and her achievements during her 30 years of political experience.
Noting that Clinton won the majority of the popular vote, Kaine told the cheering crowd: "She has made history in a nation that is good at so many things but [that] has made it uniquely difficult for a woman to be elected to federal office."
He stepped aside for the arrival of Clinton, her husband, former President Bill Clinton, their daughter Chelsea and her husband Marc Mezvinsky. Showing little sign of fatigue, Clinton repeatedly thanked the crowd in a voice that sounded a little hoarser than in previous speeches.
Clinton began her address in the same way as her competitor began his, telling the seated crowd that earlier that day she had congratulated Trump on his win and "offered to work with him on behalf of her country."
Flanked by her husband and Kaine, Clinton went on to say: "This is not the outcome that we wanted or worked so hard for and I am sorry that we didn't win this election for the values we shared and the vision we hold for our country."
Though she acknowledged the disappointment that "tens of millions of Americans" must feel at her loss, adding that she felt it too, Clinton urged her supporters to accept the election result. "Donald Trump is going to be our president," she said. "We owe him an open mind and the chance to let him lead."
As gracious as she was, Clinton appeared to make a veiled reference to Trump's divisive rhetoric and controversial policies. After saying that the U.S. Constitution requires the "peaceful transition of power," she talked about the importance of various other constitutional freedoms, notably that of freedom of worship and expression.
Perhaps her most obvious jab at Trump came soon after when she told her supporters: "We spent a year and a half bringing together millions of people from every corner of our country to say with one voice that we believe that the American dream is big enough for everyone. For people of all races, and religions, for men and women, for immigrants, for LGBT people, and people with disabilities. For everyone."
But any bitterness she may have hinted at soon gave way to gratitude, first to Kaine and Holton, then to Barack and Michelle Obama, her family, her team and the countless volunteers who "poured [their] hearts" into her campaign. Clinton raised a smile from her husband when she thanked people who posted about her in "secret private Facebook sites," possibly a reference to her fan page, Pantsuit Nation.
Her composure wavered only towards the end of the speech when she addressed the legions of women, particularly the young women "who put their faith in this campaign and in me." With what seemed to be tears in her eyes, Clinton said: "I want you to know that nothing has made me prouder than to be your champion.
Though she acknowledged that she had "not shattered that highest, hardest glass ceiling," Clinton vowed that "someday, somebody will."
To cheers and applause Clinton then addressed her youngest female supporters, telling them: "To all the little girls who are watching this, never doubt that you are valuable and powerful and deserving of every chance and opportunity in the world to pursue and achieve your own dreams."
After telling the audience not to lose heart, the first female presidential nominee uttered the famous words, "may God bless America" and left the stage.