Anti-Trump White House Protests Near Two-Week Mark as Organizers Raise More Than $100K
Anti-Trump protests outside the White House are set to continue through the weekend as they near the two-week mark since they began last Monday.
Protesters with the "Occupy Lafayette Park" movement have been rallying outside the White House, which they have dubbed the "Kremlin Annex," since July 16, the day President Donald Trump returned from his Helsinki summit with Russian President Vladimir Putin.
Former Hillary Clinton campaign adviser, Adam Parkhomenko, who has helped organize the protests, has said he plans to keep them going for as long as possible—a goal helped along by the fact that the movement has so far raised more than $100,000.
In an statement on Twitter, Parkhomenko announced earlier this week that as of July 23, more than 4,000 "grassroot activists" had contributed more than $100,000 towards the "Kremlin Annex" protests.
The adviser-turned-activist said that people were donating an average contribution of $24.54, with the most common contributions being made at $20.18 and $17.76.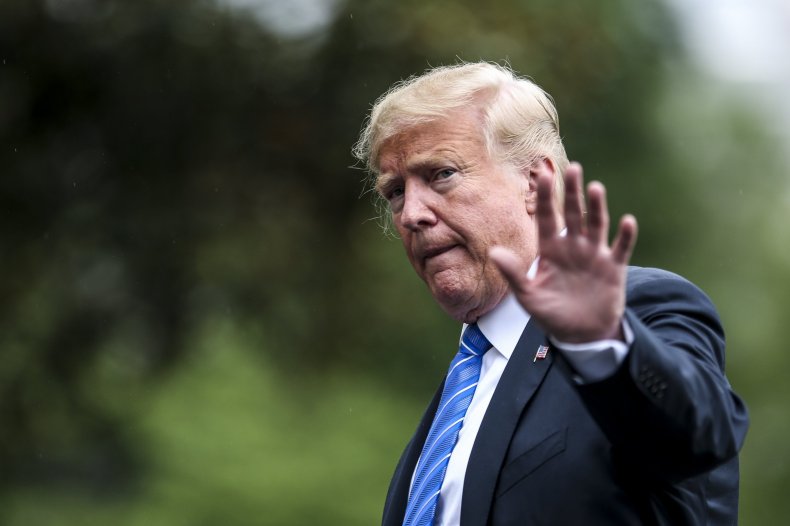 "Chip in to help us keep the never-ending nights of protest going at the Kremlin Annex, formerly known as the White House," Parkhomenko has written on a fundraising page set up to support the movement.
On the same page, the activist writes that the protests were launched "in response to Donald Trump's total capitulation to Russian President Vladimir Putin at the Helsinki Summit."
"And they've continued every night since, rain or shine," he adds.
A separate initaitive also helping organize and fundraise for the Occupy Lafayette Park protests has also managed to raise more than $10,500 on a separate GoFundMe webpage, with the proceeds expected to go towards providing food, water, materials and security for protesters.
The protests have attracted a number of high-profile appearances, with actor and activist Alyssa Milano, Stormy Daniels' lawyer Michael Avenatti and Congressman Joaquin Castro, who represents Texas's 20th congressional district, showing up to the rallies.
The protests are expected to get another dose of star power, with actor Rosie O'Donnell hinting at a planned appearance on Monday, August 6th.
Parkhomenko appeared to confirm the appearance, retweeting O'Donnell and writing: "Some celebrity star power that Trump is going to love have reached out to confirm days to be as loud as they can at the Kremlin Annex."
Watch: Protesters chant 'lock him up' as Trump and Melania arrive at White House
O'Donnell and Trump have long been embroiled in an ongoing feud, with the actor accusing the president of being a "sadistic man" and the U.S. leader lobbing personal attacks at O'Donnell, repeatedly making insulting remarks about her appearance and calling her a "loser."
The planned performance means protests will likely continue for at least another two weeks, with rallies featuring live musical performances aimed at getting Trump's attention.
Videos from the Occupy Lafayette Park protest held last Sunday appeared to show Trump and first lady Melania Trump arriving at the White House as protesters loudly chanted "lock him up" repeatedly, as some demonstrators banged on drums.
While the president did not react to the protests, it is unlikely that he would not have heard the protesters' calls.