'Thank You Pittsburgh' Antonio Brown Pays for Billboards to Thank Steelers Fans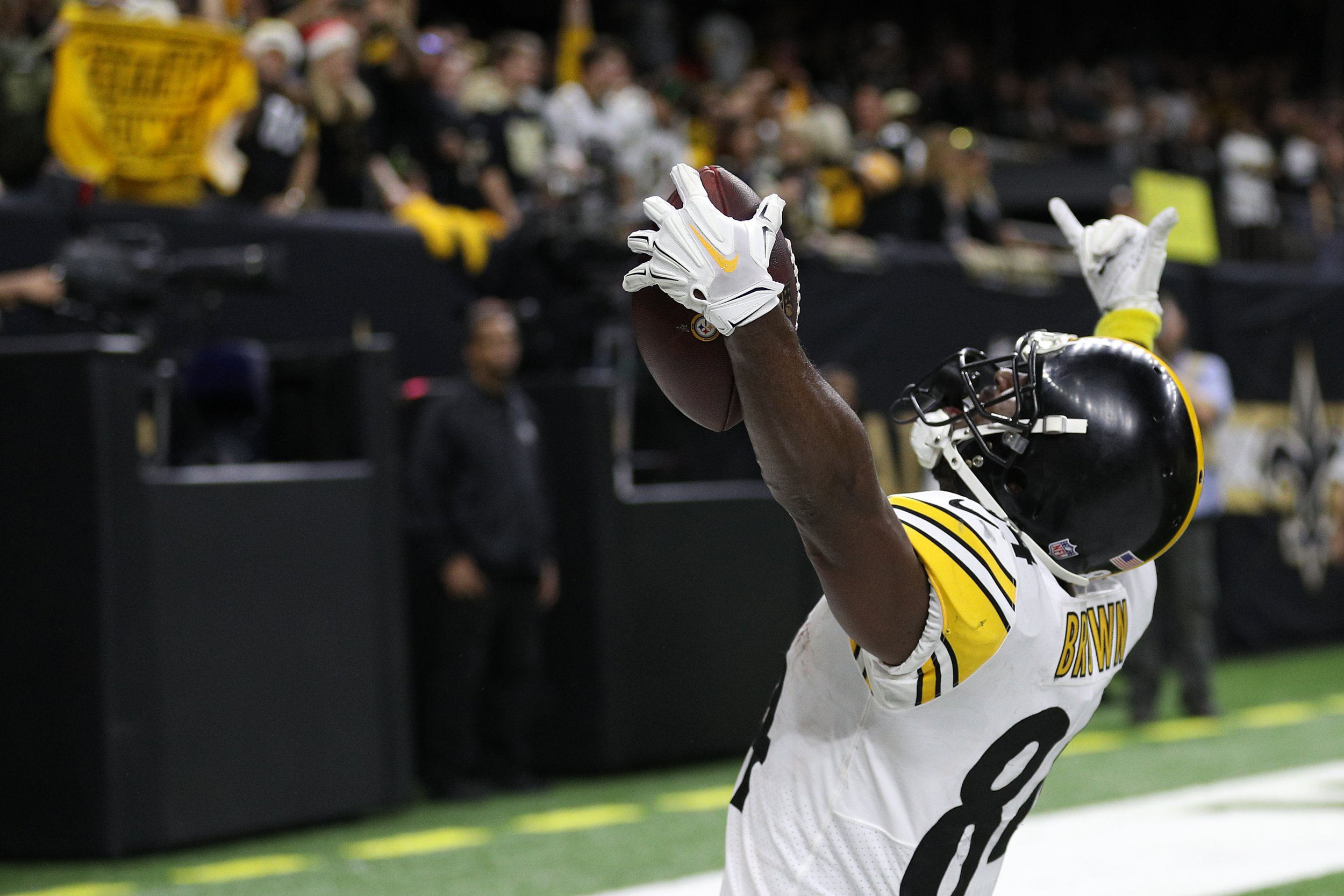 Antonio Brown might have finally found a way out of Pittsburgh, but he's determined not to burn down any more bridges than he already has.
After spending the last few months engineering a move away from Pennsylvania, the seven-time Pro Bowl selection was traded to the Oakland Raiders on Sunday in exchange for third and fifth-round picks in this year's draft.
Up until the weekend, Brown had spent his entire NFL career with the Steelers and his decision to force his way out of Pittsburgh left a large section of fans upset. Perhaps aware of how his actions have been perceived, Brown opted to depart Pennsylvania on a positive note and thanked the city and the fans for their continued support.
The 30-year-old purchased billboards around the city, all of which feature a picture of Brown smiling along with the message "Thank you Pittsburgh" and are signed AB 84.
The message first appeared around the city on Wednesday night, shortly after the wide receiver was officially unveiled in Raiders colors.
In all likelihood, the billboards will divide public opinion. Some Steelers fans will appreciate the message, while others will almost certainly dismiss it as a little more than a PR stunt coming from a player who was desperate to leave the organization.
In December, the five-time All-Pro selection missed Pittsburgh's final game of the regular season due to what Steelers coach Mike Tomlin described as "lack of communication".
Rumors Brown wanted to leave Pittsburgh continued throughout the offseason and last month he demanded to be traded after growing dissatisfied with his role in the team, following disagreements with star quarterback Ben Roethlisberger.
Oakland made his wish come true, as Jon Gruden landed a bona-fide star less than 12 months after allowing star edge rusher Khalil Mack and wide receiver Amari Cooper to leave California.
According to ESPN and the Associated Press, Brown signed a three-year deal worth $50.1 million, compared with the $38.9 million he was owed by Pittsburgh.
The Raiders aren't the Super Bowl contender Brown had suggested he wanted to join, his arrival is sure to improve them. Since he entered the league in 2010, Brown has recorded six consecutive seasons with at least 100 catches and has broken the 1,000 receiving yards threshold in all but two seasons.
In 15 games for the Steelers last season, Brown recorded 104 receptions for 1,297 yards and a career-high 15 touchdowns. By contrast, the Raiders' best wide receiver was Jordy Nelson, who finished the season with 63 catches for 739 yards.