Antonio Brown's 'Biggest Regret' Quote Originated on Sports Satire Page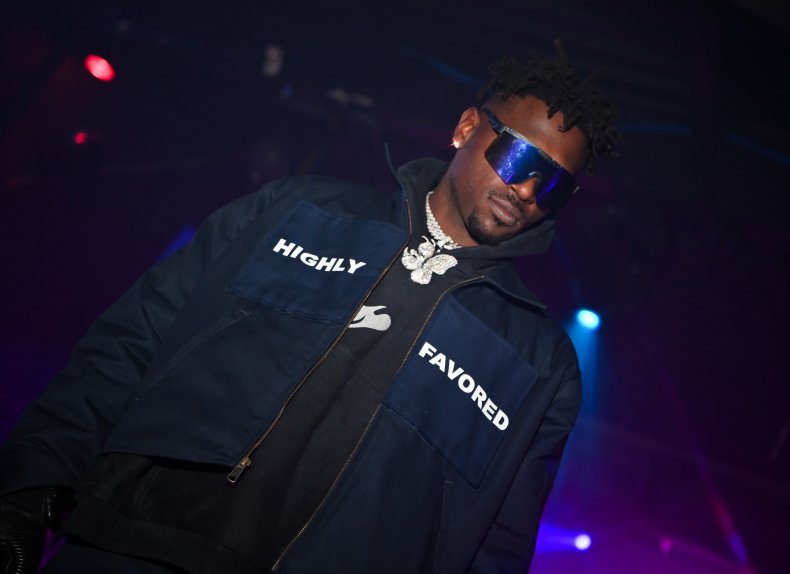 A satirical meme recalling controversial NFL player Antonio Brown's "biggest regret" has gone viral after being shared by Brown on social media.
Brown, previously a superstar wide receiver with the Pittsburgh Steelers for several years and currently a free agent, shared the meme to his Twitter account while signing it "Sincerely AB" on Thursday, initially sparking a wave of confusion and concern among NFL fans. While the meme purports to feature a bizarre and absurdly vain quote from the 34-year-old receiver "on his biggest regret," it was created by the sports satire site The Sports Memery before being shared by Brown.
"My biggest regret in my career doesn't involve calling my GM a 'cracker', or showing up to Raiders camp late in a hot air balloon with frozen feet, or throwing rocks at that UPS driver, and it definitely doesn't involve taking my shirt off and doing a victory lap around the Jets' stadium mid game while throwing up Deuces," the meme states, while claiming to be a Brown quote.
"My biggest regret is that I'll never get to see me, Antonio Brown, play a game live," it continues. "Sure, I can watch the game afterwards, but I can't imagine what that was like for you all to see something like that. Like watching The Beatles or Jesus perform at Red Rocks."
Brown has had a rocky past that includes a January 2020 arrest on charges of burglary and battery and multiple allegations of sexual assault. Possibly due to his history, his past mental health issues and his reputation for sometimes bizarre behavior that included an on-field meltdown at the beginning of this year, many assumed that Brown had shared a genuine quote on Thursday.
"Antonio Brown has said/done some narcissistic things in the past but this has to rank number 1," sports anchor Derek Kopp tweeted. "The comparison of watching him play to watching Jesus perform at Red Rocks is really something."
"I feel like we're going to see AB do something really bad and people are going to wonder if it could have been prevented," tweeted attorney and podcaster Alejandra Caraballo. "This stopped being funny a long time ago. This guy needs some serious help."
"Somewhere this is going to be turned into a motivational poster," tweeted Caitie Lilly, a social media producer for Las Vegas Fox affiliate KVVU. "Believe in yourself like Antonio Brown believes in himself."
Others were less convinced that the tweet featured an authentic Brown quote, with some recognizing the original source of the quote.
"There is zero chance Antonio Brown either wrote or said these words," sports reporter Noah Hiles tweeted.
"You guys, Antonio Brown didn't make that meme," film, TV and gaming journalist Kane Webb tweeted while sharing a screenshot of the original meme from The Sports Memery. "It was made by someone else. AB might be funny, but he ain't funny enough to have come up with all of that. Honestly, Red Rocks should have been your tip away that he didn't make that."
The person running The Sports Memery Twitter account also commented on the meme going viral, saying that it was their "favorite" instance of an athlete sharing the site's satire.
"We've had a lot of athletes post our satire in the past," they tweeted. "But this one is by far my favorite."
Newsweek has reached out to Brown's agent for comment.