AOC Accuses GOP Senator Josh Hawley of 'Trying to Wiggle Out of Inciting a Riot'
Representative Alexandria Ocasio-Cortez slammed Republican Senator Josh Hawley on Saturday for saying he was merely "representing my constituents" when he voted against the election certification for Joe Biden after deadly riots broke out at the U.S. Capitol on January 6. Five people died in the violence.
"Sen. Hawley is trying to wiggle out of inciting a riot that killed 5 by saying 'I was just representing my constituents' - but only those who wish to overturn the election and resurrect the Confederacy," Ocasio-Cortez tweeted Saturday.
"Hawley is Senator of Missouri. His constituents are ALL the people of Missouri - which is the same state that JUST elected sister @CoriBush, the first Black woman to ever represent MO in Congress," she added.
"So Hawley really needs to clarify who he considers a constituent & who he doesn't," she wrote.
Ocasio-Cortez has accused both Hawley and Senator Ted Cruz, a Republican from Texas, for inciting a mob of pro-Trump rioters to storm the U.S. Capitol.
Hawley was the first senator to publicly announce that he would object to the election certification of President Joe Biden.
Following the riot, politicians accused Hawley and other GOP lawmakers of misleading rioters into falsely believing the election outcome could change.
Democrat Ocasio-Cortez has since called for her GOP colleagues to be removed from office and accused them of "supporting the insurrection."
"If we've got time on our hands, then we should actually be bringing justice to the members of Congress... who also helped support this insurrection," Ocasio-Cortez said on Friday.
"If they don't resign, they should be expelled from the Senate."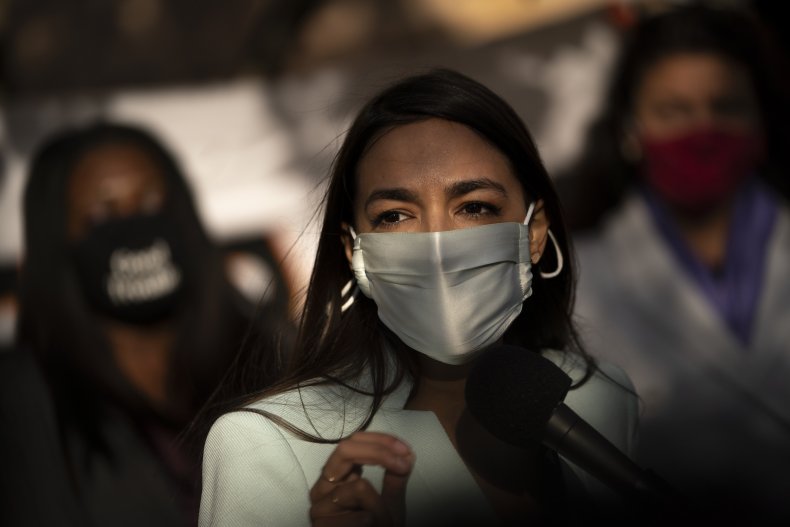 But Hawley has vehemently defended his position. In an op-ed published in the Southeast Missourian on January 14, Hawley said he objected to the vote to reflect the views of "many, many citizens in Missouri [who] have deep concerns about election integrity. For months, I heard from these Missourians—writing, calling my office, stopping me to talk."
"They want Congress to take action to see that our elections at every level are free, fair, and secure. They have a right to be heard in Congress. And as their representative, it is my duty to speak on their behalf. That is just what I did last week," he added.
In the aftermath of the riot, Hawley has since seen his approval rating drop among voters in Missouri, including Republicans.
The GOP senator has also faced calls to resign from protesters who have gathered in downtown St. Louis, chanting slogans like "No Hawley. No KKK. No fascist USA."
On Thursday, seven Senate Democrats requested an ethics review of Hawley and Cruz, and said that they "amplified claims of election fraud that had resulted in threats of violence against state and local officials around the country."
"The Senate Ethics Committee should investigate their conduct to fully understand their role," the letter to the Senate Committee on Ethics said. "The actions of which we know demand an investigation and a determination whether disciplinary action is warranted. Until then, a cloud of uncertainty will hang over them and over this body."
Newsweek has reached out to Hawley. A spokesperson for Ocasio-Cortez declined to comment.