Josh Hawley, Ted Cruz See Approval Ratings Drop in Missouri, Texas After Election Objection, Riot
GOP Senators Josh Hawley and Ted Cruz have seen their approval ratings drop among voters, including Republicans, in their home states following the U.S. Capitol riot on January 6.
Hawley, who is from Missouri, has fallen 9 percentage points among Republicans in his state, while Cruz, a Texan, saw his rating drop 5 points.
Among all voters, Hawley's approval rating dropped from 42 percent to just 36 percent, while Cruz's went from 48 percent to 45 percent.
The state surveys were conducted by Morning Consult and compared the senators' approval ratings with results from a poll that ended on January 5, a day before the riot, to a poll that ended January 18.
Despite the recent drops, a majority of Republicans in both states said they still support the two senators.
In Missouri, 63 percent of Republican voters said they approve of Hawley's performance, down from 72 percent in the survey that was conducted before the Capitol siege. In Texas, Cruz has a 76 percent approval rating among GOP constituents, down from 81 percent.
Cruz and Hawley had both objected to the congressional certification of President Joe Biden's Electoral College victory, a decision that critics said helped incite a violent mob of Donald Trump supporters to storm the U.S. Capitol.
The senators have since faced numerous calls for resignation after the siege left five people dead, including a Capitol Hill Police officer.
On Thursday, seven Senate Democrats requested an ethics review of the senators and said that they "amplified claims of election fraud that had resulted in threats of violence against state and local officials around the country."
"The Senate Ethics Committee should investigate their conduct to fully understand their role," the Democrats' letter addressed to the Senate Committee on Ethics said.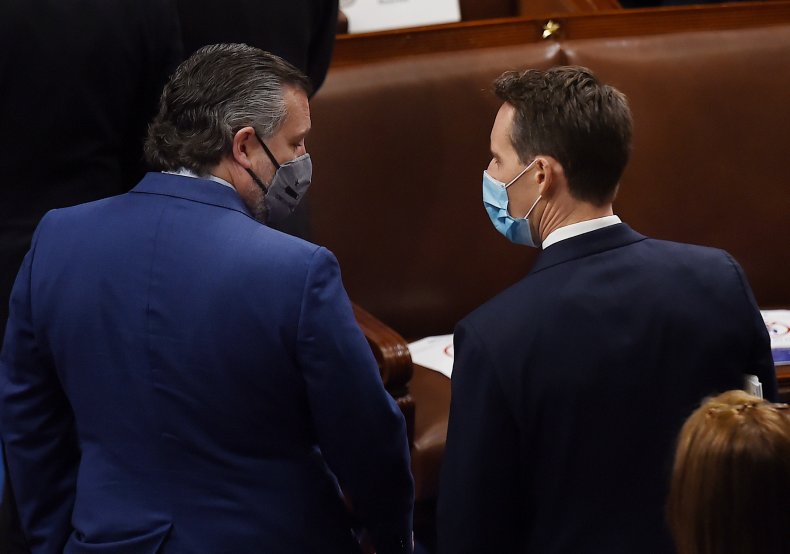 The senators have even faced pushback from fellow Republican lawmakers, who have condemned their roles in the objecting to the election's result.
Republican Senator Pat Toomey said that lawmakers who voted against the election certification "perpetuated the big lie, that Donald Trump won in a landslide and it's all been stolen from him. That's not true, and we know that's not true."
Similarly, Republican Senator Tom Cotton accused the GOP lawmakers of "giving false hope to their supporters" and "misleading them" into thinking the election outcome could change.
"That was never going to happen, yet these senators, as insurrectionists literally stormed the Capitol, were sending out fundraising emails," he said a day after the attack.
Cruz and Hawley have also faced growing pressure to resign from constituents. In Missouri, several hundred protesters gathered in downtown St. Louis on January 9 to call for Hawley's removal, chanting slogans like "No Hawley. No KKK. No fascist USA."
In Texas, three major newspapers have called for Cruz to step down from his position.
But the senators have both defended their decisions, saying they will not be giving up their seats.
"Some wondered why I stuck with my objection following the violence at the Capitol. The reason is simple: I will not bow to a lawless mob, or allow criminals to drown out the legitimate concerns of my constituents," Hawley wrote in an op-ed for the Southeast Missourian on January 13.
In an interview on January 7 with KXAS-TV, an NBC affiliate in Fort Worth, Texas, Cruz said his decision to contest the election had "nothing to do" with the violence that unfolded that at the Capitol.
"What I was doing is debating on the floor of the Senate election integrity," Cruz said. "That has nothing to do with this criminal terrorist assault, which was wrong and needs to be prosecuted. It's exactly the opposite. What I was doing is how you're supposed to resolve issues in this country."
Newsweek reached out to Hawley and Cruz for comment but did not hear back in time for publication.