Ocasio-Cortez Fires Back at Cruz After He Criticizes Biden's Reference to Nazis
New York Congresswoman Alexandra Ocasio-Cortez responded to Texas Senator Ted Cruz's complaints about President-elect Joe Biden's references to Nazis in a pair of tweets Saturday, calling for Cruz to resign in the wake of the deadly Capitol riot.
Cruz quote-tweeted a Washington Post reporter who had written about a remark that Biden had made at a press conference on Saturday. Biden responded to a reporter who asked if Cruz or Senator Josh Hawley should resign. The president-elect said they should be beaten next time they run.
Both Cruz and Hawley have experienced backlash for their challenge to the certification of Electoral College votes for President-elect Joe Biden's victory prior to the mob assault on the Capitol, which left five people dead. Cruz and Hawley condemned the riot as they are under scrutiny for trying to overturn the election results.
Biden said that the senators were "part of the big lie" and shared an anecdote about Nazi minister of propaganda, Joseph Goebbels, exaggerating the number of people killed in the firebombing of Dresden and the papers printed it.
"They're part of the big lie," he said at the press conference. "We're told that Goebbels and the great lie: you keep repeating the lie, repeating the lie."
Biden then said that Republican politicians following Trump's lying are harmful, noting the president's attacks on the media. "If he's the only one saying it, that's one thing, but the acolytes that follow him, like Cruz and others, they are as responsible as he is. So, it's not about whether or not they get impeached—it's about whether or not they continue to to hold power, because of the disgust the American people have for their actions," he said.
In his tweets Friday evening, Cruz criticized Biden's mention of Goebbels, saying he was sowing division.
"At a time of deep national division, President-elect Biden's choice to call his political opponents literal Nazis does nothing to bring us together or promote healing," Cruz wrote. "This kind of vicious partisan rhetoric only tears our country apart."
Ocasio-Cortez quote-tweeted Cruz and noted anti-Semitic displays by protesters as well as gallows and calls to hang Vice President Mike Pence. In a second tweet, the New York congresswoman also mentioned Illinois freshman Republican Congresswoman Mary Miller's recent comments, in which she referenced Hitler when speaking about propaganda being targeted towards children.
"Hitler was right on one thing: He said, 'Whoever has the youth, has the future.' Our children are being propagandized," Miller said at a rally on Tuesday. She has since apologized for the comment, according to The New York Times.
"Your continued excusal and denial of Wednesday's Neo-Nazi presence is abhorrent and dangerous," Ocasio-Cortez addressed to Cruz in her tweet, before calling on the Texas senator to resign.
Cruz quote-tweeted the New York representative, saying her response was a display of "Epic hypocrisy." He then listed three "Facts" including: "1) Nazis are evil bigots. 2) You & your anti-Israel pals blocked a resolution condemning antisemitism-which I passed unanimously in the Senate... 3) Unless they are genocidal, calling your political opponents Nazis is atrocious."
He also included a link to a March 2019 USA Today article that noted that Ocasio-Cortez defended Minnesota Congresswoman Ilhan Omar regarding comments she made about Israel that were considered by some to be anti-Semitic.
Ocasio-Cortez responded to Cruz, saying that she did vote for the resolution against anti-Semitism that the senator had listed. In another tweet, she wrote that Cruz was lying, along with images to show that she voted in favor of the resolution.
"Your statements are growing increasingly erratic and unfounded in fact," she tweeted. "I do not call all my opponents Nazis. But rest assured, Neo-Nazis are my opponents."
Cruz rebuked Ocasio-Cortez in another tweet, saying the vote was on a "watered-down House resolution." He also accused her of supporting the Boycott, Divestment and Sanctions movement.
Newsweek contacted Ocasio-Cortez's representatives for comment. When initially reached out, Cruz's press contacts deferred to the senator's response to Ocasio-Cortez. When asked to further remark about Ocasio-Cortez's follow-up response, Cruz's press contacts did not answer Newsweek's request in time for publication.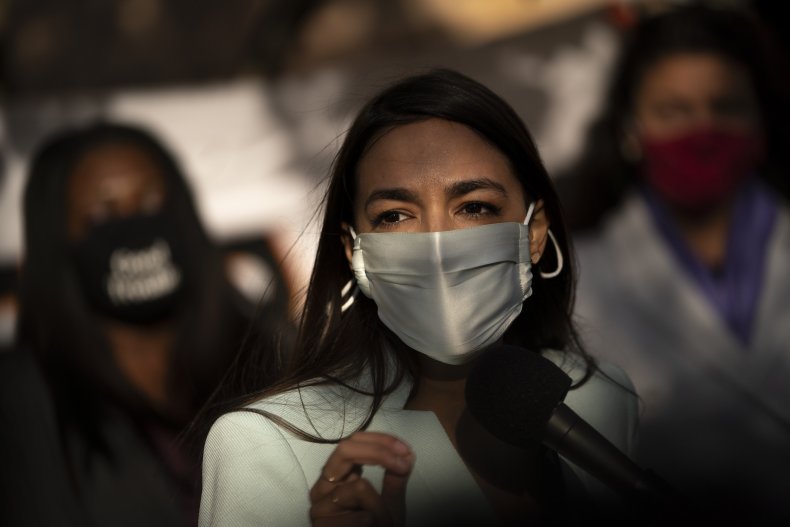 Update 1/9/21 6:19 p.m. ET: This story has been updated to include Cruz's tweeted response to Ocasio-Cortez.