Calls Grow for Josh Hawley and Ted Cruz to Resign After Trump Riot: 'There Must be Consequences'
There are growing calls from the colleagues of Senators Josh Hawley (R-Mo.) and Ted Cruz (R-Texas) for them to resign amid an avalanche of criticism over their leading role in Republicans' last-ditch endeavor to overturn the outcome of the presidential election.
At least three Senate Democrats—Chris Coons (D-Del.), Patty Murray (D-Wash.) and Ron Wyden (D-Ore.)—along with several of their fellow Democrats in the House, have called for the GOP duo to immediately relinquish their posts in federal office for objecting to the certification of President-elect Joe Biden's victory that Democrats say further stoked violence.
Through their words and actions, Democrats have said, Cruz and Hawley acted as provocateurs for the deadly insurrection that unfolded at the Capitol on Wednesday when hundreds of pro-Trump rioters overwhelmed police and stormed the building.
The calls for the resignation of Cruz and Hawley from fellow senators are particularly extraordinary: Coons will act as an informal intermediary for Biden and Senate Republicans to negotiate; and Murray is the No. 3 Democrat.
"Any Senator who stands up and supports the power of force over the power of democracy has broken their oath of office," Murray said in a statement Friday. "Senators Hawley and Cruz should resign."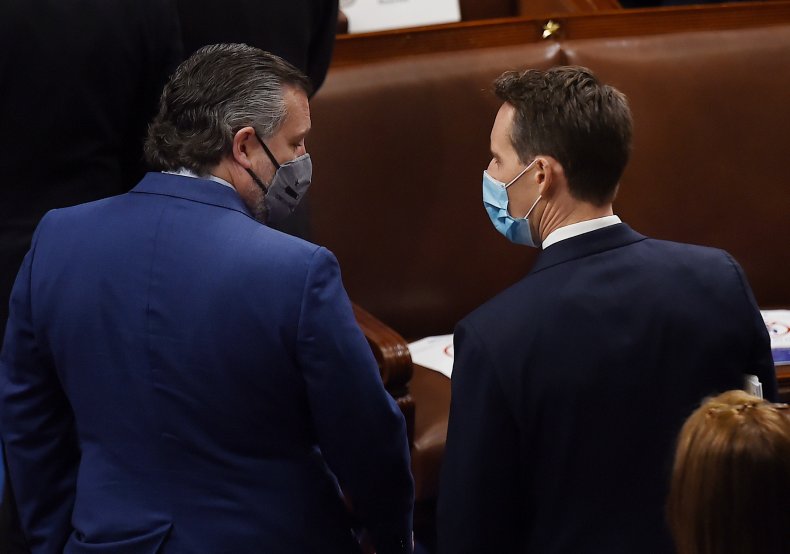 Coons, speaking to local reporters on Thursday, said they "should resign."
Wyden accused Trump, Cruz and Hawley of "culminating in the assault on the seat of our democracy."
"There must be consequences for senators who would foment a violent mob for personal gain," Wyden said in a series of tweets Friday. "I call on Senators Hawley and Cruz to resign and accept the responsibility which they so clearly bear."
Biden stopped short of advocating for their resignation. Speaking to reporters Friday, he urged voters to oust them from office at the ballot box.
"I think they should just flat beat the next time they run. I think the American public has a real good, clear look who they are," he said. "They're part of the big lie."
For their part, Cruz and Hawley have both denounced the chaos that ensued within the halls of Congress that has since been labeled domestic terrorism by many. But it's the push of baseless claims and conspiracy theories about rampant election fraud and that the contest was somehow stolen from Trump—along with Trump's own rhetoric—that Democrats say acted as fuel to the fire and promoted violence.
Hawley has doubled down on his decision to challenge the results, which he noted was protected under the Constitution. He rebuffed any assertions that his actions in any way contributed to the Trump mob or constituted grounds for resignation.
"I will never apologize for giving voice to the millions of Missourians and Americans who have concerns about the integrity of our elections," Hawley said in a statement. "That's my job, and I will keep doing it."
Cruz's office did not respond to Newsweek's request for comment.
The public fallout for the senators, particularly Hawley, has been forceful and swift. The editorial board of The Wall Street Journal, a conservative-leaning publication owned by Rupert Murdoch, wrote a scathing piece titled The Disgrace on Capitol Hill that called for their resignation.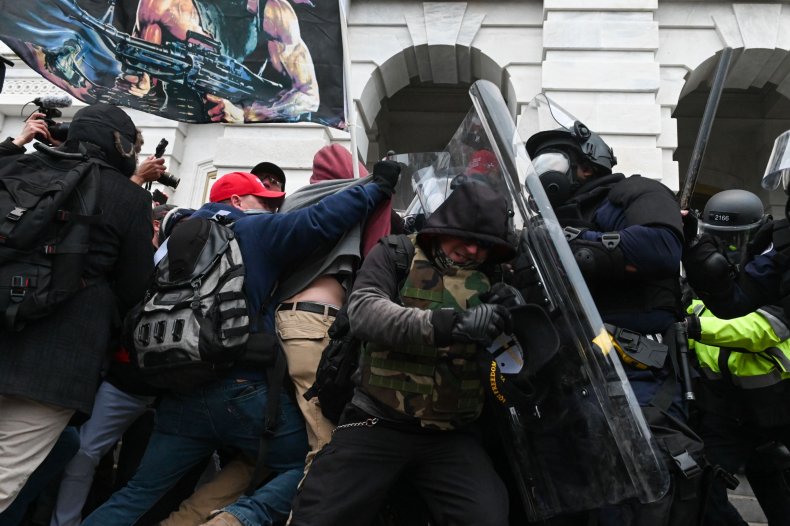 For Hawley, some of his top political donors have pulled their support, and publisher Simon & Schuster cancelled their book deal with the senator. The editorial board of The Kansas City Star in Hawley's home state wrote that he "has blood on his hands." In a follow-up piece, the board of the local paper called on him to either resign or be forcibly removed by Congress.
Even fellow Republicans, especially longtime supporters in Missouri, have ripped into Hawley.
"Sen. Hawley was doing something that was really dumbass," Sen. Ben Sasse (R-Neb.), who agreed that Hawley's actions incited the mob, told NPR. "This was a stunt. It was a terrible, terrible idea. And you don't lie to the American people. And that's what's been going on. The American people have been lied to chiefly by Donald Trump. And lies have consequences. And those consequences are now found in five dead Americans in a Capitol building that's in shambles. And there's a lot of work that has to be done to rebuild, and legislators should not be aiding and abetting those kinds of lies."
Hawley has shot back at his critics, including Simon & Schuster. The publisher said it pulled Hawley's once-forthcoming The Tyranny of Big Tech because of "his role in what became a dangerous threat to our democracy and freedom."
Hawley, a constitutional scholar who Trump was once considering for an opening on the Supreme Court, labeled the move a "direct assault on the First Amendment" that "could not be more Orwellian."
"We'll see you in court," he added.
While it's not clear whether any contractual obligations may or may not have been violated, it does not violate Hawley's First Amendment rights. The First Amendment does not state that a private company must publish a lawmaker's book for money.