AOC Votes to Avoid Railroad Strike After Telling Workers to 'Stay Strong'
The House successfully voted Wednesday to pass legislation aimed at blocking a rail strike that President Joe Biden had warned could spur a "crippling" national shutdown.
A vast majority of Democrats, 211, voted in favor of the resolution and were joined by 79 Republicans. Meanwhile, eight Democrats did break with their party and joined the 129 Republicans who voted against it.
Democratic Representative Alexandria Ocasio-Cortez was among the majority of lawmakers who backed passing the legislation that notably did not include provisions for paid sick leave. A separate measure that also passed the House Wednesday, however, did include such provisions by giving rail workers seven paid days of sick leave each year.
All Democrats voted in favor of this measure and were joined by three Republicans: Representatives Don Bacon of Nebraska, Brian Fitzpatrick of Pennsylvania and John Katko of New York. Prior to the vote on Wednesday, Ocasio-Cortez tweeted that she stood with rail workers who were demanding the "basic dignity of paid sick days."
"If Congress intervenes, it should be to have workers' backs and secure their demands in legislation," she tweeted. In another tweet responding to a union that thanked her for backing rail workers' pleas for paid sick leave provisions, Ocasio-Cortez wrote "Stay strong" and "we've got your back."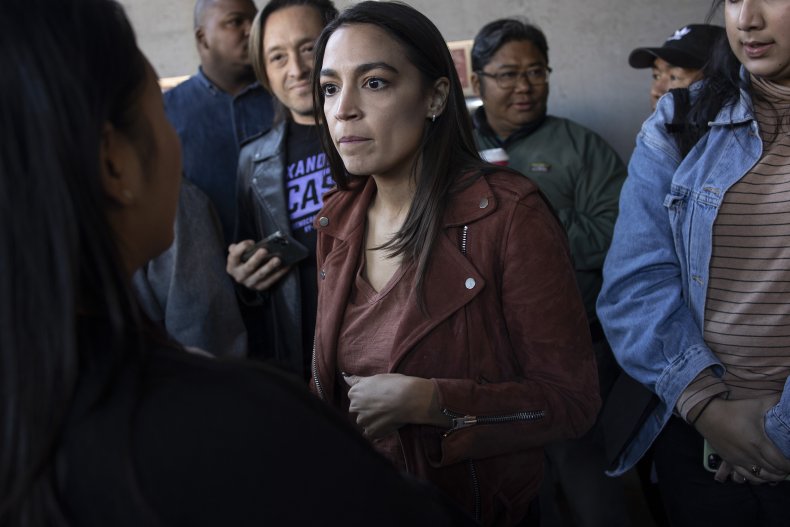 The White House helped negotiate a tentative agreement in September that entailed higher wages and a $5,000 bonus for workers, temporarily preventing a massive railroad strike in what was hailed as a major win for the Biden administration.
Four of the 12 involved unions ultimately rejected the deal and a strike was put back on the table if an agreement can not be reached by December 9, CBS reported. Biden called on Congress Monday to intervene and immediately pass legislation to adopt the September agreement without any modifications in order to avoid a strike.
This would override the requirement for all 12 unions to ratify the new contracts before the approaching December 9 deadline.
Biden said in a statement Monday that he was "reluctant to override the ratification procedures and the views of those who voted against the agreement," but stressed that he believes it was necessary for Congress to use its authority to adopt the deal to avoid an economic shutdown he said could potentially hurt millions of other people and families.
"Some in Congress want to modify the deal to either improve it for labor or for management," Biden said. "However well-intentioned, any changes would risk delay and a debilitating shutdown. The agreement was reached in good faith by both sides."
"Congress has the power to adopt the agreement and prevent a shutdown," the statement concluded. "It should set aside politics and partisan division and deliver for the American people. Congress should get this bill to my desk well in advance of December 9th so we can avoid disruption."
Biden held a meeting Tuesday with congressional leaders, at the start of which he expressed the need for Congress to act to prevent a rail strike and warned that the U.S. economy was at risk. After that meeting, several of those congressional leaders voiced their support for quickly passing the legislation.
Correction 11/30/22, 5 p.m. ET: An earlier version of this article incorrectly reported that Representative Alexandria Ocasio-Cortez voted against the legislation aimed at blocking the rail strike. Ocasio-Cortez voted in favor of it.