A$AP Rocky Accused of Firing Gun in 2021 Shooting That Led to LAX Arrest
Rapper A$AP Rocky has been taken into custody Wednesday after landing at an airport in Los Angeles in connection to a November 2021 shooting.
The musician, whose real name is Rakim Mayers, was arrested at Los Angeles International Airport, according to the Los Angeles Police Department (LAPD).
Police said that on November 6, an argument took place between two individuals in the Hollywood area. This verbal altercation then reportedly escalated into the shooting of a handgun, injuring one person.
After the shooting, LAPD said, the suspect and two other male individuals fled the scene on foot. During the course of their investigation into the shooting, authorities were able to identify the suspect as Mayers.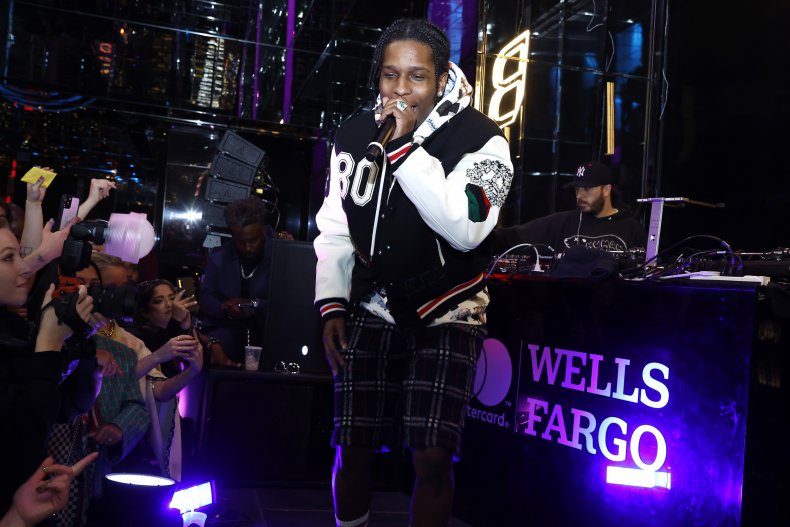 The victim, NBC News reported, told officers that Mayers, along with several other individuals, approached him in early November just before 10: 30 p.m., and alleged that Mayers fired as many as four shots at him.
Following the shooting, the victim, who sustained a minor injury, did seek medical attention, police said.
Mayers faces preliminary charges for assault with a deadly weapon, according to authorities.
Mayers' arrest comes as he was returning to the country from a vacation in Barbados where he reportedly spent with singer and girlfriend Rihanna, according to Variety.
In January, Rihanna announced that she was pregnant with the couple's first child.
Wednesday's arrest isn't Rocky's first run-in with law enforcement. In 2019, he was arrested in Sweden and charged with assault in connection to a brawl involving a 19-year-old man. The rapper pleaded not guilty to the charges against him.
During a trial, Mayers was held in jail. However, following the trial's closing arguments and before a verdict was reached, Mayers and two other individuals from his entourage were freed from detention on August 3, 2019. Mayers had spent approximately a month in jail.
Then-President Donald Trump, who had reached out to Sweden's prime minister at the time, Stefan Lofven, following the rapper's arrest, celebrated Rocky's freedom from jail and return back to America. In a tweet dated August 2, 2019, Trump wrote: "A$AP Rocky released from prison and on his way home to the United States from Sweden. It was a Rocky Week, get home ASAP A$AP!"
Mayers was found guilty of assault in Sweden on August 14. While he was facing a possible two years behind bars and prosecutors sought a six-month sentence in prison, a judge ruled that Mayers would not spend any more time in jail for the charges.
Newsweek reached out to the LAPD and a representative for the rapper for comment.