Apollo Crews Talks WWE Journey, New US Championship & Match With MVP
Not every WWE superstar's journey is the same and for Apollo Crews, it's been a long four years to capture his first championship in the WWE.
Since his callup from NXT to the main roster in 2016, Crews--real name Sesugh Uhaa--has stayed in the lower midcard and was traded from Monday Night RAW to SmackDown and back to WWE's flagship show.
Things didn't seem like they would change for the 32-year-old California native, but he would eventually receive the biggest opportunity of his WWE career in May when he defeated Andrade to capture the United States Championship. Winning has raised Crews' stock and is not a staple of Monday Night RAW each week.
"Right now I'm fully focused," Crews told Newsweek on Wednesday "At the same time I feel blessed to be in this position to be able to go out there weekly and show what I can do and show the world what I can do and put smiles on people's faces especially at a time like this."
Crews is taking on MVP, a near 20-year veteran of the industry, this Sunday at the Extreme Rules pay-per-view. MVP will also have the monstrous Bobby Lashley in his corner, but as Crews told us, his confidence in his abilities will get him through.
Newsweek caught up with the United States Champion ahead of his match against MVP at this Sunday's Extreme Rules pay-per-view to talk about his journey, perseverance and being able to show fans who he really is.
This interview has been lightly edited for length and clarity.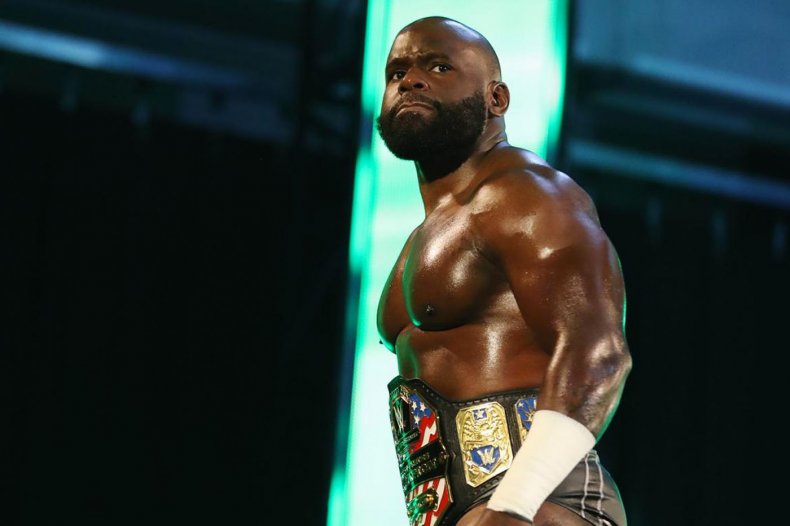 It's been four years since you've entered the company and you've finally had the opportunity to capture this title. How did you have the patience?
It could be very tough especially when it doesn't seem like it could possibly happen. When you get [to WWE] you have bright eyes and think, "this is my chance to become the superstar that I always dreamed of being."
Sometimes it doesn't play that way. My road to my first championship was different from many others. I can only speak for myself, but I always knew I had to stay motivated, I have to find something that keeps me motivated. It helps me make sure I stay ready for any situation that can drop on me because any day they may need you for something and if you're not ready. You have to go out there and kill it because you never know if you'll have that opportunity again.
Four years is a long time [Laughs], but I was raised to never quit. My dad says that there is no substitute for hard work so I keep that in my mind that "hard work has to pay off" and I'm going to keep grinding, hustling until it does. It has, but this is just the beginning. Now that I'm US Champion the real work begins.
Fans have seen Apollo Crews on television for four years, but I feel you haven't become fully realized as a character and performer. You can go further can't you?
I feel like we can go further. I'm focusing on what's going on right now so I'm not thinking about what's going to happen down the line. I'm enjoying being United States Champion, wrestling on two pay-per-views in a row which is a first for me. It's a whole different side of my career then just a few months ago. But I definitely feel that I haven't reached my full potential and I'm working on getting there.
Is there an added pressure now that you're on television more and holding a title or is there no pressure?
For a lot of us, a reason why we are where we are is that we feed off that pressure. There's sometimes that you feel that there is no way that it's going to work out. You can do this or that and there's never enough hours in a day, but everything seems to work out smoothly. I'm comfortable with my ability and I know what I'm capable of. At the end of the day if I'm being pulled in 10 different directions I'm going to be able to go out there and kill it each time. Just being fully confident in my ability helps with that confidence and that pressure is just a fun thing to have. With any job it's nice to work under that pressure, it drives you and gives you that extra oomph.
We talk about the four-year journey but you started in NXT. Your call up came so soon after debuting in NXT, do you feel sometimes that if you were there for one more year that your career could have been different?
At the time you don't think about that. You get that news [about being called up] and in that moment you're not thinking, "no I need to stay longer and develop this character more" or anything like that.
When you're told that you're going to debut on Monday Night RAW or SmackDown...a lot of stuff goes through your head, but for me one thing that didn't go through my head was maybe I need to stay [in NXT] a little longer.
And when I look back at it I would have loved to stay in NXT a little longer so I could do those things like develop my character, figure out who Apollo Crews is and learn how to react in certain situations. Allow the people to see me be angry, sad, happy, to see those different emotions so they can know that I have these different layers. It's not just a guy who comes out smiling and does flips and other cool stuff.
It's also hard making that transition from the indies to NXT. Just to be able to learn that style takes some time especially when you come out there and get thrown on TV quickly or asked to debut. I got to debut in the first NXT Takeover: Brooklyn so it's not one of those things where you tell them, "I'm glad you want to do that with me, but I want to wait a little longer" you know what I mean? It's just not real. Some people might think like that, but it's not what I think of. When I look back, it would have been nice to have more time for all of that to come together.
I understand, they tell you that you're going to Monday Night RAW, what do you say? No?
[Laughs] This is what we dream of. From the moment I started watching wrestling I wanted to be the guy you watch on TV. So when that moment comes, it's not one of the things you say, "I'll wait."
When you were on your way to winning the US Championship you qualified for this year's Money in the Bank, but then your storyline injury held you out. It's a missed opportunity, but it gave you another.
For sure. It's a huge opportunity missed, but when one door closes another opens. Winning Money in the Bank lets you challenge for either the Universal or WWE Championships whenever you want, and it can't get better than that. For me, I went another direction and it worked out just as great. I won my first championship in WWE and I'm proud to represent the company as the United States Champion. So much history with this title. So many people and fantastic athletes have held this title it's cool to be placed in history alongside those names.
It didn't really hit me until a couple of weeks after and I was just sitting on my bed and I'm like, "wow I'm the United States Champion." And it's crazy because of how my career went my first four years, it seemed almost impossible for it to happen. But it's possible and what helped me was that I never stopped believing in myself, and if you don't you can achieve anything.
In previous interviews you've talked about Paul Heyman's influence on you and how he helped you step up your game while he was Executive Director of Monday Night RAW. Now that he's gone, is it a different dynamic backstage for you?
Since I've shown that I'm reliable, and trustworthy it doesn't necessarily matter too much so that helps me in that sense. I don't feel like it's going to work against me. Working with Heyman was fantastic. He was so hands-on with me and he helped me a lot. He was one of the main reasons for me getting this opportunity and I'm very thankful for everything he's done for me and helped me with.
All I could do is look toward the future and I'm looking forward to working with Bruce [Prichard] as well. We're going to make magic together and I'm excited for what's to come and where I'm at right now. The company is seeing what I'm capable of after these past few months taking this opportunity and running with it.
Every now and then I think about those [past] moments and it keeps me humble and hungry, knowing where I could have been and where I could have still been. And that's what drives me. Once you get complacent, that's where things shift and go in the wrong direction.
Your opponent on Sunday MVP has a lot of history with the US Title. How is it working with a veteran like that?
I've said it before, man, his career speaks for itself. It's dope. When I was a young man I used to watch him and Bobby Lashley on TV so to be in the ring with them is an honor and a pleasure. But that doesn't mean I'm going to take it easy on him or just because I have respect for him or that he's a legend that I'm going to bow down and give him the US Championship. This is my time now. I'm young, healthy and a lot in front of me and MVP is going to know he's in a fight on Sunday.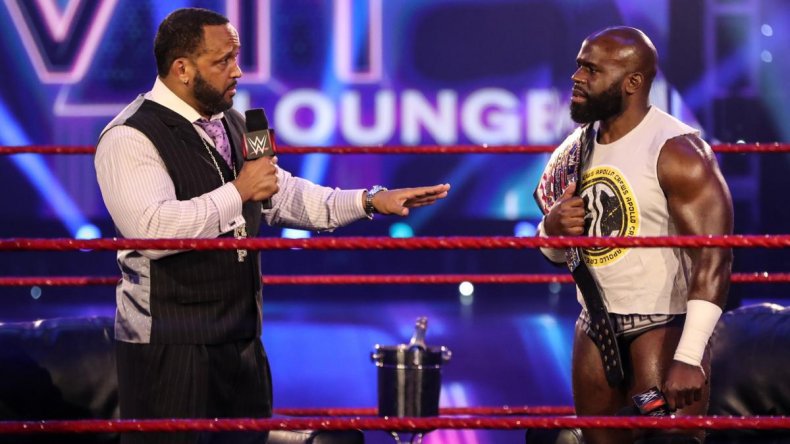 MVP unveiled the new US Championship and there's been a lot of reactions to it. What was your initial reaction to it?
[Laughs] I love it. I can't wait to have it around my waist. I'm not sure why he's walking around with it, but it is mine and I can't wait to hold it over my head and around my waist. It's beautiful and I'm ready to kiss it and bring it home with me and put it in my cabinet with the current one I have now and wake up and see it everyday. He can keep it warm for me, but I'm going to get it.
Talking to you and how you're ready to show more of your personality, I remember when you were feuding with Andrade and you two were backstage and you slapped him so hard. How did you get the sound to be so crisp?
[Laughs] That was all me. People see me as a smiley, friendly guy but I feel like anyone else I have that side of me that not many people see and unfortunately, Andrade was in the way and my hand had to meet his face [Laughs]. I saw plenty of memes of that and it was so funny. [Andrade's] another guy I loved working with and had a ton of respect for, but he was just in my way so he had to get run over.
And then you had that match with Shelton Benjamin and got the pin with your foot on the ropes. Showing a bit more character.
Yea yea when it's there you have to take it. It's only cheating if you get caught, right? [Laughs]. Any means necessary, that's my baby I can't let anyone take it away. Another example of someone getting in my way.
You talk about Bobby Lashley and he'll be keeping an eye on your match with MVP this Sunday. One of my favorite moments with you was the "pose off" you had with him.
Oh yea that was a fun one [Laughs]. I feel like people didn't think I was capable of something like that. It was cool for me to just let loose and be silly. That's one thing I learned when working with Titus Worldwide and with Titus [O'Neil]. He'd be like "don't worry about what other people think. Don't take yourself too seriously this is entertainment."
I know everyone wants to come out and be that tough guy and be taken seriously, and you can, but you can work both ways. You can be a killer and at the same time have fun and let loose and just be you. That's one thing he helped me with, not taking myself so seriously and just having fun. So that pose off was one time where I didn't have to worry so much and it was cool, it was one of the greatest reactions I got from the crowd and I could feel it. It's crazy because it had nothing to do with what I could do athletically it was just me posing [Laughs].
I'm ready for a round two with you and Lashley. Let's make it happen.
I'm down for that, I just have to do some stuff to get my body right first but I'm down to have that again [Laughs].
Watch Apollo Crews take on MVP this Sunday at Extreme Rules starting at 7 p.m. EDT on the WWE Network.